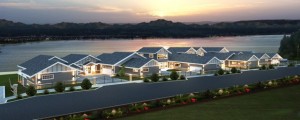 This summer, the first residents will move into the Priest Point Townhomes.
Bob Wubbena and his wife will take ownership of one of nine units in the new luxury town homes located in downtown Olympia.
"My wife chose a unit with a southern exposure and liked the broad view of the horizon including the Olympic Mountains and State Capitol Dome," says Wubbena who adds that none of the nine units are the same.
While retired from his career as an engineer, Wubbena continues to operate the Fiddlehead Marina, at Percival Landing, with his wife and  children.  He currently lives on a half-acre property with a huge yard and garden.  Their choice to move into town centered around downsizing the workload of maintaining the yard.
The custom built town homes have everything that the Wubbena's find desirable for urban living during retirement.  "The location makes it easy for us, in our senior years, to walk to town and enjoy the waterfront.  We can participate in activities, festivals, and events in downtown Olympia," remarks Wubbena.
The Wubbena's travel extensively, volunteering their time in third world countries to develop clean water systems.  "I like the idea that I can just turn the key, tell my neighbors that we're gone, and not worry about anything," notes Wubbena who adds that living at Priest Point Townhomes will be a better match for their lifestyle.
The Priest Point Townhomes are being built by a team of local investors, including longtime Capital High School principal Doug Heay.  Operating C&H Construction, Heay's business is building the shells of the three town home buildings.
Once a unit is purchased, the owners can customize the town home to their liking.  The floor plan is completely open, leaving decisions on where to place all rooms and walls at the discretion of the property owner.  According to Wubbena, it would take about four months to complete the custom town home.
"You choose how you want to use this space," explains Heay.  "The exterior is finished in a traditional style so that each owner can tweak the inside in any way they wish.  I anticipate that some town homes will be modern and others will be traditional, with everything in between."
"Living at Priest Point Townhomes means that you can just close the door and spend the winter in Palm Dessert," says Heay who notes that a home owners association will maintain the exterior and grounds.  "You know that your property will be monitored and the yard work will be kept up.  You can travel anytime."
From the unobstructed view, Priest Point Townhome residents can watch the action on Olympia's waterfront.  You may see people paddle canoes, float planes land, ships depart full of cargo or a high school rowing team.  The active waterfront engages residents in the full range of activities offered in Olympia.
Just minutes out your front door and you can be buying fresh produce at the Olympia Farmers Market or take your grandchildren to play at the Hands On Children's Museum.  Attend an educational lecture at the neighboring WET Science Center or walk through the 314-acre Priest Point Park.
Dine on a delicious meal at a downtown Olympia restaurant and catch a show at Harlequin Productions.  Take in a movie at the classic Capitol Theater during the Olympia Film Festival.  Watch the boats parade from the Olympia Yacht Club.
Downtown Olympia living means access to diverse activities including major festivals like the Procession of the Species which receives national attention for its celebration of the natural world.  Stand along the parade route for the annual Pet Parade with over 80 years of history or watch the annual Christmas tree be erected in Sylvester Park.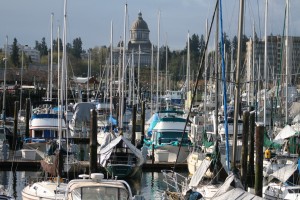 A warm cup of coffee from local roaster Batdorf & Bronson or a delicious pastry from the Bread Peddler is also within easy walking distance.  Pick up fresh seafood at Olympia Seafood Company while your grandkids swing at Percival Landing.
The ability to easily visit all these local businesses and activities while also having direct access to I-5 is something that was appealing to Wubbena.
The homes are designed so that a resident can live on one or multiple floors.  In Wubbena's home, they will be able to live on just the main floor, if necessary, without having to encounter any stairs.  Home owners are encouraged to make the living spaces to accommodate wheel chairs.  The wiring will be in place for an elevator to be easily added to reach upper floors.
Residents have a unique opportunity to buy a luxurious town home in the desirable East Bay neighborhood.  "Both floors of our town home have a view of the water," he says with a sigh, clearly anticipating relaxing in front of the windows of their new home.
To learn more about creating a custom living space at Priest Point Townhomes, click here.