By Tali Haller

At the end of the 2012 – 2013 school year, six renowned Olympia High School teachers retired. Together, teachers Bill Maguire, Scott Rutledge, Greg Creighton, Jane McKillip, Colleen Powers, and John O'Leary represent 195 years of instruction. Olympia High School Principal Matt Grant thanked the retirees in his speech at the 2013 graduation ceremony, "We will miss all of these wonderful teachers who [have enriched our] students… with incredible inspiration."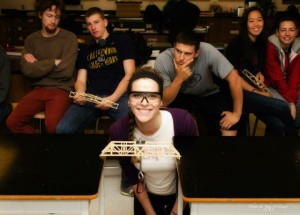 Considered one of the most influential faculty members by Principal Grant, Scott Rutledge has been a math teacher, an AV coordinator, and a department head at OHS over a 39-year career. "Mr. Rutledge brings humor and wit to his classes," said Adora Nwankwo, a former student of his, who had Rutledge for both geometry and Honors Algebra 2. "Before every FRED (his name for tests), Mr. Rutledge would lighten the nerve wrought atmosphere by turning off the overhead lights, plugging in a string of Christmas lights in the shape of an M (M for math) that was situated over the window, and say, 'All the best to, y'all,'" said Nwankwo.
While students often found Mr. Rutledge entertaining, he too was similarly amused, "There is nothing like standing in the hall watching the kids go by trying to balance being a kid with being a student and nothing more satisfying than listening to kids talking each other through math problems." said Rutledge. For now, Rutledge looks forward to seeing what the future offers with no set plans.
Known as both the hands-on physics teacher and the unofficial school photographer, John O'Leary has taught physics at OHS for the last three years. Before that, O'Leary spent 32 years teaching in Japan, and seven in New York. During the course of his Physics classes, O'Leary's students got to build Tin Foil Barges, and engage in friendly competition through an Egg Drop Contest, a Marshmallow Tower Contest, and a Basswood Bridge Contest.
Student Michelle Fujii loved the hands-on opportunities O'Leary provided, "The Egg Drop Contest really took my understanding of gravity, acceleration, and real-world physics implications to a higher level – plus, it was fun."  O'Leary will deeply miss teaching, "I will miss that 'Aha' moment, in which students just 'get it."' Although retired, Mr. O'Leary will stick around capturing moments in the OHS community, "I've been asked to continue taking pictures, so I plan to attend as many events as possible: the Spaghetti Bowl, Cross Country meets, Football and Volleyball games, etc."
According to Principal Grant, Greg Creighton, a former OHS graduate, has created hands-on and engaging classroom experiences in his past 28 years teaching at OHS. "His Sports Medicine classes extended into the gym and fields where there were many real-life learning opportunities," said Grant. Principal Grant also commended Creighton for taking over the baseball coaching job when the previous baseball coach Mr. McDougall became ill.
Prior to working as a teacher, Creighton spent six years working as a Physical Therapist within the Olympia School District and two years as a Physical Therapist at Good Samaritan Hospital. As a junior in college, Creighton took his first anatomy class, which spurred his interest in Physical Therapy and healthcare careers. "I wanted to introduce the subject to high school students and give them a foundation in it so that they might discover their own interest and begin preparing for future studies," said Creighton.
"My own experience as a Physical Therapist allowed me to bring the subject matter alive," he said. Now retired, Creighton plans to stay connected to OHS in some capacity, continue to work in Physical Therapy, travel with his wife Laurie, and enjoy "life that is not on a bell schedule," he said. "I will miss the energy of the high school that kept me young at heart," said Creighton.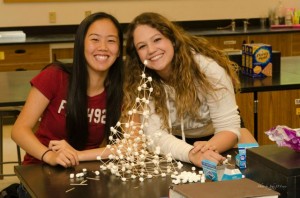 A teacher of English and Drama, and the AP coordinator over the past 25 years, Colleen Powers has contributed a lot to the OHS community. She served as the master choreographer, putting together the spectacular dance routines in the OHS musicals including this year's Brigadoon, said Principal Grant. Student Jared Sjolin, who had Powers for freshman Drama, said that she made a lasting impression, "During our musical theatre section of drama class, Mrs. Powers showed us all these amazing dance numbers."
Jane McKillip taught at OHS for 35 years. According to Principal Grant, she has been one of the most versatile instructors, teaching business, English, finance, keyboarding, and more. Additionally, McKillip has served as the cheer advisor for the past 33 years, a true Oly Bear in many students' eyes. Cheerleader Sidney Burton commented on McKillip's helpfulness and caring, "She's always been there for me."
Last but not least, Bill Maguire, another OHS graduate, served as a supervisor and Dean over the past 38 years. "He was Mr. Everything at OHS because he did all the little things to keep us running successfully," said Grant. This year OHS is also saying goodbye to assistant Gwen Toby and Principal Grant's dedicated Office Assistant Marilyn Seeley.
With the fluctuation of staff, one thing has remained consistent: all the retirees comment on how much they will miss the OHS community and environment. From Rutledge, who calls the staff, especially his department members, a second family, to O'Leary who praises the dedication and passion of his fellow colleagues, it is clear that the OHS staff have a wonderful camaraderie.