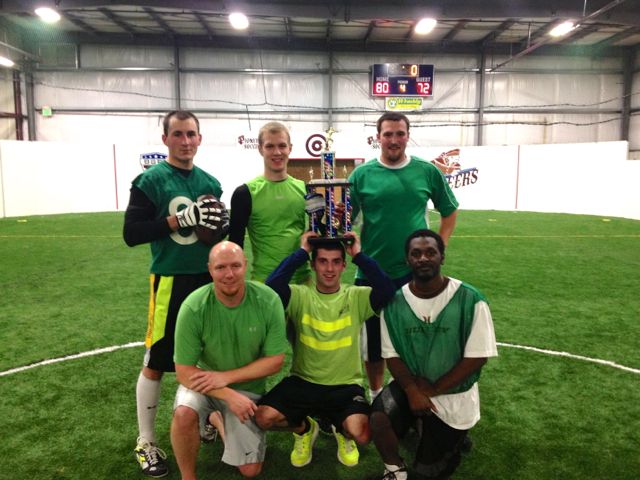 By Tom Rohrer
A wish of all athletes is that they can continue to play the game they love for as long as possible.
Currently, Derek Lowe and the rest of the Capital Business Machines (CBM) Sharp flag football team are living that dream.
For around 15 years, Lowe and Eric Bamer, both South Sound high school football standouts during their teenage years, have continued to be a thorn in the side of their opponents.
This last June, CBM Sharp won the Olympia Parks and Recreation Spring League.  It was not the first time, and likely not the last, that the team came away as champions.
Lowe has been used to winning championships ever since his high school days.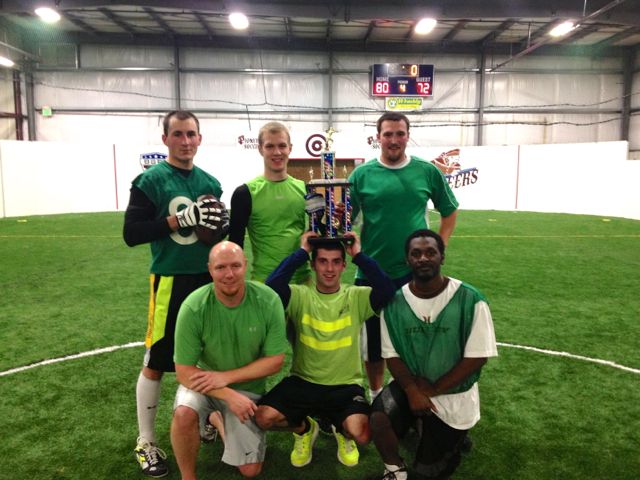 A standout athlete at Tumwater High School in the early 1990s, Lowe watched his older brother win 3A state championships in 1987, 1989 and 1990.  In 1993, Lowe was part of his own state championship team as the T-Birds defeated Inglemore to take home the 4A title.  The 5'9″ Lowe was the star running back of that championship team, and for years was the school's all time leading rusher.
"I try to punish people who try to tackle me because then they won't want to tackle me a second time," Lowe told the Seattle Times in an article from December of 1993. "The running back can hurt the guy just as much as they hurt me. It goes both ways."
A standout track athlete, Lowe's time of 10.78 in the 100 meters still stands as the school record.
Now 37, Lowe looks at flag football as a way to get the competitive juices flowing again.
"It keeps you young," said Lowe of continuing to play flag football. "You always will have that competitive edge as an athlete and this is a way to put that to use."
Bamer, a 1991 graduate of North Thurston High School who played against Lowe's older brothers in local pre-season jamboree game, agrees that the only way to stay connected to the sport is to play it.
"Like Derek, I'm competitive and this keeps me active, keeps me running," Bamer said. "You get old when you stop moving, you don't stop moving because your old."
Over a decade ago, the two were the young guns of the league.  Recent high school graduates, the pair had the athleticism to propel them to success in high school football.
Now, the team's strength is their knowledge of the game and their experience, two things that continue to lead them to victories over much younger, and theoretically more athletic teams.
"It makes you feel good when you're 40 and still running hard and still running past these 20-something guys," said Bamer, now 41.  "They always try to pick on a guy with grey hair and it doesn't always work for them."
"Older guys can play together better as a team," said Lowe.  "For a while, I was one of the fastest guys around, and I still think I can use my speed.  But it's more about using your brain. We play better as a team than the more athletic squads.  When you're playing any sport, that's the key."
Mark Rubio and Alaska transplant Mike Johnson are also members of the team.  With an team of adults with families and full time jobs, it's amazing that the CBM Sharp is able to keep coming back with full force.
"We've had guys play through injuries or after surgeries," said Lowe. "We are so busy that we don't have much time to hang out other than the game, so it's important to us.  We just have guys that will be there if they can stand up basically."
For Bamer, that team aspect is another enjoyable part.
"If you have that common goal it can help you come together.  Sometimes that's something that you miss from playing when you're younger," said Bamer, a member of the Lacey Fire Department.
The team has certainly come together in the last year, taking home first place in the Tumwater Indoor Sports League this last winter before winning the championship in the Oly Parks and Rec league this spring.
Just having a good time together could be a giant reason for the strong run of high level play.
"We are out there competing, we want to win, but it's just about having fun," said Lowe, an Account Manager for Capital Business Machines.  "If you're not having fun, what's the point?"
Click on the links for more information about the Olympia Parks and Recreation sports leagues and Tumwater Indoor Sports League.