He's like Santa with a camcorder, filming wildlife.
Since he was a kid, Joe Brignone has had this infatuation with capturing birds in flight on film. You'll sometimes see him at the Nisqually National Wildlife Refuge filming, catching a blue heron gulping down a frog or a red-tailed hawk swooping across the tall grass.

If you are lucky enough to catch him, the conversation will turn to birds. Then he'll likely hand you a 58-minute video of the birds and animals he's filmed at the reserve. Recently, Brignone handed out 74 DVDs and CDs in four days – free.
"People will often reach into their wallets," Brignone said. "But I don't want their money. I just want them to learn about the wildlife."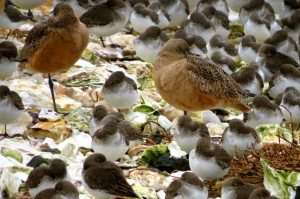 Brignone's intrigue with filming wildlife began when he was just seven years old. He remembers using his grandfather's 8-millimeter camera and going to a pond in his neighborhood. He'd get into a raft and film through a glass box he had made.
"That way I could film things under the water," Brignone said. "I could see things on the bottom of the pond. It just amazed me."
Now 68 years later, Brignone, who'll turn 75 at the end of the month, hasn't lost that infatuation. Brignone's video at Nisqually is like walking through the meadow. As you watch a duck with 11 ducklings paddling in a line behind her through the pond, you hear birds whistle and ducks call.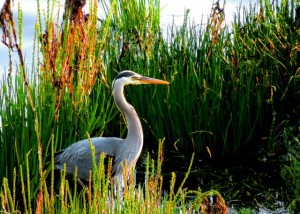 His Nisqually video is a collection of shots taken over the years. He's now video taping birds in flight in slow motion and in time lapse.
"I'm always experimenting," Brignone said.
And he's always giving away free copies of his DVD. He spends about $20 for 100 blank DVDs. Then there's the hours of video taping and editing it takes to make a complete video.  He's obviously not in it for the money.
"I just love doing it," he said. "There will probably come a day when I can't afford it."
After graduating from South Bend High School in 1956, Brignone spent a few years in the Navy. Then for the next 30 years, he earned a comfortable living as a musician, singing and playing guitar, drums and bass for a traveling band. He performed in Reno, up and down the Oregon coast and in Seattle. At age 50, he joined the Pierce County sheriff's department, where he worked until he was 65.
For the past 10 years, he's kept himself busy photographing and videoing wildlife. He's moved back to South Bend and he's a fixture on the town's streets. He hands out documentaries he's done on the town's oyster business and on the dredging of the channel the town is on.
Of course, he's always handing out free videos. He's the town's best PR man.
"People love it," Brignone said. "Did you know that we produce 25 percent of the country's oysters right here?"
Brignone doesn't plan on hanging up his camera any time soon. He's having too much fun.
"It keeps me busy," Brignone said. "It also helps keeps me young."
The Nisqually National Wildlife Refuge, with its four miles of trails, is a popular site for people to walk and bird watch. Four year ago, dikes were removed and a popular 5-mile trail around pasture land of the old Brown farm was lost. But a mile long boardwalk was built in its place and completed in February 2011. It has become a popular spot as about 110,000 people visit the refuge each year.
But people aren't the focus of the 762-acre refuge.
"The primary purpose of the Nisqually National Wildlife Refuge is water foul," said Mike McMinn, manager and volunteer at the Nisqually National Wildlife Refuge's visitors center. "We've expanded that now to add fisheries. Also, one of our primary functions is environmental education and environmental recreation. That being photography and watching wildlife."
You may or may not run into Brignone one day while visiting the Nisqually National Wildlife Refuge, but you will certainly see some birds.
For more information about the Nisqually National Wildlife Refuge, including upcoming events, bird walks, and lectures, click here.