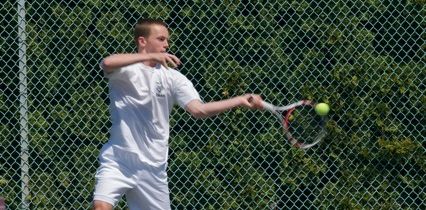 By Tom Rohrer
As a two time state champion at the 4A level, former Olympia High School tennis star John Stormans is already a more accomplished player than 99.99 percent of the world's population.
However, in order to continue his success (immediately) at the collegiate level, Stormans knows he needs to work even harder at honing his craft.
"I've spent a lot more time in the weight room and improving my conditioning," said Stormans, who will begin his freshmen year at Saint Mary's College in Moraga, Calif., this fall.  "I've been on the court as much as I've been in the weight room.  Your strength and conditioning, that's what separates players at this level of play.  You won't beat someone because they miss a shot or you hit harder than them, you win because you play with more energy."
Wins came in droves for Stormans over his four years at Olympia High School.  Stormans and tennis partner Hunter Wood won the 4A State Doubles title in 2011 and 2012.  When Wood graduated, after the second state title, Stormans became the Bear's number one singles player for head coach Denny Bailey (whom Stormans referred to as the nicest guy ever).
Stromans fell in the second round of the state singles tournament this past May but came back to win his next two matches and earn a fourth place finish.
"I cramped up in (the second round match) ahead 6-5, and I wasn't in the best condition because of baseball," said Stormans.  "But to win the next two, I'm very proud of that."
After not playing baseball his first three years of high school, Stormans came out for the varsity team this past spring.  He immediately found a role as a pitcher for a Bears team that advanced to the state quarterfinals.  More importantly, Stormans and the rest of his teammates were able to come together in support of former Olympia head Coach Todd McDougall, who recently passed away after a longstanding battle with brain cancer.
"That was one of the most rewarding experiences of my life," said Stormans. "Everything that happened, how we came together, how we wanted to win for Coach (McDougall) and do everything for him and his family. It was about so much more than just baseball.  What I took from that season was how to be a good, strong man of character."
Stormans has been able to develop his tennis skills due to his extensive experience on the USTA Tour during his youth.  Stormans is ranked second in the state class of 2013, behind Federal Way's Mitch Stewart.  He grew up traveling nationwide to play the best amateur players in the country.
"As far as my college recruitment, coaches were looking outside of high school tennis and that's where I made a name for myself," said Stormans. "I'm comfortable traveling and spending a lot of time on the court playing in hot weather.  That's prepared me really well.  I can be put on a big stage and play at a high level, and that's something that I feel confident about heading into my freshmen year."
Early on in his college recruitment, Stormans eliminated the possibility of playing for bigger universities.  He wants to play immediately and not wait for his chance in a few seasons.
After visiting some college campuses in California, Stormans contacted a few schools, including Saint Mary's, to explore the option of playing collegiate tennis.  The coaches were certainly interested as well, and after taking visits to both Saint Mary's and the University of Portland, Stormans took the Gaels offer and committed in November.
Stormans joins a roster full of international flavor with players hailing from countries such as Denmark and Australia.
"Yeah, that was one of the things that drew me away from University of Portland. I knew everyone on the UP team and they're all great guys, but I wanted to branch out," said Stormans, who will begin practice with the Gaels tennis team in late August for the fall season. "How cool is it, that I get to go play on a team like that, with guys from across the world?"
At Saint Mary's, Stormans will likely study business, but he's not officially declaring a major just yet.
Without his family's support, Stormans doesn't believe he would be the player or person he is today.  "Neither of my parents pushed me into tennis. I was fortunate enough to be able to be supported by them and they took me to lessons, tourneys, all sorts of things, but they never once pushed me," said Stormans.  "That's something not easy to find on the tennis circuit, and I'm just thankful they've always supported me any way they could."
Stormans has similar feelings about his now alma mater.
"I loved going to OHS, and as far as sports and school, it set me up really well for college," said Stormans. "I took tough classes and that helped teach me how to be a good student. Tennis and all the other sports, that taught me how to be a good teammate, and grow to be more mature."
Now with a new challenge in front of him, Stormans is ready to prove he can compete at the Division I level right away.
"I expect to be starting in doubles right away, and if I continue improving, I think I can compete at singles as well," said Stormans.  "It's a new challenge, but that's part of the sport, and I'm looking forward to competing."