By Tom Rohrer
There are not many ways to more intimately explore Budd Inlet than on a kayak.
Sitting down in a single or double person vessel puts you right on the water, where you can clearly see, smell and hear what makes this area of the South Puget Sound so special.
Easily accessible kayak launches plus a host of local rental locations makes kayaking an ideal summertime activity in Thurston County.
While walking at Percival Landing, you have likely noticed Urban Kayak's collection of kayak (and paddleboard) rentals next to the famed kissing statue at the intersection of Fourth and Water Street in downtown Olympia.
Tom Glaspie, the owner of Urban Kayak, noted that the waters near Olympia are a perfect place for first time or beginner kayakers.
"(Kayaking) is something that can get you on the water and get some exercise.  We give beginning kayakers a chance to learn," said Glaspie when describing the boats that he rents.  "It's not professional high level kayaking, it's something to do in your spare time and have fun for a couple hours or an afternoon."
Urban Kayak provides customers with a map of nearby locations to travel to, which includes the Olympia Farmers Market, Priest Point Park and the log jams near Tugboat Annie's.
Tugboat Annie's is another business that provides kayak rentals and owner Blair Nixon noted a couple of trips, including one close by, that gets kayakers up close and personal with one of the Puget Sounds most beloved species.
"The log booms create these little islands where you can see seals, and it seems like everybody enjoys that," said Nixon.  "A lot of people head towards the Olympia Golf and Country Club, there's a little cove they can go into.  People also go across to Burfoot Park, or venture to Boston Harbor."
The Boston Harbor Marina, an established source for kayak rentals, is a launch point destination for a variety of day and night trips.
"Probably from out here, the favorite places to kayak are Gull Harbor Inlet, Fish Trap Bay, and Hope Island," said McEvan Scofield of the Boston Harbor Marina. "We send people to either Gull Harbor Inlet or Fish Trap Bay depending on the tide.  They are both fun little bays to explore.  Hope Island is a marine access State Park and you can camp out, explore the trails and orchards."
Scofield noted that the Gull Harbor trip takes about an hour each way, and a journey to Hope Island is a three hour roundtrip.
It's important for kayakers to not worry about traveling long distances at first and count on paddling a kayak to be similar to a walking speed.
"A big thing for people's expectation is that it shouldn't be about distance and should really be about paddling and being out on the water," said Nixon. "You're only going about a mile an hour at best, even though it seems like you're going faster. But you're stopping, resting and that adds up."
Nixon also noted that it's important to keep track of tides, winds, and to always have the proper safety equipment.
The word is apparently out about the kayaking experience, as the owners of these establishments have noted increased participation during the last few summers.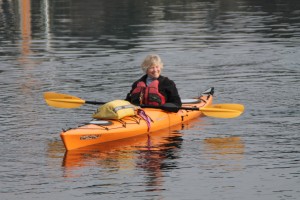 "A lot depends on the weather obviously, but you definitely notice more people trying it out," said Scofield. "I think people realize that it's something close by and a great form of exercise."
"We've probably had four times the business this year than last," said Glaspie. "It's something that seems to be catching on.  Budd Inlet is a cool place to kayak."
To find more information about renting kayaks from Urban Kayak, Tugboat Annie's, or Boston Harbor Marina, click on the links.