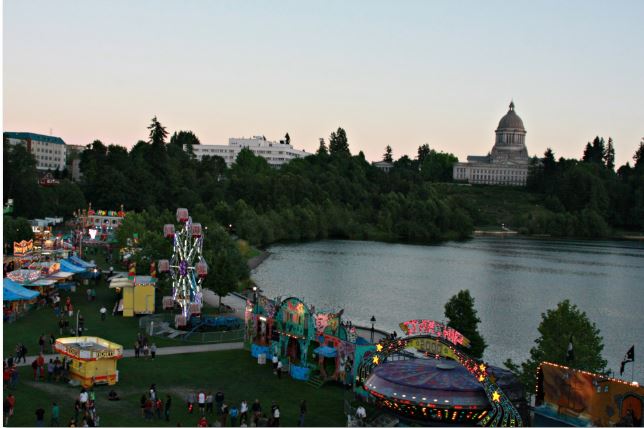 By Morgan Willie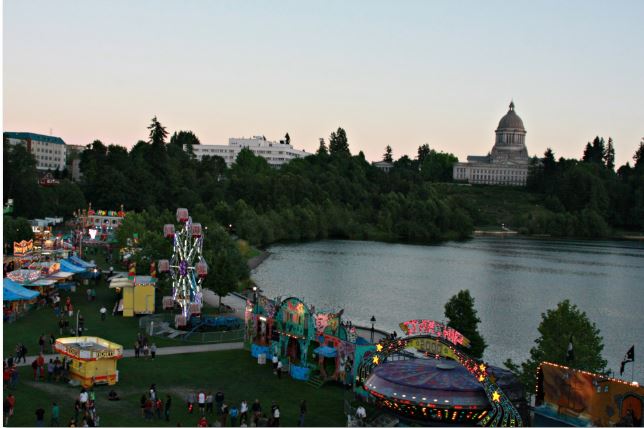 I've gone to Lakefair quite a few times in my sixteen years of living in Thurston County, but never have I gone to recount my experience for others to read. Being a journalist on the scene ultimately got me reflecting upon how to make the most of the event; how to have the ultimate outing. Here are a few of my tips to enhance your Lakefair experience.
#1: Get the "layered" look
If you are looking to be one of the first people at the fair in the morning, understand that the weather will still be a bit chilly. For me, mid-60s means a light jacket and maybe a hat. However, around 1:00 PM on both Saturday (7/20) and Sunday (7/21) the forecast calls for weather in the high-70s. Wearing layers will allow you to stay warm in the morning, and keep cool in the afternoon when you peel those layers off to soak up some potential Lakefair sun.
#2: Bring cash to have a blast in a flash
We all know debit and credit cards are handy for shopping at retail stores, but they're not the most convenient at the fair. Buying tickets for rides, ordering tasty treats, and making purchases on the tent walk can be easily accomplished when you've taken a trip to the bank for a withdrawal. Sure, there are a few ATMs available on site, but it's not worth slowing your party down once they've already gotten a look at all the exciting things to do. Avoid ATM charges, and keep the fun going by bringing cash.
#3: Now that's entertainment!
There are plenty of groups heading on stage this weekend to show off their skills. With such a selection, there is sure to be a show that appeals to you! If you're looking for something with a little country twang, a Honky Tonk music will be playing from noon to 1 pm on Saturday. Or, if you've got a love for Jimi Hendrix, there will be a tribute from 9 pm to 11 pm the same day. Sunday's line-up includes performances by Rhythm Fire music students and teachers, as well as rock music from Koko Jo and Billy Farmer. Be sure to stop by for some sweet tunes!
#4: Walk it off
There are so many awesome vendors to buy food at, but remember: it's carnival fare – delicious and filling, but it can be hard on the stomach. Instead of going straight from the food to the rides, why not take a stroll around Capitol Lake? It's a lovely path, especially at sunset. Your eyes and your stomach will thank you dearly.
#5: Lights, camera, action
I would highly recommend bringing a compact camera to the fair. You never know when a street performer might be doing something cool, or a friend might be goofing off. Also, you might want to take a few snaps of the Lakefair Grand Parade, which takes place from 5 to 7 pm on Saturday (7/20). It's sure to be a good time from 5th Avenue to Deschutes Parkway. Or, you could get your photography on with the Grand Fireworks Display happening over Capitol Lake on Sunday (7/21). No matter what, Lakefair is the perfect place to make memories and store them on your SD card too!
One thing to keep in mind before you have the ultimate Lakefair experience is that it truly does matter what sort of company you are in. Bring people who are ready to have just as much fun as you are. Go with someone who is aware and attentive so you've got a better chance of not missing out on the activities. Ride with friends you feel comfortable screaming next to on the Ring of Fire or the Starship 2000.
Furthermore, it's all about perspective. Try to think in the "now" instead of worrying about the past. The carnival is meant to provide fun and games for the present, so live in the moment and enjoy the atmosphere of the Lakefair scene. There is most definitely something for everyone to see. Whether you're just there to devour an elephant ear, or you've come to try your luck at the dart throw, the fair can be a jolly good time.
Just remember a few or all of the tips, and you can make the most of this wonderful occasion!
For more information visit: http://www.lakefair.org/activities.html