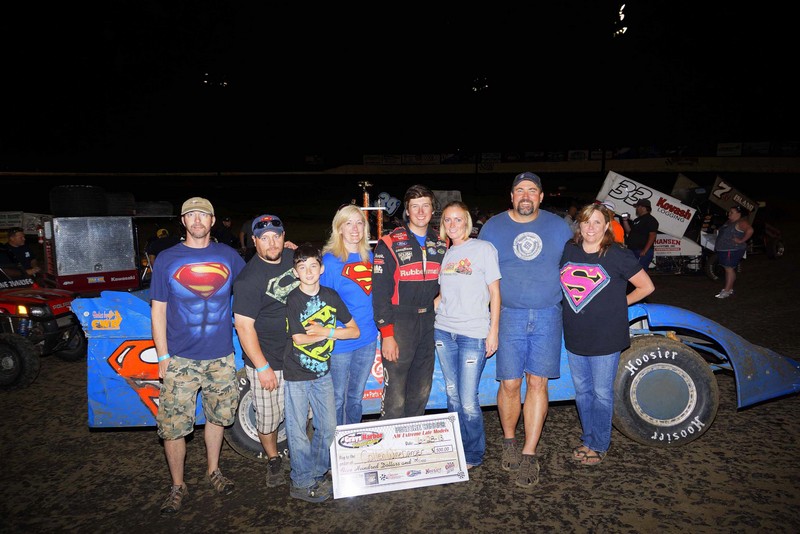 Submitted by Ben Deatherage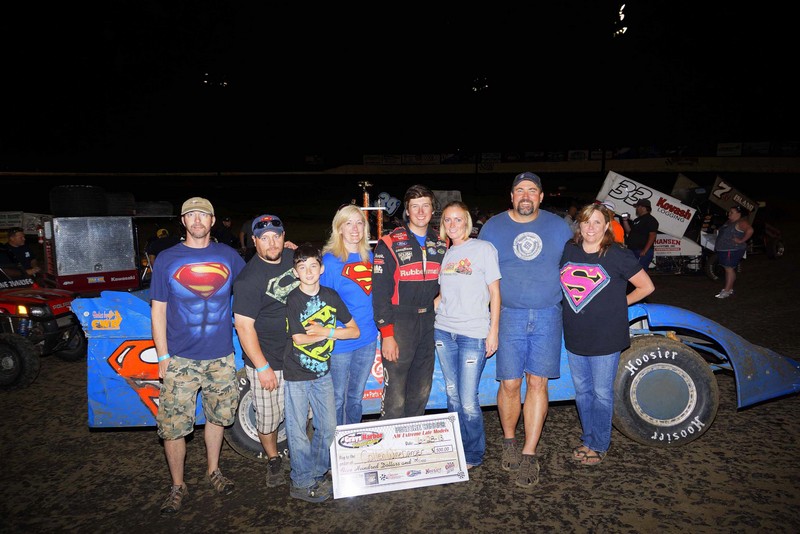 Elma, Washington- The phenom was back to his winning ways on the Friday June 28th event at the Grays Harbor Raceway.  Corbett, Oregon native Collen Winebarger collected another winner's check to earn his fourth straight Northwest Extreme Late Model Series victory of the season.  The kid they call "Superman" would thrill the crowd in the thirty-lap non-stop main event which would see Winebarger come from the very back to earn the triumph.
Two-time and defending IMCA Modified champion Joe German of Wishkah would lead the early circuits.  It was German's first race with the Northwest Extreme Late Model Series as he hopped into Ozman Services Inc./CCS Industrial Services #75X Rayburn for car owner Phil Vinson.  German would lead the first four laps all while putting up a battle with the Smokercraft Boats #56 Rayburn of "Captain" Jack Marontate from Newberg, Oregon.
Marontate and German would exchange the lead a handful of times before both would be overtaken by Jerry Schram from Vancouver.  Schram was the car to beat in his Schram Brothers Excavating/Century III Stables #16 MasterSbilt for much of the race and was seeking his first series win at GHR.  Schram would be the trailblazer until lap twenty when young Winebarger would take the lead.
Winebarger, who started in the last row, would take off with the lead and cover the rest of the distance at the front of the field.  It marked the fourth straight series victory for the chauffeur of the Discount Race Car Parts/Hillsboro Vac & Sew/All In Property Investments #1 MasterSbilt starting all the way back in early May.  The series has visited three different tracks so far and he has won at least one feature at all three of them.
Finishing in second place was two-time series champion Greg Walters from Banks, Oregon in his T&G Trucking/American Landscaping #97 Victory Circle while Joe German would finish third. Completing the top five finishers were Jerry Schram in fourth and the Jackhammer Trucking/T&G Trucking #76 Rayburn of Gresham, Oregon's Jason Johnson.
Collen Winebarger was the quick clocker in time trials at 17.015 seconds.  Heat race winners were Greg Walters and Jerry Schram while Schram would later on earn the trophy dash victory.
The Northwest Extreme Late Models will back in action for night two at Grays Harbor Raceway on Saturday June 29th. The event will be presented by the Elma Chamber of Commerce organization.
Race Summary:
Northwest Extreme Late Model Series Race #6
Friday June 28th, 2013
Grays Harbor Raceway
Elma, Washington
12 Entries
Fast Time: Collen Winebarger, 17.015
Heat Race Winners: Greg Walters (1), Jerry Schram (2)
Trophy Dash Winner: Jerry Schram
A-Feature: 1. Collen Winebarger, 2.Greg Walters, 3. Joe German, 4. Jerry Schram, 5. Jason Johnson, 6. Eddie Day, 7. Jack Marontate, 8. John Gamell, 9. Brad Martin, 10. Justin Perkins, 11. Bob Trout, 12. Jacob Myers