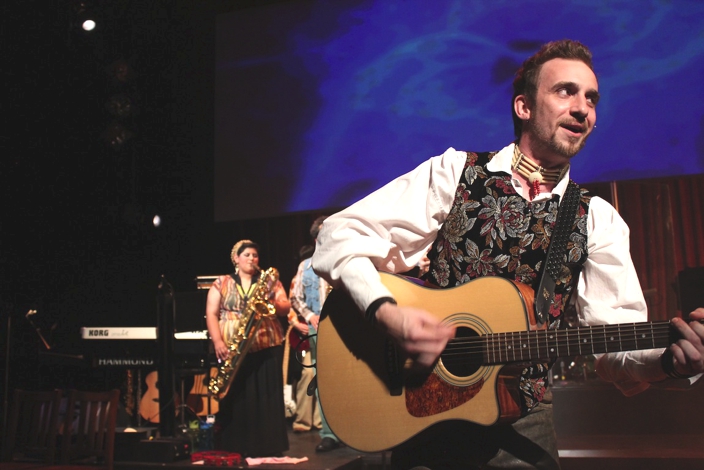 By Jake Luplow
For thousands of years, various cultures have told stories in the form of wall paintings, decorations, hieroglyphics, and artifacts. They have depicted through these art forms life cycles, stories of the gods, and, ultimately, the human condition. There has always been an inherent need to pass along stories, from one generation to the next, in the form of art, storytelling, and dramatizing events. Too often, though, the arts are seen as an extravagance in western society: They are dumbed down to an extraneous part of our culture. At Harlequin Productions in Olympia, a team of art enthusiasts have given life to a perishing art form–theater.
Artist Directors Linda and Scot Whitney started Harlequin Productions in 1990. In the mid-80s, Scot created educational films for children, and Linda worked as a graphic artist. They both had a growing interest in theater and decided to move forward with their passion. The pair joined with a consortium of people, pooled their money, and began producing theater in the Black Box at The Washington Center for The Performing Arts. By 1997 they had developed a large enough audience that they were able to create what we know today as Harlequin Productions in the renovated State Theater on 4th and Washington.
Linda explained that Harlequin differs from community theater in that they have a full paid staff, and thus they are able to produce more shows. "We wanted to step it up. We wanted to be able to do everything from very small projects to very large projects. You can find people to volunteer for that type of thing, but you have to start offering paychecks if you want to remain consistent in what you do." She further explained that aside from the arts, Harlequin creates jobs and attracts people to the downtown core, selling over 22,000 tickets per season.
Harlequin has originated much of their own work, but they are also committed to producing large production plays by world-renowned playwrights. One such example is an annual Israel Horovitz play – something you won't find at a small community theater.
According to Linda, Horovitz was in Olympia visiting his daughter when saw on the marquee that Harlequin was producing Shining City, a play by Conor McPherson. Israel was intrigued. Here he was in Olympia and someone was actually staging this play. Horovitz contacted Scot saying: "Israel Horvovitz here. I am only in town until tonight. Can I come and watch your final dress and talk to you about future projects?" (Of course, Scot thought at first that it was a joke.) So he did, and Horovitz was so impressed with the caliber of their work that he said, "Ok, I have a play that I think might do really well in your theater." That was Sins of the Mother. Linda and Scot have had a strong relationship with him ever since and they are committed to producing one of his plays every season.
Harlequin is well known for its wide variety of plays, producing seven shows a year and showcasing everything from traditional Shakespeare to modern one-woman shows and lively musicals.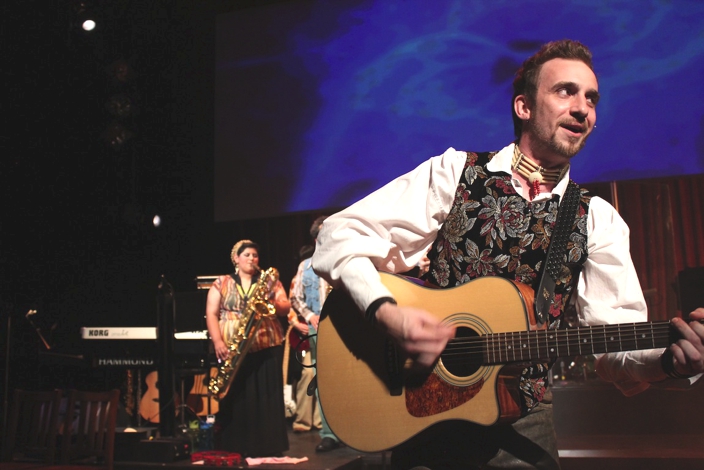 The Whitneys are adamant that theater is about commitment and passion. "Whatever plays we choose, they have to pass one essential test: They have to ignite a fire in the director! If the director isn't passionate about the work, what's the point of doing it? That has been 'the golden rule' at Harlequin since the beginning, and is, I believe, a key reason that we're still here after 23 years," said Scot.
One of their major upcoming performances is Jesus Christ Superstar, and it will be running from June 20th – July 20th. This musical is based on a rock opera by Andrew Lloyd Webber, and depicts loosely the last week of Jesus' life. Scot says, "Linda, Bruce, and I were all big fans of the album when it came out in 1970, before anyone was talking about doing it on stage. It was thrilling and controversial at the time, presenting the mythic size of 'the greatest story ever told,' but favoring the story's political elements over the religious."
Although Harlequin Productions produces a great deal of theater, they also offer many workshops for aspiring actors, for example, Young Actors Workshops and their 2013 debut of the Conservatory for Young Actors, a summer acting program for teens, offered free to the participants, which is a completely free workshop for participants and their families.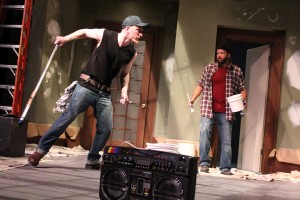 I myself am an artist, and even I slipped into thinking that arts are, indeed, an extravagance. Theater is something to cherish, something to hold fast to. I challenge you all to grab a bite to eat in Olympia, and then go catch a performance at Harlequin. I challenge you to see for yourself how a team devoted to the arts can truly make magic come alive–within us.
For more information about Harlequin Productions and their show times, please visit their website at www.harlequinproductions.org.