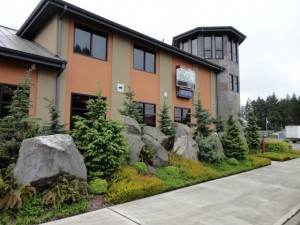 The smell of freshly baked cookies greets your nose when you walk into Shelton Dental Center. Baking is one of Dr. Katherine Ketcher's hobbies, and she usually finds time to bake every day in the office kitchen.  She admits, though, that recently she has been a little busy opening their new office, Elma Family Dental. "Hopefully I'll have time to start baking again," she said. The staff agrees. They miss those cookies, so do her patients.
Along baking, "Dr. Kathie" loves hiking, climbing and traveling. She was born and raised in upstate New York.  Her career started as a dental assistant while attending the University of Louisville where she earned her bachelor's degree in dental hygiene. She worked as a hygienist in Kentucky while attending the University of Louisville School of Dentistry where she earned her doctoral DMD degree in 2003.
Advance training, including surgical, received in the Army
Ketcher served in the U.S. Army at Joint Base Lewis McChord (JBLM) for the next four years, receiving an honorable discharge in 2007.  Her next step was to buy an existing dental practice in Shelton. Soon after taking over the business she changed the name to the Shelton Dental Center and built a beautiful new facility on Jefferson Street.
In 2011, Dr. Stephen Edwards joined the team at Shelton Dental Center. Ketcher and Edwards first met while practicing general dentistry together at JBLM. "Dr. Edwards is a great addition to our practice," said Dr. Kathie.
When Dr. Edwards is not practicing dentistry he joins Medical Teams International to provide dental care to needy individuals both abroad and in Washington.
Together, Ketcher and Edwards have created a thriving general dentistry practice in Shelton, and now in Elma too. Their service in the Army gave them experience and certification in areas not common in general dentistry. "We are a full service practice. Most dentists have to refer their patients to oral surgeons or endodontists in Olympia. We have the training and certification to do that right here. The Army gave us the advantage of four years of specialty work, surrounded by incredible mentors. That experience gave us advance training, including surgical training," she said.
Full service dentistry: Oral Surgery to Botox
The advantage for the patient is that Ketcher and Edwards are able to offer: preventive dental care, dental restorations, emergency treatment, cosmetic dentistry, teeth replacement options, root canals, and implants as well as sedation dentistry.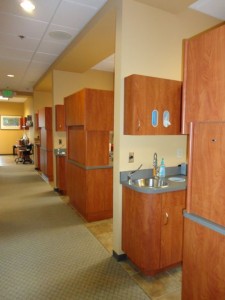 Ketcher and Edwards also offer a variety of cosmetic dentistry options, from teeth whitening custom trays to Botox and Juvederm, options to smooth out and fill facial lines that come with aging.
"Dentists are a great resource for these injections because they know facial muscles and nerves so well," said Melissa Latham, a hygienist at Shelton Dental Center.
Botox has become the most popular minimally invasive cosmetic procedure in the country, numbering 2.6 million in the United States in 2011, according to the American Society for Aesthetic Plastic Surgery. According to the American Dental Association at least 20 state dental boards, including Washington, have approved the administration of Botox for cosmetic use or a specific dental operation.
Staying current with innovations in technology that will enhance the patient experience
Shelton Dental Center also stays current on new technology that will enhance the patient experience.
"We have the most up-to-date and advanced equipment of any office in the region. We are a paperless office; we have intra-oral cameras as well as digital imaging. Patients love to see images of their teeth on the screen right in front of them," said Latham.
One of the most important services offered at the Shelton Dental Center is education. "Our goal is to create a partnership between dentists, hygienists and patients for great oral health," said Latham.  The dental team focuses on the patient's home care.  Performing good oral hygiene at home means fewer trips to the dentist.
"Most people don't realize that a cavity doesn't hurt until it is very serious. By the time they feel pain they are at risk of nerve damage that may require a root canal and antibiotics. It is better to get regular cleanings and brush and floss regularly at home before it becomes a problem," Latham said.
Sedation Dentistry: A Great Option for Dental Phobia
Many people avoid regular visits to the dentist because they suffer from dental phobia, something that affects up to 20% of Americans. In cases of dental phobia, the Shelton Dental Center offers sedation dentistry. "We offer two options for fearful patients: nitrous oxide or conscious sedation," said Latham. Often this alone reduces a patient's anxiety level, and they are able to receive the dental care they need and avoid more serious oral health issues.
Dr. Kathie sums it up best.
"We encourage patients to see us on a regular basis in order to maintain great dental health. Our goal is to create a partnership with our patients to maintain strong, healthy teeth, and to correctly address any problems that may arise. We have the experience, technology and awesome staff to take care of any needs our patients may have."
Shelton Dental Center
1829 Jefferson Street
Shelton, WA 98584