By Tom Rohrer
Winning a golf tournament on your home course, in your home town, must be a great feeling.
Ryan Earl would certainly know, as the 1996 Olympia High School graduate did exactly that last June when he won the Capitol City Men's Amateur Championship at Capitol City Golf Club.
Earl will look to defend his championship at Capitol City Golf Club beginning on Saturday, June 8.
After posting a score of 144 through 36 holes, Earl found himself tied with Casey Adams, meaning the tournament championship would be decided in a sudden death playoff hole.
Following the first playoff hole on which the two players scored the same, Earl birdied the second hole following a lost ball by Adams, giving the Olympia native a dramatic victory.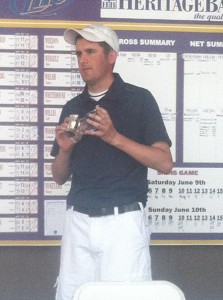 "I hit the ball well last year, didn't make a whole lot of putts, but hit the ball solid enough to where I could hang in there over the course of the tournament," said the 35 year old Earl. "I was able to win after two playoff holes which was fun to be a part of and it was just a great experience."
Such a victory was not the first for Earl over his 25 years of playing golf.  A standout for the Bears during his time at OHS, Earl would go on to play at the University of Portland, where he would win several collegiate tournaments and compete in the 1999 U.S. Amateur Championship before trying his hand on various west coast tours and the Professional Golf Associations (PGA) 'Q School' (qualifying), a series of tournaments held to qualify for the PGA Tour.   In the 1998 U.S. Amateur Championship, which was held at the Oak Hill Country Club, Earl competed against current PGA stars Sergio Garcia, Adam Scott, and Matt Kuchar among others.
After a period of time away from the sport, Earl, a senior credit analyst for Heritage Bank in Tacoma, got back on the golf course with a group of friends, and found he needed to obtain competition that only tournaments can provide.
"I was just burnt out and I needed to take time off," said Earl, a member of the men's club at Capitol City Golf Club. "I found a good group of guys to play with out at Capitol City, and that really got the fire going again."
"I'm a very competitive guy and obviously the competition is something I missed," Earl continued. "I knew that I could still compete at a high level and knew I could compete in some of these tourneys.  I'm older now, and a lot of guys I compete against are younger, still in college.  That gets me going."
Earl noted he has been playing in similar tournaments for the last three years, including around 8 last summer alone.  He plans to increase that number over time, and has already played in two tournaments this spring – the Ft. Lewis Amateur Tournament and the Puget Sound Amateur Championship, a perfect segue for the tournament at his home course.
"I'm feeling confident and I told myself I wanted to build up my tourney schedule," said Earl.  "Obviously, the more you play in that setting, that more comfortable you feel and I feel like I'm reaching the top of my game approaching Capitol City."
Earl enjoys the Olympia area tournament for both its high level of competition and organization.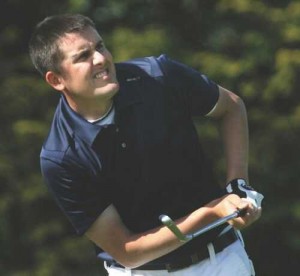 "I'd call (Capitol City) one of my favorite tourneys I play," said Earl, who will be joined in tournament by his father, also a member of the men's club. "Steve McNelly, who organizes the tournament, fills it way in advance and runs a great tournament.  There are a lot of guys from the men's club who compete, so there is that familiarity and bond as well."
"It will be competitive and I know I have my work cut out for me," Earl continued.  "I know it won't be easy, but the goal is to win every tournament. When I step on the first tee, I want to win and play my best."
Winning golf tournaments requires playing well in pressure filled situations, something Earl relishes in doing after a career of playing in similar atmospheres.
"I still feel the pressure, but I know I have lots of experience playing in these types of tournaments," Earl said. "The pressure is still there and if you don't feel that pressure, you're missing something. That's part of the game. I don't care how many tourneys you play in, it is there, and I think that's a good thing. I know how to feed of it."
Earl credits his reinvigorated passion for the game he loves in large part to playing at Capitol City Golf Club.
"It's just got a good camaraderie," Earl said. "There are all types of golfers out there, all take the game serious, but everyone still have fun. It's just a game and that's how everyone treats it out there."
While golf is indeed just a game, that won't stop Earl, and the rest of the competition, from putting everything they have into winning the local tournament.
"I'm just gearing up, still practicing and looking forward to defending my title," said Earl.  "I know it won't be easy, but this is what it's all about."
For more information on the Capitol City Men's Amateur Championship, click here.