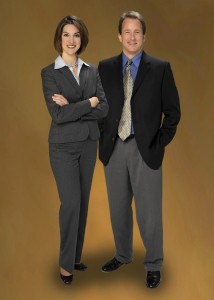 With more than 25 years in the local real estate market, Jeff and Diane Pust have seen it all.  They have seen family rooms that still feel like a garage and shops that you can't access by vehicle.  They have had to educate sellers when they aren't going to recoup their investment in a home improvement project.
As a result, the owners of Olympia's Van Dorm Realty, strongly encourage home owners to check in with a real estate professional before tackling a large remodeling project.
"Home owners need to remember that not all improvements to the property are going to result in a dollar-for-dollar value when the home is sold," says Diane.
"We have seen home owners sink tens of thousands of dollars into projects that the market won't allow you to recoup," adds Jeff.
One example he uses to illustrate this point is putting in a swimming pool on your property.  "It's just not common here and the majority of home buyers don't desire one," he explains.
"As long as you know that you are investing for your benefit and enjoyment and that the next property owner may not treasure it as much as you do, then it's fine," says Jeff.  But, unfortunately, the majority of the time, a real estate broker has to be the bearer of bad news when listing a property's unique feature that may not have as much market value as it does to the seller.
Barns, large shops, covered arenas, and other significant outbuildings are other examples that the Pust's use to illustrate the point.  Garage conversions are often another costly project.
"We want home owners to consider the resale up front, when putting money into projects," cautions Diane.
"Consult with someone who sees homes all the time," adds Jeff.  "Ask if this improvement will increase the value of my home or how I can maximize the return on my investment."
"Even simple things, like paint color, will impact resale," notes Diane.
Van Dorm Realty's real estate brokers will educate home owners on ways to make the improvement project attractive to future buyers.  They may suggest that you have convenient, drive-up access to a shop.  Or, make a recommendation about removing the "garage feel" when converting it into usable space.
Above all, Van Dorm brokers want home owners to understand, in advance, if not all home improvement projects will benefit the resale value of their home.
1530 Black Lake Blvd SW, Suite F
Olympia, WA 98502
360.943.3800