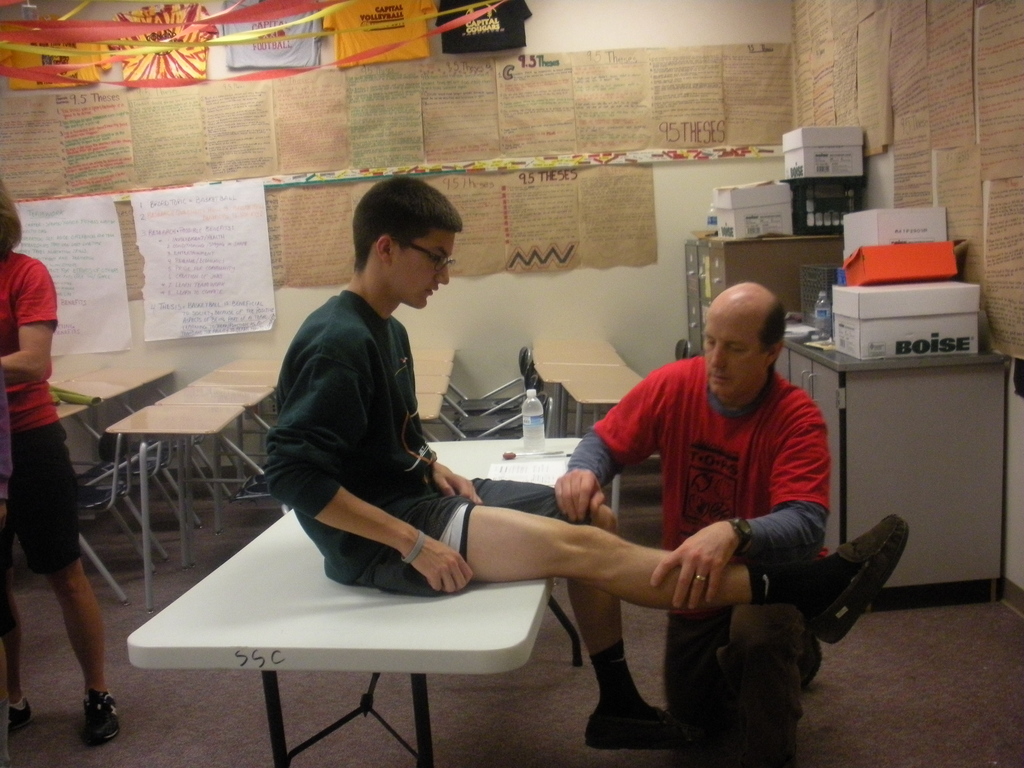 No one likes to be in pain.  And when you have chronic pain, whether in a joint, bone or muscle, you protect that area, limiting its use and favoring other limbs or muscle systems.  But, what if the pain is in your foot or ankle?  There is no way to compensate – to limit the use of your feet.  The question, "What if I can't walk?" floats through your mind and you begin to count the activities you'll have to give up.
However, here in Olympia we are fortunate to have Dr. Stephan Snow at Olympia Orthopaedics.  Raised in Seattle, Dr. Snow attended PLU in Tacoma, earning his Bachelors of Arts in Biology before continuing to Temple University for Medical School.  Dr. Snow focused his orthepaedic training with a one-year foot and ankle fellowship at St. Luke-Roosevelt Hospital and The Hospital for Special Surgery, both in New York City.
When asked why he was drawn to orthopeadics, and particularly foot and ankle he shares, "When I was in medical school I realized I had to be an orthopaedic surgeon – I like fixing things.  I do general orthopaedics, but felt I needed an area of expertise and I chose foot and ankle."  And his expertise in the field of advanced foot and ankle procedures, particularly total ankle replacement, is unparalleled.
Dr. Snow is the only physician in Southwest Washington doing any form of ankle replacements and one of only a handful in the state performing the state-of-the-art Inbone II Total Ankle Replacement.  In fact, aside from the UW Medical Center's Orthopaedics Department, Oly Ortho is the largest orthopaedics group in the state, allowing them to have some of the best experts in many complex orthopaedic procedures on their staff.
While Dr. Snow began performing total ankle replacement almost 20 years ago, the technology at the time was unsatisfactory and he stopped offering the procedure, opting to perform the more familiar ankle fusion.   However, while ankle fusion relieves pain, it limits the up and down motion of the foot, greatly reducing range of motion.  When the Inbone II came out, Dr. Snow knew it was a major step forward in total ankle replacement and began using the system six years ago.  He has performed approximately 20 to date and is ready for more.
One advantage to patients, aside from maintaining mobility and normal function of the ankle, is the surgery can be done as an outpatient procedure, significantly reducing recovery time and patient costs.  And with Oly Ortho's state-of-the-art Surgery Center, the process is fully streamlined within the same building.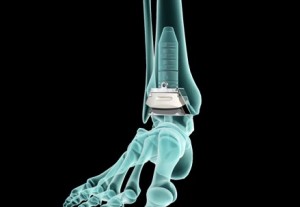 Who is a candidate for the Inbone II?  Most patients who are ready for a total ankle replacement have either osteoarthritis or post-traumatic arthritis of the foot or ankle.  "When, what I call, 'pills, shots, exercises, and braces' have failed, then you are looking at surgical options and luckily we have great ways to cure it," explains Dr. Snow.
If you want to check out the Inbone II procedure, take a look at this comprehensive video.  Great education for patients facing the procedure, but also for anyone interested in progressive techniques being used at Oly Ortho.
While Dr. Snow is leading the way in Southwest Washington  in total ankle replacements, he treats a wide variety of conditions of the foot and ankle as well as seeing patients with general orthopaedic conditions.  In Dr. Snow's foot and ankle clinic, the variety of ailments include:
Ankle and foot trauma
Tendonitis
Ligament sprains and tears
Achilles' tendon
Heel pain
Plantar fasciitis
Bunions, hammertoes, clawtoes
Ankle and foot arthritis
Deformities
These conditions result from a wide variety of causes including occupational and athletic injuries, trauma, arthritis or congenital deformities.  Whatever the cause, Dr. Snow and his team have the resources and expertise to provide an appropriate solution with the goal of alleviating pain and returning mobility and normal function.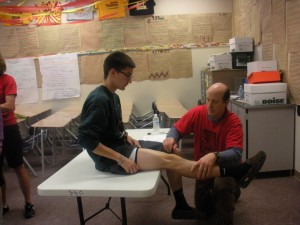 Dr. Snow particularly feels connected with those patients needing care for sports related injuries.  He has always been interested in Sports Medicine and has received specialized training, including serving as the team doctor for John Jay College in New York and starting a sports medicine program there.  When he relocated to Olympia, local orthopaedic surgeon Peter Taylor was retiring as the team doctor for several area schools and Dr. Snow took over.  He consults with the trainers of Capital High School, Saint Martin's University, and The Evergreen State College.  They know they can call him with questions or send injured athletes to the Oly Ortho Westside clinic to be seen by Dr. Snow.
When asked what the most important thing he'd like to share with our community, Dr. Snow didn't hesitate.  "We do state-of-the-art orthopaedic surgery in Olympia.  There is a sense that you have to go to the University of Washington or out of town and that is truly not the case.  There is very little that we do not do here.  We stay up-to-date on the latest technology so we can offer it to our community.  And we now have a state-of-the-art facility to match our services.  It's something we feel honored to offer to our community."