By Tom Rohrer
Being successful in the present, and having a bright future, is any high school coach's dream.
The dream is a reality for Timberline fast pitch coach Charles Porche.  In his second season as the Blazers head coach, Porche has led THS to their first district playoff appearance in five seasons.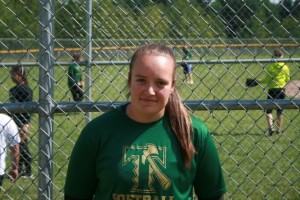 After finishing fourth in the league last year, Timberline advanced to second place in the 3A Narrows League this year, defeating league champion Wilson two times throughout the season before finishing in 3/4th in the league tournament last weekend (which was won by Wilson over North Thurston).
Now the Blazers face a 'win or go home' situation this Friday at Sprinker Park in Tacoma.  The Blazers will face Kennedy Catholic High School in a loser out, winner move on game beginning at 2 p.m.   The success Porche has seen from his team provides him with vindication he initially thought would be hard to come by.
"My goal was to build the program, and I think we are on the right track," said Porche, who coached several travel and select teams prior to taking the Timberline job. "Timberline hasn't been to districts for five years, so making it in my second year, that's huge.  Having this young team and making it to districts, that's a great success for the present and a building block for the future."
With only five upperclassmen spread across the 14 person roster, the Blazers relied on a bevy of young talent all season.  However, as fast pitch fans know all too well, pitching carries teams and leads to success.  The Blazers are anchored by a senior duo that have eaten up innings, while striking out batters all season long.
Ellie Jones and Rebecca Nelson, two of the three seniors on the team, have split the innings pitched almost exactly down the middle according to Porche, and have provided some pop at the offensive end as well.
"It's still a young team, but having the same pitchers as last year has been a big plus for us," Porche noted. "They understand the game, and we really depend on their hitting as well.  Having leadership in those positions is a key for us."
Both Jones and Nelson recognize they've got to perform at a high level for the Blazers to be successful, a large amount of pressure that neither players seems to mind.
"I've been pitching for quite a while, both for select and school, so I'm not flustered when I'm out there," said Nelson, a four-year varsity player for Timberline.  I'm doing it for (teammates) myself and the win."
"When I got into pitching I instantly fell in love with it," said Jones, who will be the starting pitcher Friday against Kennedy Catholic. "I love pitching big innings.  It's fun, a privilege and the pressure is part of it."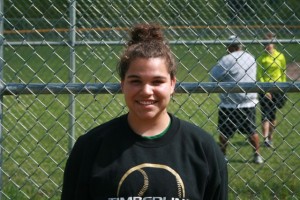 With the pitching roles taken care of, the younger Blazers can focus on making plays defensively in the field, while splattering hits across the outfield at the plate.  Porche noted that his team is hitting around .400 for the season, thanks to the efforts from players such as Krista Jones, Maria Velez-Craft, Aundrea Temple and Rylee Payton.  Leading the offensive charge is sophomore Megan Porche, the coach's daughter, who also is the team's catcher.  Porche hits sixth in the Blazer lineup, lower than most offensive leaders in the sport.  However, that extended wait allows Porche to better dissect the pitcher and the strike zone, and can provide the Blazers with a second wave of offensive production.
"It gives me a chance to see how the pitcher works, how the batters before me are hitting," said Porche, who played under her father for select teams as well.  "As the game goes on, I become more aggressive."
Being behind the plate on defense helps her hitting as well.
"I know what the strike zone is for that umpire, how the ball is moving," Porche said. "Anything like that will help."
What will also help the Blazers is the player's drive to represent the school in the district playoffs for the first time in half a decade.
"It means a lot to represent my school.  I'm so excited.  This is what I wanted my senior year to be like and it is happening," said Nelson.
A large part of the Blazers success has to be credited to coach Porche, as he has put emphasis equally on academics as the game itself.  Eight of the fourteen Blazers will be on the Narrows League All Academic Team (3.5 GPA and above), and nearly every member has over a 3.0 average.
"That was one of my goals, to emphasize academics," Porche said.  "Without the grades, you won't be going to college, regardless if you're the best athlete ever to attend this school."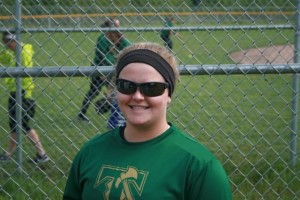 The players appreciate his back to basics mentality that has turned the program around.
"He focuses a lot more on the fundamentals," said Jones.  "We went back to the basics and that made us stronger."
"He's been awesome, provided more discipline and structure," said Nelson.
Also making the Blazers strong was a tough non-league schedule that featured 4A powerhouses such as Olympia, South Kitsap, Gig Harbor, and Union (Vancouver).
"It was important for us, when I talked to our athletic director this year, that I schedule some of those challenging games," Porche said. "Pretty much our non-league schedule was 4A teams and  hopefully those early games help us out as we go forward."
Going forward, the Blazers focus is 'one at a time,' further evidenced by those exact words printed on the back of their practice jersey.  That mantra has helped the Blazers keep perspective and provided them with confidence when they have fallen behind.
"We stress to them to take everything one at a time, whether it's the next pitch, the next at bat, the next inning, or the next game," said Porche.
"We've had a lot of comeback games and having that mindset has helped with that," Nelson added.
Now, all the seasons hard work will come down to Friday's game.  Fortunately, for the Blazers, the future is bright, regardless of a win or a loss.