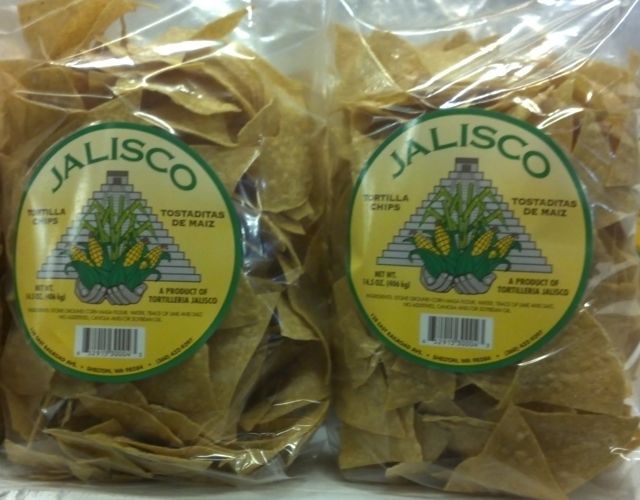 By Mary Ellen Psaltis
At the same moment my husband was stepping off a plane in Cabo San Jose, Mexico, I was heading up Highway 101 towards Shelton. The Olympics were dazzling in the sunshine. My destination was Jalisco Tortilla Factory in the heart of Shelton. The storefront is modest by all respects, but that's perfect, because it is actually part of the factory where tortillas are rolling off the press only a few feet away. Bags of freshly cooked chips are piling up. Maggie's salsas are in the fridge. Why go to Mexico at all?
Almost fifteen years ago, Maggie Velasco-Lucero had a dream – serve her community by making tortillas for everyone. Ever since that is exactly what she has been doing. Now her whole family is enrolled in the business including partner Eddie Lucero and three children, Mark Velasco, Erica Lucero and Jessie Lucero.
Jalisco Tortilla Factory is a family business with a big heart. At the center is Maggie. She is joyful and happy to be at work. You might never know she is sight challenged unless you catch her reading paperwork with a large magnifying glass. It was in part her diabetes that created the need to make their products more healthful.
She goes to work because she loves her job. She told me that their business may be "small, but it keeps us busy." That might be an understatement.
The business began with tortillas. It has expanded over time to include red and green salsas made with Maggie's recipes. Shoppers find the red salsa in three heat levels – mild, medium and hot. The green salsa is usually medium, but if you love that extra hot, you can call the store for a special batch packed with heat.
Jalisco makes both flour and corn tortillas along with bags of fresh chips, which are essentially fried tortillas, but they are thinner.
I brought home both red and green salsas – the best of both worlds. The tomatillo base of the green salsa is an appealing taste for me, but I do like the red, too. I especially like pico de gallo, which is a fresh chop of jalapenos, onions, tomatoes, and cilantro. And, maybe a splash of lime juice and shake of garlic and salt.
As Velasco-Lucero says, "Tortillas go with everything." She's right. Tortillas are mainstream cooking these days and for good reasons.
Here are few of them:
Breakfast: Scramble up anything and everything: eggs, cheese, vegetables, chorizo, and roll up into warm tortillas.
Stale tortillas are reincarnated to chilaquiles, a saucy mixture of broken tortillas, salsa and cheese. Often eggs or chicken are added.
Lunch and Dinner:  Turn tortillas into enchiladas, taco salads, burritos, or taquitos. Tortillas can be grilled or fried or nuked.
Tortillas are handy rollups for your leftovers any time of day.
Then there's snacking: Quesadillas are flour tortillas with melted cheese. But you can add anything you want. The Internet overflows with ideas for tortillas.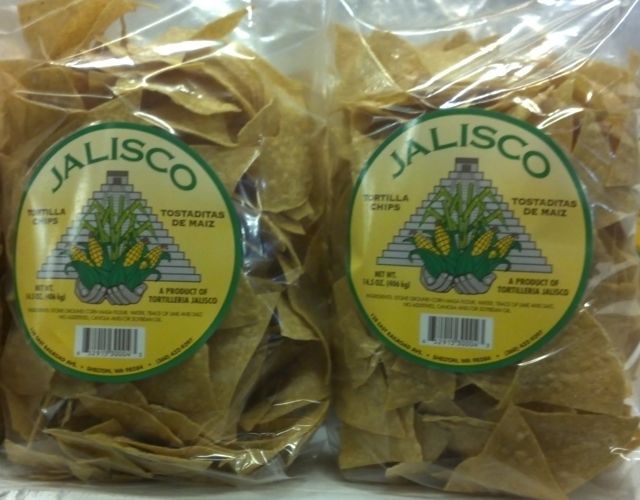 And, you don't need a recipe for chips! Undo the bag tie and pour into a bowl. I took a ripe avocado, cut it in half and sliced it up and down and across in the flesh. A quick scoop with the spoon filled a small bowl. I added both Maggie's red and green salsas, sprinkled on some big-grained salt, mixed and loved every bite.
You can find Jalisco Tortilla Factory chips, tortillas and Maggie's salsas locally at Bayview and Ralph's Thriftway.
Their Shelton storefront also carries 12" and 14" tortillas, canned good, bulk spices, chilies and corn husks.
Sunday may be Cinco de Mayo – certainly more an American holiday than a Mexican celebration – but any day the sun is out in Thurston County is a day of celebration.
Grab your bag of chips, pop open your freshly made salsa and soak it all in. It may not be as warm as Cabo, but it cheers my heart the same.
Eat Well – Be Well.