By Tom Rohrer

Walking down the aisle at the Olympia Farmers Market, with vendors of all sorts surrounding her on each side, local citizen Carol Horner clearly displayed her friendly smile for all to see.
Horner, who has been coming to the Farmers Market since the late 1970s (long before the new facilities opened up in the 1990s), long had Thursday, April 4, 2013 marked on her calendar, as it was the opening of the Farmers Market season.
"You can always feel the excitement on opening day here," Horner said. "It's just great to see friends, see the excited people, and everything on display.  And if you look around, just notice all the colors…of the flowers, of the produce.  It's so beautiful."
Yes Thurston County citizens, the wait is over.
From now until October, the Olympia Farmers Market, the second biggest of its kind in the state to Seattle's world famous Pike Place Market, will be open Thursday through Sunday, from 10 a.m. to 3 p.m.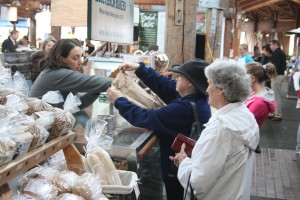 At 10 a.m. on April 4th, the market held its first "bell ringing" of the season to kick off the  opening day festivities, and despite steady rainfall, the area public came in droves to get some produce, craft products or flowers (among many other items) from their favorite vendors.   You could feel a friendly buzz underneath the impressive main structure of the market, and it was pretty clear people were happy to get back to shopping out in the fresh air for a change.
"It's just great to have a place you can walk around and meander through at a slower pace," said Olympia's Therese Martinez.  "You're not trying to get in and out as fast as possible, you want to see everything.  It's a great setting to be in."
While the opening of the Farmers Market is exciting for the customers, it's equally exciting for the dozens of vendors spread throughout the establishment.  It's a time to reconnect with friends, sell some goods and services and display new products to the public.
"Oh we're very excited about today," said Amber Huffstickler, who assists at 'Fine Art in Clay', a ceramics outfit run by Marion Pollmann. "We've got a lot of new products and it's cool to finally be able to show them off to everyone."
"It's just a great community setting," said Eric Zvonchenko, the owner of Cascadia Terroir, a distiller of essential oils and hydrosols and a maker of perfumes, soaps, lotions and deodorants. "It brings everyone together in a friendly environment, and it really benefits the community."
While it may not be known across the globe like 'Pike Place', the Olympia Farmers Market has certainly earned its own reputation that spreads beyond the state lines of Washington.
"I always hear great responses from people not from the state or who have vacationed here and visited (the Farmers Market)," said Colleen Rose, who runs Rose's Skokomish Valley Produce with her husband Martin.  "I think it's a testament to how well all the vendors here work together and just the quality of items for sale."
The vendors and their products are clearly part of the Farmer's Market appeal to the surrounding public.  Another part of that equation is the facility itself, as it allows for an intimate, outdoor setting, that still provides cover during rainy days.
"It's such a beautiful set up and we're lucky we don't have to use tents," said Jim Johnson of Johnson Berry Farms, a staple of the Olympia Farmer's Market since 1976. "It's intimate, but spread out.  Not many farmers markets have that luxury."
Nor do many farmers markets have the luxury of a dedicated, friendly and ever-expanding customer base.
"The people here are beyond great and really just incredibly supportive," Rose said.  "You get to know people over the years, and will always have those relationships."
"I think that's the big key to the market's success, that dedicated customer base," Johnson said. "It's just fantastic the amount of foot traffic through here, and we're happy to be part of something this special."
For more information on the Olympia Farmer's Market visit http://olympiafarmersmarket.com/