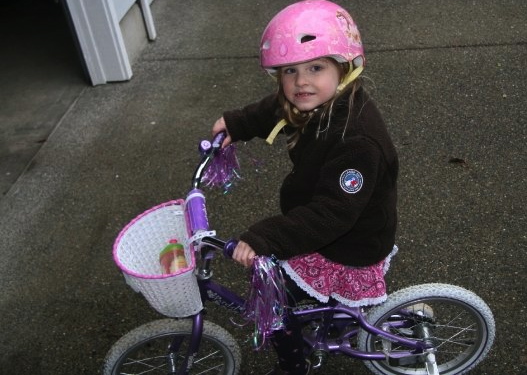 By Kate Scriven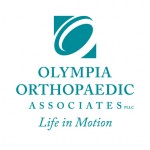 I live in "unincorporated Thurston County."  What does this mean?  A private company picks up my garbage.  The Sheriff patrols my neighborhood instead of city police.  I don't have sidewalks.  The upside of living outside the city boundary is a slightly rural setting, yet we are only 8 minutes from the Olympia Farmers Market.  The downside?  A nearly 5 year-old daughter who doesn't know how to ride a bike.  Or a trike.  Or really anything with pedals.
Luckily, I do live in an area with a vast number of parks and trails that are maintained beautifully.  With a little planning, and a little space in the back of the van, these locations provide an excellent place for my kids to learn to ride.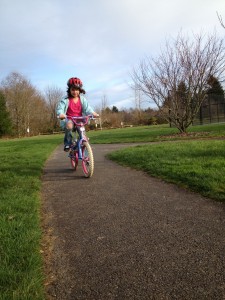 There is a strategy, however, to navigating a successful "learning to ride" park visit versus an "all-out-free-for-all" at the park.   Here are my tried and true tips:
Prepare your kids in advance that this is a visit to practice their riding skills.  When they know the purpose of the visit, they can mentally prepare to meet your expectations.
Allow enough time to play after the riding practice, giving your kids something to look forward to after their hard work.
Wear a helmet.  Please.  Many local fire districts provide free helmets to kids aged 2-18.  Check out programs at East Olympia Fire District 6 and  Lacey Fire District 3.
Bring water and snacks and have your kids wear comfortable, close fitting clothes.  Learning to ride is hard work!
Now that you have some basics on planning your visit, where to go?  I've hunted out the best parks in our area for riding, from toddler friendly pathways to more extensive trail riding for endurance practice.   Try one near your home for a quick after-dinner ride as our daylight hours extend, or plan a family outing on a weekend to a new park farther afield.    Despite the fast-paced, technological world we live in, the skill of riding a bike remains a milestone of every child's life and one that you can foster at these terrific locations.
Full Thrifty Thurston Disclosure – this is my favorite park in town.  I love it here.  The park is nestled in a quiet Northeast Olympia neighborhood and includes a terrific paved loop around the park perimeter perfect for practicing.  With a picnic shelter, small skate park, and toddler to big kid sized play equipment, it provides something for everyone.   And, you can sit on a blanket in the middle of the grassy field and see the entire riding path.  Bliss for the busy mama!
Located in Tumwater, just off Cleveland Avenue SE near the cemetery, this small park is a hidden gem.  The paved path for riding encircles the entire park with slight changes in elevation giving kids braking practice on the slight hill.  The play structure is geared for children 4 and up, so it may not be the best option if you have tiny tots in tow.
Also located in Tumwater, this extensive park has something for everyone – from soccer and softball fields to Deschutes River access.  For riders, the paved trails here are lengthy and provide space for longer rides, perfect for kids looking to practice new found skills.  With this in mind, adults may wish to bring their bikes as well.
This 39-acre naturally wooded park, located between College and Ruddell Road in Lacey, has it all.  Riders will enjoy lengthy paved trails that wind through the woods and open field areas.  Full facilities and extensive play areas are ready for your post ride relaxing.
Another vast park in Lacey, this property provides meandering paved trails that also have some elevation change to help train braking and accelerating for beginners.  The park includes Woodland Creek as well as Long's Pond with fishing for youth 14 and under.  The park is also bordered by a section of the Woodland Trail, an extensive walking and biking trail.
One of our newest area parks, this waterfront park has been developed to reclaim some of the industrial areas on our Westside waterfront.  Paved paths provide a fun way to explore this new area with your little rider.  Expansion plans are in the works for the future providing more riding trails all along the West Bay shoreline.
Trail Riding
For those ready for a longer ride to challenge newly aquired biking skills with a couple miles of flat trail, there are several options.  The most extensive option is the Chehalis-Western Trail.  Formed out of an old railroad grade, the trail runs north-south through the entire county and connects with the 14 mile Yelm-Tenino Trail.  Access points abound from Woodard Bay in NE Olympia, stretching through Lacey and into SE Olympia.  Two excellent parks, Bush Park and Avonlea Park, adjoin the trail and provide great riding/play access.
Another urban trail begins on Eastside Street SE near I-5.  The Olympia Woodland Trail parallels I-5 for several miles and connects with the Lacey Woodland Trail, following Pacific Avenue.  It intersects the Chehalis-Western Trail between Fones and Sleater-Kinney Roads.  This trail can be accessed at multiple points along the way and is mostly flat and shaded, although there is some street riding as you enter Lacey.
And, if your family has riders that actually know how to use gears, check out the detailed Thurston County Bike Map created by the Thurston Regional Planning Council.  It details trails as well as safe road routes for rides throughout the county.
Our trip last night to Friendly Grove consisted of excellent riding by the 8 year old in our family and a lot of sliding and swinging by the younger one.  Ah well….if I keep her bike in the back of the van, she's bound to feel like riding soon.  And, with my list in hand, I'll know just where to go, no matter when the mood strikes.
Thrifty Thurston highlights inexpensive family fun in Thurston County.  The weekly series focuses on family-friendly activities throughout our community.  If you have a suggestion for a post, send us a note at submit@thurstontalk.com.  For more events and to learn what's happening in Olympia and the surrounding area, click here.