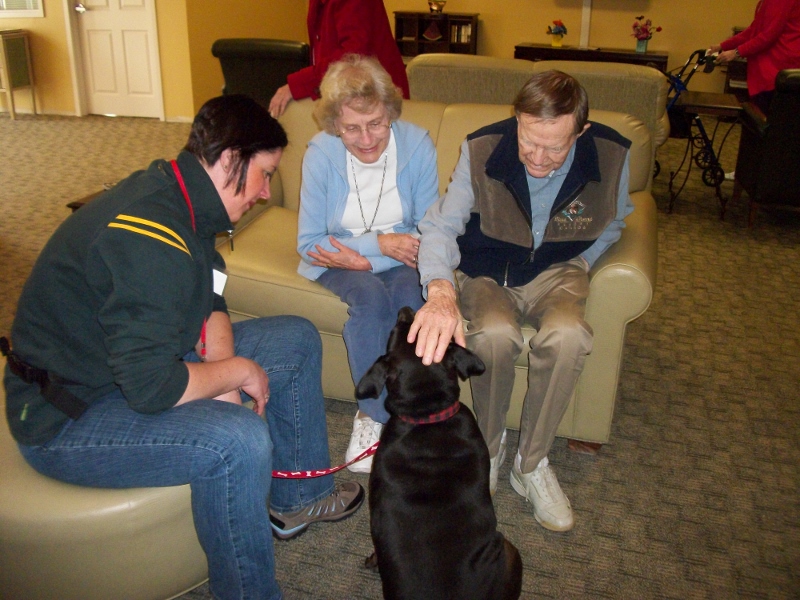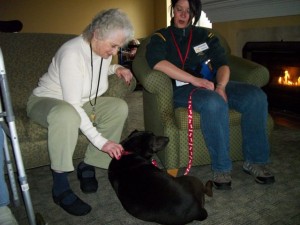 Annie and Roxy are not your typical Alzheimer's and dementia therapists. First, they are highly trained, but maintain a very relaxed demeanor, sometimes to the point where they fall asleep on the job. Secondly, they prefer to receive attention rather than give it. Back rubs, ear scratches, whatever attention you want to give, they'll take it. Finally, they don't care if you tell them the same story over and over again; they just like to hear you talk.
Annie and Roxy are therapy dogs, and regular visitors at Garden Courte Memory Care. "Residents, some who have not been responsive, just light up when the dogs arrive," said Heather Durka, Community Marketing Director at Garden Courte.
Researchers at the University of Nebraska Medical Center have found that dogs can provide Alzheimer's patients relief from sundown syndrome. The syndrome is characterized by restlessness, confusion, agitation, and sometimes even aggressive behavior in the late afternoon or early evening. In addition, pets are used successfully in health care to reduce stress and provide affection and companionship with those who have reduced ability to socialize, according to the University of Nebraska researchers.
Therapy dogs are just one of the many research-based programs at Garden Courte Memory Care, an assisted living home specializing in care for those with Alzheimer's disease or other forms of dementia.
Dining is another carefully planned activity at Garden Courte. The main meal of the day is served at lunch time, and their national award winning program is called Dining by Design. "We understand that social interaction, eating habits and overall well-being are enhanced by a dining experience that is filled with good food, good conversation and an inviting atmosphere," said Durka. With that in mind, Integral Senior Living, the parent company of Garden Courte, created the Dining by Design program that is research based.
The program won the Assisted Living Federation of America's (ALFA) 2010 "Best of the Best" award. An example of the thought put into the dining experience is the way they set the tables. In a typical dining room you may find white tablecloths and napkins accompanying white dishes. At Garden Courte, the tablecloths and napkins are colorful and eye-catching. According to the Alzheimer's Association, changes in visual and spatial abilities may make it difficult for someone with dementia to distinguish food from the plate or the plate from the table. White plates or bowls on a colorful cloth is a way to help residents overcome changes in spatial cognition.
Providing stimulation and engagement is also an evidence-based focus at Garden Courte. Research shows that mental and social stimulation are crucial for someone living with Alzheimer's or dementia.  Engaging in hobbies or social activity can fend off feelings of isolation and depression, both of which can further the disease's progression, according to the Alzheimer's Association.
Vicki Engstrom is the Activity Director at Garden Courte. She works hard to keep residents busy, and she takes pride in the programs she has created. "We use the acronym P.I.E.S: Physical, Intellectual, Emotional and Social. Each activity has to fit into one of the categories," she said.
Engstrom and her team provide a wide range of daily activities, seven days a week. "We try and make sure that there are activities available that keep the residents busy and feeling useful. Residents often have a sense of loss when they move away from home. Our goal is to keep them involved and help them find their purpose. If we are successful at that, it alleviates undesirable behaviors, such as exit seeking and agitation. The brain needs to stay active. It won't stop the disease, but research shows it can slow down the progression," said Engstrom.
Especially popular with the residents are the weekly field trips that take residents out to restaurants, movies, plays and nail salons. Garden Courte is one of only a very few facilities in the region to do this level of activity. "Residents especially love going to Dirty Dave's, Northwest Trek, Rainier Baseball games, and in summer, the Point Defiance Zoo," said Dawn Peterson, Community Marketing Director.
Residents always have a choice of whether they want to be involved in the planned  activities or not, though the staff knows better than to ask a yes or no question. Instead they will phrase it something like this: "Let's go down to the activity room and get your body moving."
They make exercise, like all activities, enjoyable. "We make it fun. It is not strenuous, and is very social. Music is playing. We're cracking jokes. Before you know it they are alive. When I see that spark in their eye it shows they are present, and not lost in their world," said Dawn.
626 Lilly Road NE
Olympia, WA 98506
360.339.5080