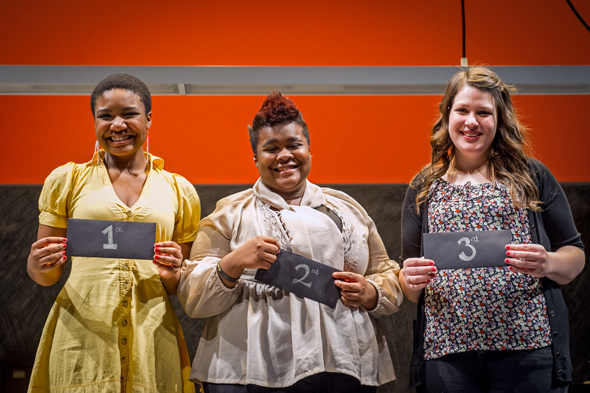 By Tom Rohrer
Excellence in performance art requires more than just talent.
Like any other craft, hard work and dedication are necessary to excel in acting, song and dance.
Thanks to her extensive effort, Timberline High School junior Reneeka Massey-Jones took second place in the Seattle Repertory Theatre's third annual August Wilson Monologue Competition, which was held over four days in late February.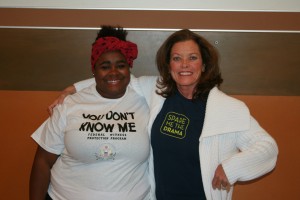 Massey-Jones was joined by THS junior Luis Romero, who finished in the top ten, competing against over 50 participants across the state.
For her second place performance, Massey-Jones earned a $250 cash prize and an all-expenses paid trip to New York City.  In New York City, Massey-Jones will compete in the event's national finals round at Broadway's August Wilson Theatre in May.
A top 10 placer in last year's event, Massey-Jones performed the Vera Monologue from Wilson's "Seven Guitars."  The talented student is still brimming with excitement over her well-deserved achievement.
"Anywhere I was at, in my car, walking from class, studying, I was always reciting lines, over and over again," Massey-Jones said. "When I found out I got second, I was tearing up, some friends of mine and I were crying.  So many times I thought I wasn't good enough, and to earn something I worked so hard for was just an incredible feeling."
It marks the third time a Timberline student has earned a trip to the national finals under the guidance of longtime drama instructor and director Brenda Amburgy.  It's an impressive statistic, but not surprising given Amburgy's dedication to her student's craft and the work ethic they display in return.
"It is unbelievable, exciting, whatever you want to call it," Amburgy said. "It's so much a part of my job, getting kids ready for August Wilson and we have started recruiting for next year.  We're building this August Wilson (Monologue Competition) dynasty."
Named after the Pulitzer Prize winning American playwright, who passed away in Seattle in 2005, the contest requires participants to memorize a dramatic monologue from any of Wilson's work.  The monologue must be three minutes or less in duration.  Performers are judged in a variety of areas, including memorization and delivery among others.  Even an established high school performer like Massey-Jones, who has participated in a number of theatrical and musical productions at THS, felt the pressure of the contest while performing.  However, the experience under Amburgy's direction helped her rise to the occasion and deliver a memorable performance.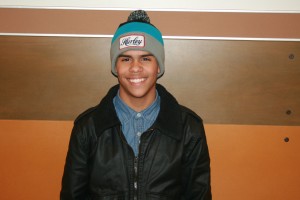 "I felt pressure (because) every year, someone has gone to New York, and that made me focus more.  I couldn't sit here and joke around," Massey-Jones said. "When we audition (for a THS play or musical) it's in front of every person auditioning.  We have to do it front of 100 people whether it's dancing, acting or singing, you get used to it. She takes us to different shows, introduces us to new people. We have all those connections already, all those resources, and other schools don't necessarily have that."
Both Massey-Jones and Romero also have the advantage of having talented peers around them who will be honest when critiquing their performance.
"I think that helped almost as much as anything because they tell you what needs to fixed and tell you in an honest way what they think," said Romero, a junior who performed a monologue of the character Levee from Wilson's "Ma Rainey's Black Bottom". "They know that will help you succeed and they don't want you to fail."
"When they critique, I know it's valid, and they're being honest with you," Massey-Jones said.
Coupled with the help they receive from fellow performers (and a host of other factors), Amburgy credits the lure of the big city, and the opportunity to observe the theatrical lifestyle there, in driving her students to perform in the competition.
"It costs nothing for these kids except their time and hard work. The (lure) is, we have the reputation. Ours is established, so kids see someone go, they want to go next year," Amburgy said.
"They see the other side of the U.S., which is fast-paced," said Ambugy, who has seen two of the four THS contest finalists move on to the Circle in the Square Acting School in New York City. "They decide 'can I live like this, is this what I want, can I live in this environment?'"
For Massey-Jones, visiting New York City for the first time is an exciting prospect.  However, she knows she will have to perform since a semifinal around will take place before contestants move on to the August Wilson Theatre.
"It's one of those places I've always had on my list of cities I wanted to visit, so that's incredible," Massey-Jones said. "But I am extremely nervous in the sense that there are a lot (competitors) who have (more) experience than me.  I have yet to see one of August Wilson plays and so many contestants know every single one. And it's nerve-racking to go through another round to get to the finals."
For Romero, the work has already begun for next year's contest.  He is driven towards the goal of earning that trip to the Big Apple.
"I wanted to do it this year to make sure I got the experience, so I could know what to expect," Romero said.
"He (Romero) already told me that his goal is to win it all next year, and I certainly think he can," Amburgy noted.
It has been extremely rewarding for Amburgy to witness the transformation of both Massey-Jones and Romero from shy performers who lacked confidence, into a charismatic pair of actors who have harnessed their talent.
"Never did I (initially expect this).  I'm telling you – they are two chameleons," Amburgy said. "They didn't show any confidence and I used to say (Massey-Jones), 'she's a deer caught in the headlights'. And after coaching, she has become a completely different performer, and we just said 'wow'. She completely channeled Vera. Just as honest, and powerful as she could be."
"Luis, if you go back two years, oh my gosh. I couldn't get him to do (the competition)," Amburgy continued. "That's a reason why I've stayed in secondary education as long as I have.  I get a huge satisfaction from watching students grow up into adults."
Massey-Jones is thankful she even has an opportunity to compete, and encourages other aspiring actors and actresses to do the same.
"You gain a sense of independence in acting. You practice your own monologue with no actors to shadow you," Massey-Jones said. "It helps build acting and the performance is truly all on you."
For more information on the August Wilson Monologue Competition at the Seattle Repertory Theatre, click here.