Credibility, honesty, trust.  These are the foundation of any solid relationship, whether among friends, between business partners, or from service provider to client.   They create an atmosphere that allows open communication and when partnered with consistent availability, produce an environment that is productive, safe and comfortable for all parties.
However, typically when you think of insurance, or your insurance agent, you don't often think of these "warm and fuzzy" concepts.  Insurance is simply "there" if you need it.  It's not often that we associate this type of relationship with our agent.
Darlene Morales, owner of The Morales Agency, are out to change that perception.   These high standards for relationships guide their decision-making, both internally and with their expanding number of clients.
At their heart, The Morales Agency is a local, small business and their goal is to be an integral part of their community. Darlene Morales sells a solid product offering from Allstate Insurance in her small business.  At the heart, she is a local business owner facing the same challenges and benefits that impact Thurston County business owners and residents.
Morales offers the one-on-one service that we all seek when we shop local.   "We care about the people that we serve," shares Morales.  "We feel it is our responsibility to educate them on the insurance that they have, recommend the right products, sell them what they want and need, and accommodate their budgets."
Although many of us avoid discussions around insurance, Morales and her terrific staff are pretty fun.  They strive to help customers understand their coverage, but more than that, to know their agents can handle the details when a claim is needed.   Morales' goal is to be up front with customers, make the process clear and direct, and set clear up-front expectations to avoid misconceptions about coverage.  There is nothing more frustrating than thinking an event is covered by your insurance only to discover it's going to have to come out of your pocket.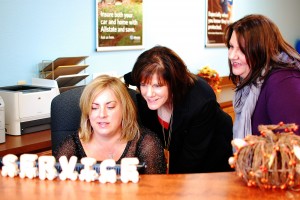 If you are like me, discussing "liability versus comprehensive" is something that can be explained clearly several times and I'm still left scratching my head.  We are not alone. Morales and her team understand that insurance "speak" can be confusing at the time of sale.  Therefore, they follow up with every customer personally to review their policies and answer questions on a regular basis.  This kind of personal care and service is not the exception at The Morales Agency, but the norm.
"You don't ask many five year olds what they want to be when they grow up and get the answer, 'an insurance agent,'" jokes Morales.  Even though the career is not a childhood dream, she truly loves what she does.  Helping people make their lives better, especially during really difficult and stressful times, brings her a sense of satisfaction that lets her know she is in the right profession.
"We help people find the right coverage to meet their needs and help them to feel comfortable and safe when they need us.  We strive to be a trusted advisor to all our customers, someone they can turn to in the hardest times," she says.
The Morales Agency is a comprehensive source for all insurance needs – from the standard choices of home, life and auto to retirement services, estate planning and annuities.  They can even help other small businesses with insurance and buy/sell agreements.
Darlene shares her agent responsibilities with Doty Catlin, another licensed agent in the office, along with Dawn Soran, their Retention Specialist.    Together, these three women know insurance, and together they can answer nearly any need a customer has.  Both Morales and Catlin have a background in credit unions, bringing the traditional high level service to The Morales Agency.
Simply interviewing Morales for this article, I learned vital information that prompted a dig through my files when I returned home.  If I was educated on my own policies in our short chat, just think how your family might benefit from a full insurance review at The Morales Agency.
At their heart, this small, local business holds tight to the ideals of honesty, credibility, and trust.  When partnered with their commitment to accuracy, good service, and getting the job done right the first time, there is a winning combination that serves Thurston County's residents well.   Yes, they are an Allstate agency, but the "Good Hands" you'll be in as their customer, belong to Darlene Morales.
The Morales Agency
1115 Black Lake Blvd SW, Suite B
Olympia, WA 98502
360.352.2329