Submitted by Cathy Johnson, Dandelion Gardens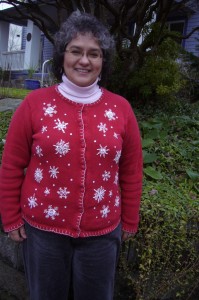 Cindy Cartwright is an Olympia gardener full of energy, excitement, and joy.  Her gardening enthusiasm makes you want to grab a shovel and play in the dirt. She summed up her garden passion very succinctly by stating, "The soil is my canvas."  Truer words were never spoken!
Cindy grew up in San Antonio, Texas and was captivated by gardening at a very early age.  She was fortunate enough to have a large extended family around her, and her great grandparents ignited her early passion for gardening.  They encouraged her to garden right alongside them. At the "ripe old" age of eight, Cindy was given $20 to buy whatever she wanted at the nursery.   Cindy immediately purchased flower and vegetable seeds, flower bulbs, and pots with her $20 – a monumental event for her since she still looks back fondly on it!  She was always starting something around her parents' and grandparents' property – whether edible or flowering.  Even when Cindy was a toddler, she was constantly looking up and around to see what was growing around her.  Her father distinctly remembers this childhood habit.
After she married her husband, Cindy experienced the joys of Army life by moving 11 times in just 10 years.  These travels were just another gardening odyssey for her – she made the best of every move.  At their apartment near Fort Drum, New York, she planted 12 varieties of sunflowers along the garage wall.  She experimented with all types of flowering annuals and edibles during these years, learning what worked best in all sorts of soils and growing conditions.  When the Army sent her husband to Arizona for training, she hated the separation.  What was a woman to do? Cindy loaded up their three young children in the car and drove to join her husband!  The family shared a tiny apartment for the training stint.  While in Arizona, Cindy and the kids explored the many botanical parks and nature trails, learning all about southwest plants and animals.
Cindy homeschooled her children, and they have learned to love gardening too.  Her two sons help her with various garden construction projects – digging holes, helping plant, and doing "grunt work".  As a birthday present for her one year, her sons removed ivy that had crept onto the property.  The sons now operate their own neighborhood lawn mowing business.  Her teenage daughter loves to garden as well, and especially enjoys harvesting vegetables and fruit.  She even attended Master Gardener classes with her mother when Cindy successfully journeyed through the program in 2009.
Cindy loves vegetables, delphiniums, hellebores, and hydrangeas.  She really loves every plant!  Her favorite rose is a Sterling Silver Rose she planted in memory of her grandmother.  Her grandmother had this rose planted by her front porch in Texas.   Since Cindy and her husband have given up military life, she now enjoys gardening on a more permanent basis.
Cindy's home here in Olympia is her gardening paradise.  She typically focuses on one project in her landscape each year.  One of her most current projects is figuring out how to best grow cool season vegetable crops.  She doesn't have her own greenhouse yet (notice the yet!), but uses her living room window area for seed starts.  Cindy describes herself as a "survival of the fittest" gardener – plant the seed or flower and see what happens.   Cindy's also a great one for repurposing found objects.  One of her favorite clematis vine supports is an old umbrella form.  How fun is that!?
The Master Gardeners' Children's Garden at Dirt Works was an obvious place for Cindy's gardening enthusiasm and expertise to fully blossom.  Many fun and educational garden programs are offered at the Garden in order to pique children's interest and create lifelong gardeners.  Slug University was the favorite garden program this last summer, where the participants created and drank slug slime (a mixture of corn syrup and green Kool Aid)!  Other fun workshops included worms, botany basics, and creative containers (puddle boots and garden gloves among others).  Children learn all about where their food comes from and how it's grown.  One of her favorite memories this last summer was watching children discover the yummy currants in the garden.
I met Cindy back in 2009 when I was teaching a workshop for the Master Gardener interns.  I immediately felt drawn to her because of her smile and enthusiasm.  I knew she was going to be a great asset to the gardening community, and I haven't been disappointed.
To learn more about the Children's Garden at Dirt Works, click here.