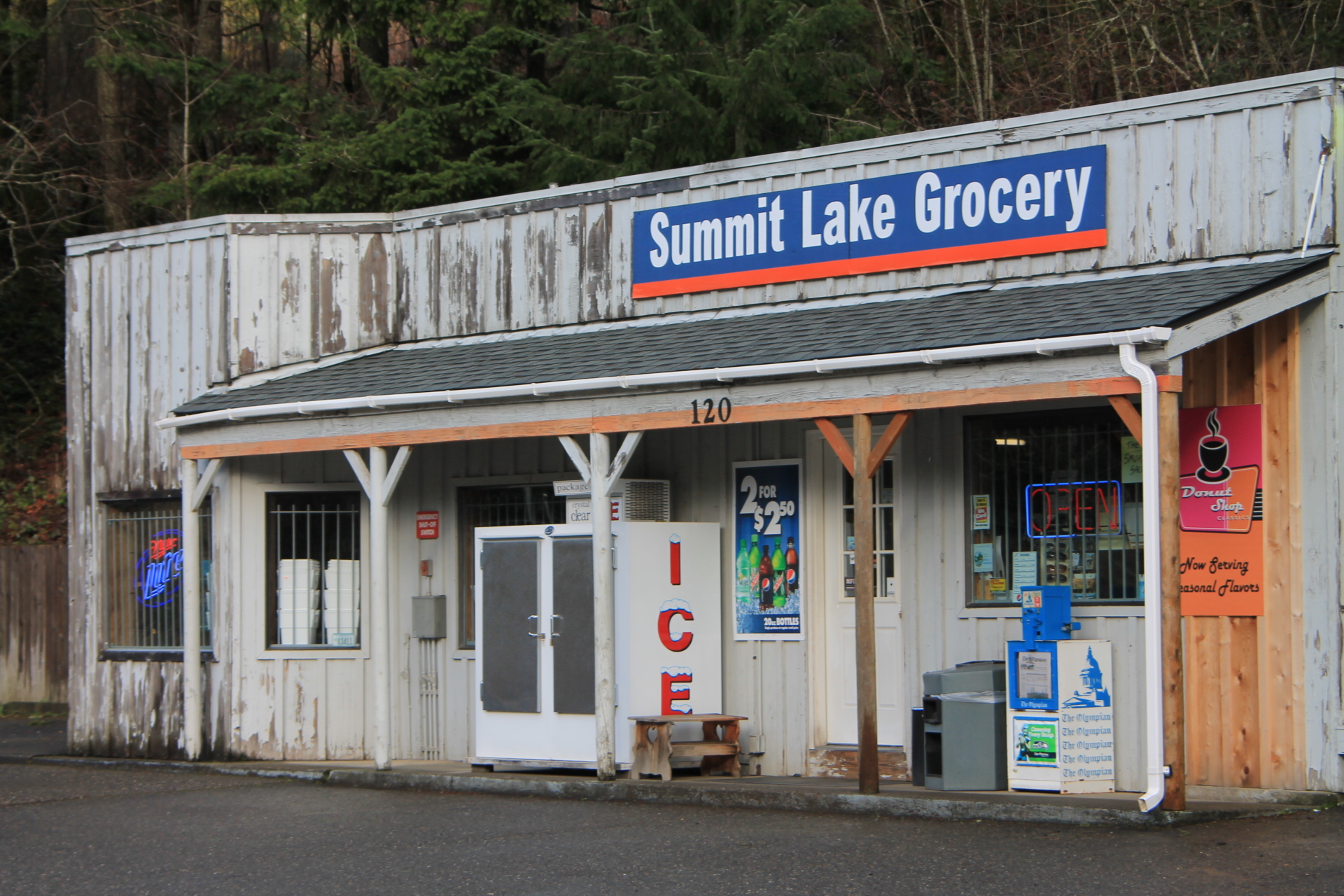 By Doris Faltys

I stop at the Summit Lake Grocery store on a Friday morning.  The morning rush was over.   The mist was still hanging low and moving through the trees on the hillside across Highway 8.  Inside I introduce myself to Sharon, a 20-year veteran employee.  Sharon moved to the area after retiring from working at a Skagit Valley hospital.
Summit Lake Grocery store sells a little bit of everything but it's the connection to the local community that I'm interested in today.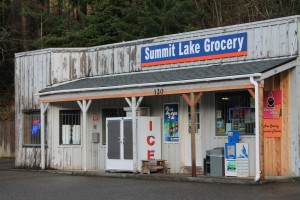 I am curious about the changes that Sharon has seen over the past twenty years.  "Mostly there are more people here, more people living year round at the lake," she responds.  Sharon shares a bit of local history and encourages me to return later in the day to speak with Tara Eichelberger who owns the store with her husband, Merle.
Outside, an older gentleman pulls in and takes his little dog out of the car for a brief walk.  He inquires about my photography of the grocery store. "I have been coming here for 40 years.  It is the only place to stop between Olympia and Aberdeen.  My dog would never let me pass it by," he shares.
The Friday afternoon traffic to the ocean is just beginning when I return later that afternoon.  Folks are filling up at the gas pumps and a few are in the store buying energy drinks and pepperoni sticks.  I step inside and introduce myself to Tara.
Tara begins immediately with the history of the building.  According to Tara, originally there was a very small store with gas pumps owned by Mr. Brunt.  It was a cement block building with living quarters in the back.
"In the 60s, Arnie Phillipi bought the property and started a gas station and small appliance repair shop here.  He also sold burgers at one point.  Arnie purchased about five acres of land, and built a house next door to the gas station.  Eventually a woman named Arvida bought the house from Arnie and turned it into a restaurant," explains Tara.
"The gas (brand) has changed over the years.  For awhile it was Phillips 66, in 1981 Mobil, then BP.  Now we sell unbranded gas in order to compete with the gas prices in town.  For about five years, after Arnie, the building was vacant.  Then in the early 80's my husband Merle and his brother bought it.  It was a dump then," adds Tara.
Tara Eichelberger grew up on Summit Lake.  "My grandfather, Ray Noble, was the sixth person to buy a lot on the lake sometime in the late 50s.  For many years they just camped on the lot before my dad built a cabin.  We came every year.  From May until the first week of September we were here.  After I graduated high school, I moved down here to the cabin.  I put myself through college waitressing at Arvida's restaurant next door," she explains.  Tara's future husband, Merle, was a frequent restaurant customer while fixing up the store.
"I have practically raised my kids at this grocery.  We home schooled three of our four (children) so they grew up here.  It is a very supportive place to be, great neighbors, always willing to help," says Tara.  She credits her long-time employees for the success of the store.
A customer stops in for a snack.  "Wow," he exclaims, "I can't get over that there is no snow here!  Up on the pass and in Wenatchee there is a lot of snow.  But you know," he adds as he heads for the door, "when the sun is out, there is no more beautiful place than right here in Western Washington!" He gives us a big smile and goes on his way.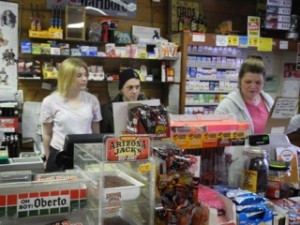 Sheri, a local resident shares, "My father-in-law spent many hours at the Summit Lake Store playing cribbage with Merle.  Before the lake got built up," she adds.  "We could go right up over the hill across from my house on our quads and follow logging roads down to the store."
Sue, a customer, credits the Summit Lake Grocery with getting her home after an earthquake.  "There was a landslide that blocked Hwy 101 and Madrona Beach Road.  In order to get from Olympia to my home over on Oyster Bay Road, I had to take the detour.  I had no idea, until I was well on my way, that the distance of the detour was over 40 miles.  I didn't have enough gas to get home.   The Summit Lake Grocery saved me.  That drive took forever.  The traffic was heavy and slow all the way through McCleary and then back south to the Steamboat Island area."
I ask Tara if people coming from Olympia stop at her store to ask directions.  "Oh, 20-30 times a day I tell folks how to get back onto Highway 101."
I tell Tara about the first time Babe, a friend of my husband's from California, came to visit us at our home in the Steamboat Island area.  We were waiting for her evening arrival.  Lost, Babe called using the Summit Lake Grocery store as a landmark.  My husband explained the directions.  About thirty minutes later she called again, back at the Summit Lake Grocery Store.  My husband gave her the directions a second time.  Almost unbelievably Babe called back a third time.  She was again at the Summit Lake Grocery. On her fourth try Babe finally made it to our home laughing about the mix up.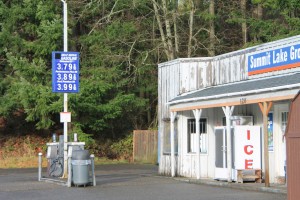 Tara shares an interesting story about local fishing. "Last summer there was a little boy, 9 years old, who came in regularly to buy bait and fishing supplies.  He was using his own money, his allowance.  One day he came in all excited to show me a picture of the fish he caught, right off the dock.  He knew I might not believe him without the photo.  The trout he caught was 18 inches. It was laid out on the dock and it covered 3 boards.  Those boards are 6" across.  That was a big fish!"
Summit Lake Grocery is a warm friendly down home kind of place to stop. Customers shop for different things depending on the season.   "Summer is the busiest time," Tara's daughter Amber adds.  "You never sit down a minute!"
For map location of the store, click here.