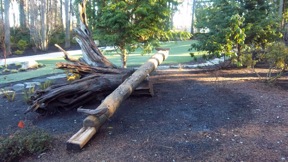 Submitted by Cathy Johnson, Dandelion Gardens
I attended the Northwest Flower and Garden Show at the Seattle Convention Center on February 20.  As always, I was impressed and amazed with the display gardens and the wide variety of plants, garden art, and tools for sale.  While walking the show, I observed the garden trends and was once again reminded of what a treasure our gardens are.  Olympia is definitely not behind in the garden trends.
One of the major trends highlighted at the show was the inclusion of edibles in containers and perennial garden beds.   With the struggling economy, green movement, and desire to be involved in the food to table process, edibles continue to be a popular garden subject.  The Olympia area is certainly participating in this garden trend.
One good example of this participation is St. Michael Parish School's garden.  The kindergarten class has its own garden right outside the classroom.  The children learn how to plant, tend, water, and harvest fruit and vegetables.  The garden encourages outside activity and teamwork – as well as producing food and life long garden enthusiasts.
Edibles are great in containers since you can so readily control the amount of sunlight, moisture, nutrients, and soil type.  They are easily combined with flowering annuals and ornamentals too.  Include tomato plants in a container grouping or place herb containers outside the kitchen door for quick and easy cooking access.  The large container arrangement includes:  Platt's Black Flax, Gulf Stream Heavenly bamboo, and verbena with tomato plants.
One show display garden playfully used retaining wall blocks, rocks and tree stumps and logs.  The designer created a children's play area by placing blocks and boulders in a large, irregular circle.  The blocks and boulders could be used for seating, Matchbox car racing, dinosaur play, or…. Mulch was spread as a base for fun with child size excavators, horses, cars and trucks, etc.  Next to the play area, a large tree trunk round was set up as a table with smaller trunk pieces used as stools.  Olympia knows how to play too.
A home landscape, near L.P. Brown Elementary, shows a sandy play area set into boulders.  The boulders, along with defining the play area and providing more play space, give the parents a place to sit and enjoy a cup of coffee (or a glass of wine) while watching their children play.
Another idea is to take a large tree base and split it in two.  Form a large rock pathway going between the two pieces.   While not all of us have the ability to exactly recreate the trunk/pathway vignette, we could provide a similar feel by creating a pathway with large pieces of flagstone between narrowly spaced large trees.
Repurposing remains a large aspect of our gardens.  One of the artists at the show had taken musical instruments and other found objects and created water fountains from them.  It was quite a surprise to walk down an aisle and find a saxophone spraying water.   The Wizard of Oz garden that greeted visitors as they entered the Show had a great Tin Man created from plastic nursery pots.  The artist had painted the pots silver and then arranged them into the Tin Man.  The sunglasses were a great touch!   It was amazingly simple and cool.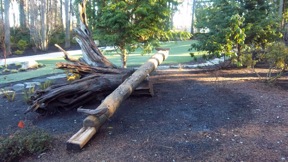 While you may not want a Tin Man in your landscape, you could definitely create some sort of fanciful object with nursery pots.   I've seen Olympia gardeners use old step ladders as plant and vine supports and little red wagons as sedum planting beds.  Old shoes and boots have become great containers for sedums and thyme.  I've seen old window frames brightly painted and hung on blank walls, and some intrepid gardeners have even paired them with window boxes.  Old chandeliers are repurposed by removing the glass sconces and placing candles on the framework to then hang from a tree branch or arbor.
And birdhouses – so many of us in Olympia are creative with birdhouses!  I've seen birdhouses made out of worn fence boards and then "dressed up" with repurposed plumbing and hardware pieces, china, etc.  Old bicycles are sometimes painted, sometimes not, and used as plant supports or as a fun focal point.  Wooden chairs are repurposed by removing the caning or cushion from the seat and then attaching chicken wire to hold soil and plants.  The chairs make a fun, colorful, and easy to move and use container.
Olympia definitely has a positive impact on the garden community.  Many of our designers, wholesale growers, and private and public gardens are known throughout the Northwest and the United States.    We're even setting a few of the trends too!