By Leslie Merchant

Imagine going to work without having brushed your teeth with toothpaste or having had something decent to eat for days.  Then picture having to focus and apply yourself when your mind is distracted by hunger and how others must view your lack of personal hygiene.  Now throw in the angst of a hormonal emotional teenager, and you get an image of what many middle and high school youth in North Thurston Public Schools face each school day.
Since the fall of 2008, a program called McGimpsey Pantries has helped needy North Thurston students with their personal and school needs.  The Pantries, located within the middle school and high schools within North Thurston Public Schools hand out school supplies, toiletries, clothing, food and medical supplies to homeless students and others in need.  Approximately 6,000 students in North Thurston Public Schools qualify for free and reduced lunch and over 350 of those children were homeless last year.
"It's pretty humiliating for a teen to come in and ask for food," says Deanna East, a health room assistant at Timberline High School.  She doesn't always know what their circumstances are, but she is 100% certain that this program is vital for these kids.  "Students who can access these programs in school have a better chance of graduating," explains Deanna.
Students request particular items, such as milk, peanut butter, and shampoo.  Deanna and the Timberline team will put together a bag for the teens to pick up privately.  Other students come in throughout the school day to pick up what they need to get through the week.
One of Deanna's students came to her with a particular request for brown rice and canned fruits and vegetables.  He explained to her that he lived in a household of drug addicts, and that those were food items they were not likely to steal from his stash.  It's stories like these that expose the dire circumstances of some of these children.  McGimpsey Pantries provides a safe, consistent place where teens can retrieve some basic necessities.
McGimpsey Pantries was launched in 2007 as an extension of the North Thurston Education Foundation's Student Assistant Grants.  John and Opal McGimpsey, the Pantries namesakes, contributed $700,000 for Student Assistant Grants over three years.  John and Opal grew up during the Great Depression and know what it's like to go without.  John exclaims, "going to school with patches on the knees of your jeans was normal and acceptable, but it would have been nice to have a few bucks."
He remembers how folks worked and went to school despite everything, from injuries to hunger, because there were no more jobs if you lost the one you had.  John feels that if someone were to have come along and offered him a hand as a young man, he would have been very grateful for the extra assistance.  He really appreciates young people who strive to overcome their circumstances, whatever they may be.  It is one of the main reasons why he and Opal support the Foundation.
At 96 years old, John is still the oldest active member of his gym, reads voraciously, and still keeps a watchful eye on his investments.  His tales of raising his own family while launching several businesses are more inspiring and intriguing than any history lesson.  John's love for his family and the people of this community is a true model for the teens that benefit from his generous donations.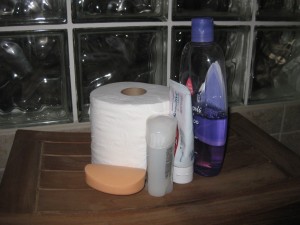 The McGimpsey Pantries Program provides North Thurston middle and high schools with $500 in the fall and additional funds during the year as needed.  A total of $5,300 was distributed to stock all of the Pantries in 2012 according to Sue Shannon, one of the founders of the North Thurston Education Foundation and Volunteer Executive Director.  "The McGimpsey's are wonderful generous people and their gifts help to sustain the work of the Foundation," says Shannon.
Giving a hand to students who want to better themselves should be the ambition of every community. These children are future citizens, workers and leaders.  Their success now is key to the wellbeing of our own futures.  For more information on McGimpsey Pantries and the North Thurston Education Foundation, please visit the website.