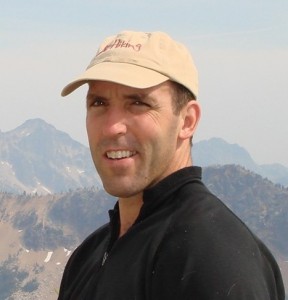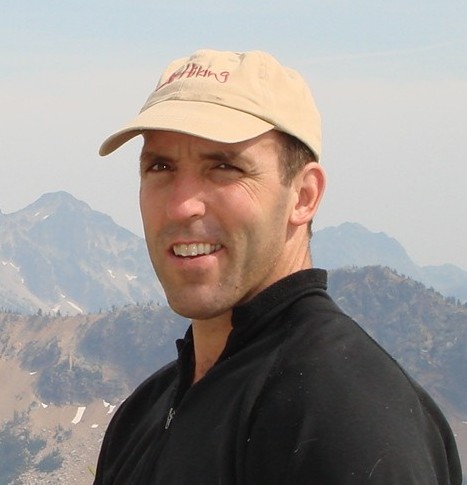 Bernie Miller is an energy auditor.  As defined by Wikipedia, an energy audit is, "An inspection, survey and analysis of energy flows for energy conservation in a building or system to reduce the amount of energy input to the system without negatively affecting the output(s)."  But, with Miller and his company, Energy Efficiency First, you will get much more than just an analysis of input and output.
Miller is a third-generation residential remodeler and renovator and uses his experience and knowledge of quality building practices in each audit he undertakes.  While there may be many things you could do to improve your home's efficiency, and reduce your monthly costs, Miller's knowledge of construction allows him to recommend the best and most feasible options for your home.
"Bernie is an energy auditor who is steeped in an understanding of construction," shares his wife, Jacqui Brown Miller.   "He can go into a person's home or small business and evaluate what should be done that will enhance its safety, building durability and energy efficiency.  He can find creative solutions to problems that people have because of his background."
Miller and his wife moved to the Northwest for their love of the outdoors.  Like many of us, they were drawn to our amazing forests and mountains for hiking and mountain biking and have stayed, making it their home.
After working with several construction businesses in the area, Miller opened his own company, Quality Renovation and Carpentry, providing top-notch remodeling throughout Thurston County.  His focus was to provide high quality building with an eye to reducing waste while using reclaimed and green products. Jacqui's background as an environmental lawyer provided a boost in knowledge of the vast number of green products on the market and the best ways to utilize them.
While continuing to provide these services to clients, Miller's focus shifted in 2009 to the field of energy efficiency and Home Performance Contracting.  A relatively new field grown out of an increased awareness that we need to address the poor performance of our existing infrastructure, the goal of Performance Contracting is to fix poorly performing structures.  Although many people still look to improve the function and aesthetics in their homes, the changes in our economy have added a focus on energy efficiency – saving money on a monthly basis and to building durability – allowing people to stay in their homes longer.
Once he started doing energy audits, Miller was hooked.  He is inspired to help people increase the energy efficiency, air quality, safety, comfort, and building durability of their homes.  Combining his construction experience with modern principles of building science, and with some inspiration from Jacqui's environmental law expertise, Energy Efficiency First was born.
The first step to Home Performance Contracting is the energy audit.  "In the audit we look at the house as a whole system – an ecosystem," shares Miller.  "We evaluate the components of your home, examining their relationships to determine whether they function as they should.  We evaluate everything from lighting to insulation, from the furnace in the basement to the air sealing in the attic, to problems ranging from moisture to energy waste and beyond.  This is why an energy audit is such an important first step," says Miller.  "Before you start spending money on your house, you really ought to know what to do first, second and third for the biggest payback."  And payback is what people are looking for.
And while Miller is in your home, you'll be glad to have him.  Miller is extremely professional, but is also a heck of a nice guy.  When you are undertaking a project that entails people to be in all the nooks and crannies of your home, this is no small consideration.  Despite Miller's extensive construction experience and his wide range of skills, during the audit he is not there to sell you anything.  He is there to find solutions.
To save money in your monthly budget, there are many things that you can do to upgrade your home.  While each home is different, EEF's team identifies the top issues they see and provides their recommendations to the home owner.  Most commonly, homes need to have the building envelope air sealed, and to have the HVAC ducts sealed.  Many homes also have insufficient insulation in the walls, floors, or ceilings.  These issues prevent homes from ever truly feeling cozy.  And with our damp cold winter days in Thurston County, how many of us can truly say we feel "cozy" in our homes?  While many customers automatically assume that their windows or doors are to blame, it's often the hidden problems that make the most difference.
To find these hidden issues, EEF's team employs an arsenal of high tech gadgets that Miller admits are pretty fun.  These include carbon monoxide detectors, humidity sensors, and watt meters to check the home's air quality, the safety of combustion appliances, and the energy efficiency of the home's electrical appliances.
But, the really cool stuff starts when they deploy the "blower door" and the infrared camera.  These tools are used to identify air leaks, heat loss, and moisture issues.   The blower is a large fan that fits inside of a doorway and depressurizes the home, drawing air in through the nooks and crannies that you didn't even know were there.    The infrared camera shows differences in temperature and allows Miller literally to see the cold air flowing in through the gaps and cracks.    This infrared camera is also useful to detect insulation levels in areas that cannot, otherwise, be inspected due to access limitations.  Miller can use the camera to find hidden moisture that could be from a leaking roof, plumbing, or condensation and negatively impact building durability.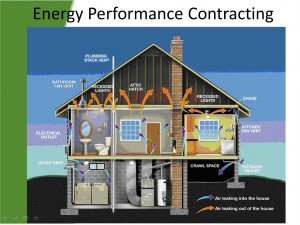 When Miller identifies problems, he can put his resources to work to fix them. He manages a team of skilled professionals – another energy auditor, qualified weatherization technicians, several talented carpenters, and an office team to keep everyone organized.
"Bernie is always careful to let customers know that Thurston Energy and Puget Sound Energy can identify other contractors to verify his findings and contract for any needed work," said Miller's wife, Jacqui.  "Then again, it seems like many customers use Bernie's team for home performance contracting because he's the kind of guy whose expertise and integrity shine through."
Yes….Miller can see through walls.  And leap tall objects with his mountain bike.  He's nearly super-human and will help you create a home that will amaze and astound you in its efficiency and comfort after he's done.  In today's world, most of us are staying put in our homes and Bernie Miller and Energy Efficiency First will make you fall in love with your home all over again.