By Tom Rohrer
Mountain biking is among the most popular outdoor recreation activities in Thurston County. Cyclists are drawn to the beautiful and challenging trails.
Despite the immense popularity, harsh winter conditions can cause even the most experienced and enthusiastic riders to hang up their wheels until more welcoming spring weather arrives.
However, those extreme cyclists looking for a rewarding, challenging and fun winter ride turn to the Capitol Forest.
The Capitol Forest mountain bike trail system is primarily maintained by the Friends of Capitol Forest, a non-profit organization with dedicated volunteers.  The area's trails are considered ideal mountain biking routes.  Cyclists from across Washington, Oregon, and California bomb down the forest trails throughout the year.  A host of competitions are held here as well.
During the winter, those who brave the wind, rain, snow and darkness have less trail riding opportunities than in other seasons.  However, there are still plenty of routes that allow cyclists to get their mountain biking fix – even if it comes at the cost of cleanliness.
"People need to be prepared for the mud when they go for a ride up there.  It's really unavoidable," said local mountain biker Mark Peternell.  "The amount of moisture makes it so the trails never truly dry up.  That being said, you can still mountain bike in (Capitol Forest) year round, which is rare across Washington and really anywhere else.  Lots of places are covered in snow this time of year, but not necessarily here."
When going up to ride in the Capitol Forest, cyclists must be prepared for the elements, and should know which trails are available.  The list of accessible routes dwindles this time of year, but there still remain plenty of opportunities.
"Fall Creek campground, called the Poker Run is great," said Mike Chun, who Petternell referred to as the undisputed king of winter riding. "You go up trail 8, cross trail 50 and come down trail 6.   That's about 10 miles.  That trail holds up the best during the winter."
"Sometimes, the driving can be tough. When we don't have much time, riders meet up at the "Y" in the road at Sherman Valley and Waddle Creek Road," Chun continued.  "Then you can take the Mt. Molly Trail."
Riding in the winter can cause significant damage to one's bike.  Many times a ride will be followed by a trip to a bike shop or to a garage for some home repairs.  Peternell noted that on the harsh trails with lots of mud, front and rear tires may become stuck in the muck.
"You need fenders on the bike, front and rear, to protect yourself from becoming even more muddy," Peternell said. "It's important to wear warm, protective clothing and bring a change of clothes for after the ride.  To ride year round in the Capitol Forest, you need traction tires.  Most people will already be prepared in that aspect."
Peternell also noted that riders should sport bright orange or yellow clothing, as hunting season overlaps in the Capitol Forest during this time of year.
Chun makes an effort to journey to Capitol Forest every weekday following work.  Since it is typically dark by 5:30pm, he must be equipped with proper lighting gear.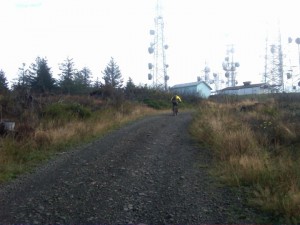 "The lack of daylight can be a challenge.  If you're out there at night, you'll start with lights on and finish with light on," Chun said. "There are days when you're out there and you're amazed how dark it is.  Light technology has come a long way in the last few years. Light & Motion and NiteRider have light sources that are brighter than some vehicle head lights."
Despite the constant challenges the dedicated riders face, the prospect of exercising in nature draws them to Capitol Forest.
"I ride during the winter because I love it so much during the rest of the year," said Chris Merchant  "It's such a wonderful sport, a great activity and is just incredible exercise.  I enjoy being out in nature, not in a gym."
"The first time you ride in the winter, it's shocking," Peternell said. "It's so muddy, cold and slippery.  But eventually you really start enjoying everything and can not imagine not riding during this time of year."
"It's slick, rainy and windy, but I like the challenge," Chun said.  "I enjoy being able to ride all year round."
For more information on the Capitol Forest, click here.  To learn more about work parties and trail maintenance, link up with the Friends of the Capitol Forest.