By Amy Riggs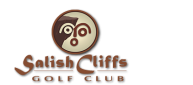 I am always looking for entertaining and educational activities for my kids. The winter weather presents its own challenges as I prefer to stay warm, but this fall I was reminded of a program I learned about while waiting for the ladies' room at a Panera Bread
Bakery-Café in Federal Way. I don't know if it is the same at all stores but this particular location had a notices board that was advertising a children's Baker in Training class.
A little online research informed me that several Panera stores in the region (including the West Olympia location) offer this "introductory culinary experience for kids ages 5 through 12… to learn the essentials of kitchen safety, proper food handling and food preparation." An avid cook myself, my ten and twelve-year-old girls should be handier around the kitchen than they are. In reality, I find it difficult to incorporate them into my cooking activities because I can do it faster and cleaner by myself. (I can't possibly be the only person that feels this way but there are, perhaps, few who will admit it.) Anyway, this class was a perfect opportunity to grow my kids' skills and leave their mess somewhere else.
Flash forward to roughly 4:00 p.m., November 12, 2012, at the Panera in West Olympia…
"That was awesome!" "Can I eat the baguette I made myself now?" "Can we take home the aprons, hat, and gloves?"
With several of their friends, my girls enjoyed 90 minutes of baked goods sampling, cookie decorating, bread making, and a private tour of the back side of Panera – including talking with customers in the drive-through line, a surprising highlight.
Panera Store Manager Rachel Kanner was a gem – she was so patient with our large group of well-mannered but excited kids, ranging from about 6 to 12 years of age.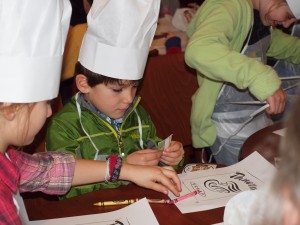 When I registered, I was concerned whether or not I could find enough interested participants. With 18 attending, clearly, that was not a problem.
I also worried that the coordination would be too much of a hassle, but it was really just a few emails back and forth with participants' parents and the Panera coordinator.
Post Event Reflections:
Would I do this again? Definitely, but with fewer kids.
The 12-year-old age limit was conveniently high as my eldest was twelve at the time, but some of the activities are better suited to younger ages. I would recommend a K-4 age range.
I kicked myself for not having some crafty sort of thank you note ready for the kids to fill out and collect while they were there (a paper basket of thank you baguettes, perhaps), but enough of the kids came through with their own creations that I was able to deliver a nice little package to the manager after the event.
Details:
Minimum number of kids: 10, with no maximum number. I think 8 is ideal, and 12 is pushing the limit. I wouldn't recommend 18.
$8 per child, permission forms, and one adult chaperone for every five children.
Where: West Olympia Panera offers this activity; the Lacey store does not.
How: One person registers the group through Panera's website.
You do not have to be associated with a home school or have school affiliation. I just shot out an email to a group of friends to determine interest. We opted to go on a school holiday.
You must register three weeks in advance.
A note on Panera Bread Bakery-Café. Panera is one of the best attempts at healthy fast food I have discovered. Yes, it is a franchise-based operation with headquarters in Missouri, but every one I have visited is cozy, clean, and comfortable. And while they push a little heavy on the cookie sales, their Café menu choices are extensive, well made, and often include whole grains and select organic ingredients. The quality product and abundance of fresh vegetable options is a welcome alternative to fried foods and kid meals that don't include fruits and vegetables.
Thrifty Thurston highlights inexpensive family fun in Thurston County.  The weekly series focuses on family-friendly activities throughout our community.  If you have a suggestion for a post, send us a note at submit@thurstontalk.com.  For more events and to learn what's happening in Olympia and the surrounding area, click here.