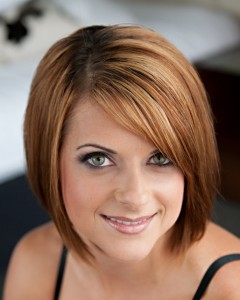 Amanda Price-Salazar is equipped.  She has the technical skills, education certifications, personal experiences and the actual equipment to get any body into shape.  And, she has developed a successful health and fitness company in a nondescript warehouse in Tumwater.
Amanda began her personal training business over 16 years ago.  Now operating her own fitness studio, soon to be renamed from Fit4Life to Edge Fitness.
Amanda's passion and energy for her work is clear.  "I started by traveling to people's homes and customizing workout programs and meal plans for them," she recalls.  "My passion for helping people live healthier lives came from my own personal experience."
Amanda's Story
One of Amanda's key strengths is using her personal story to relate to clients.  "I know what people are going through.  I used to weigh almost 230 pounds and then dropped down to my lowest weight of 100 pounds, struggling with anorexia and bulimia.  I had changed my body but not my mindset," she says when referencing the different diet issues she has overcome.
She found strength with a personal trainer and completed a whole foods nutrition program.  After this experience, she decided that she wanted to help others in the same way too. She went on to become a personal trainer, nutritionist, and started her own business in 2000.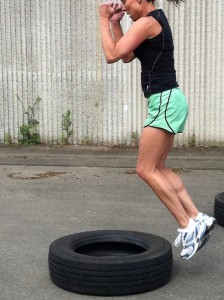 Years later, tragedy struck when she was hit by a vehicle while riding a motorcycle.  Amanda survived with a shattered pelvis and broken hips and back.  While the doctors predicted that she would probably never be able to be a personal trainer again, Amanda still had a strong mind and was determined to prove them wrong.
After a three year recovery program including physical therapy, basic strength training, and massage, Amanda was not only back in the gym, but training clients again too.
"I draw on my personal experiences, from feeling overweight and depressed, to dealing with an eating disorder, and overcoming a traumatic injury, to connect with my clients," says Amanda.  "I know what they are going through because I have been there too."
Combine Amanda's master's degree plus personal training and nutrition certifications with her life experiences and she's a power house health and fitness expert.
Working Out with Amanda at Edge Fitness
Amanda's personal training model differs greatly from what you may find in local gyms.  At Edge Fitness, a personal training session is private, customized, and unique.  At most, there may be one other trainer and their client in the fitness studio at the same time.  This creates a comfortable environment for all.
"We help people set realistic goals and make sure they leave us with knowing exactly how to achieve them .  By providing all the tools for them to be successful, we know that they will always be able to live life-long healthier lifestyles," she says.
Signing up with Amanda and Edge Fitness means that you receive:
customized, personal workouts,
a weekly written workout program to implement at the gym or at home,
nutrition guidance and meal plans,
flexibility and stretching programming, and
motivation, guidance, and accountability.
"I teach my clients workouts that will help them achieve their specific goals. They learn proper form, technique, and the methods of creating a balanced workout. Then, I type it all up for them so they have a full-proof program and plan to follow," describes Amanda.
Amanda customizes every program for her client which is a hallmark of her service.  She doesn't force large session package commitments on to her clients, although she may recommend that some clients return on a regular basis in the future because it is needed.  "People come back  when they want to refresh their workout or reach new goals, whether that's next week or in a couple of months, it doesn't matter. As long as I can be there for them when they need the help." she says.
Renting warehouse space keeps costs low which she passes on to her clients through very reasonable pricing options.  In addition, Amanda offers payment plans suited to client's needs.
"I strive to offer clients affordable pricing so that they can receive quality personal training and help when they need it," she explains.
In addition to personal training, Amanda offers clean-eating nutrition plans, health and fitness seminars, boot camps, group fitness classes, and corporate wellness programs.  A weight loss competition will launch in early January.
"Above all, I want clients to be able to be successful on their own throughout their lifetime," summarizes Amanda when discussing the full complement of services.
Edge Fitness (formerly Fit4Life)
2943 – 29th Ave SW Suite B
Tumwater, WA 98512
360.790.6767 or info@edgefitnessnow.com