By Emily McMason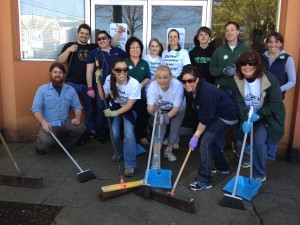 A century ago downtown Olympia had an opera house, a streetcar line, and Olympia Federal Savings.  Today we have Arts Walk, the Dash bus, and OlyFed.  Times change, and this local bank has adapted with each new era.  It has evolved not only as a business, but in its philanthropic response to a growing community.
Sandy DiBernardo, Vice President & Marketing Director, says "I was once asked what our community would be like if OlyFed didn't exist. It made me think how very different it would be. We have many long-term relationships with our community partners. Our relationship with Saint Martin's University reaches back almost a century, a quarter of a century with Providence St. Peter Foundation!"
Thurston County would undoubtably be a different place without the bank's philanthropic giving program.  In 2011, 90 bank employees, from all 7 branches, volunteered over 2,000 hours, and during fiscal year 2011-2012 the bank gave more than $260,000 to numerous charitable organizations.
OlyFed's philanthropic work touches lives across the county.  Continues DiBernardo, "At Oly Fed, we recognize it takes a cross section of many organizations to help promote the overall social, cultural and economic well-being of our region. With this in mind, our philanthropic diversity includes health and human services, affordable housing, environmental/conservation causes, education, arts and entertainment, diversity and youth and senior services. "
DiBernardo's reflections bring to mind the role of the Bailey Building and Loan Association from the film It's A Wonderful Life.   The employees of Olympia Federal Savings are much like Jimmy Stewart's George Bailey.  They've brought together the community and donated back to local nonprofits to help them grow.  Recent beneficiaries of these grants have included Hands On Children's Museum, Senior Services for South Sound, Boys & Girls Club of Thurston County, SafePlace, GRuB, and many more.  They each consider OlyFed's support invaluable.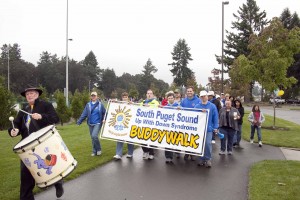 Joe Ingoglia, CEO of Boys & Girls Clubs of Thurston County comments that, "OlyFed is an exceptional example of a community oriented business. Their commitment to making Olympia and Thurston County a better place to live and work is extraordinary — and is clearly a value that they hold dear. OlyFed's leadership, when it comes to improving the community, is a remarkable model for every one of us – whether we represent a business, a non-profit or just our own family."
Ingoglia's perspective is echoed by Eileen McKenzie Sullivan, Executive Director for Senior Services for South Sound.  "Through their corporate sponsorship of our fundraising events, they have directly supported our work providing essential services to low-income seniors. Programs like Meals on Wheels and Adult Day Care for seniors with special challenges such as Alzheimer's Disease and strokes. Their sponsorship has allowed us to grow our major fundraising event to reach more donors and raise more funds for seniors."
McKenzie Sullivan also emphasizes their individual volunteer work.  "They have also helped in many in-kind ways as well: we have had a number of leaders on our Board of Directors from OlyFed.  They have sent volunteers to help at events and Day of Caring projects. They have donated auction items, pens, space and many other items to help in a variety of ways. They are truly a bank that knows the meaning of 'community.'"
The generosity of both the bank and the individual employees is a theme that returns again and again in reflections on Olympia Federal Savings.  Thomasina Cooper, Development Director of SafePlace says, "SafePlace is so lucky to have support from OlyFed.  They have given very generously to support our ongoing programs, as well as two capital campaigns in the past ten years.  Their support extends beyond the financial support from the bank.  OlyFed employees regularly attend our events and give personal gifts.  They understand the importance of giving philanthropically and you can see this is clearly part of their company culture.  It is an honor to work with the good folks at OlyFed."
The power of local living is clear in the mission and execution of OlyFed's charitable giving.  Each grant is made by people who understand the impact it will have on their neighbors and neighboring communities.  For over 100 years OlyFed has been a community institution, helping to make Thurston County life wonderful.
To learn more about the Olympia Federal Savings philanthropic giving, including an application form for organizations, go to http://www.olyfed.com/community/index.html.  The bank's main branch is in downtown Olympia at 421 Capitol Way.