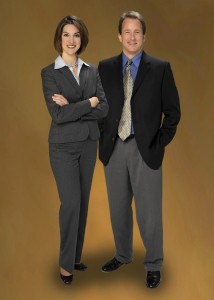 After more than 25 years in the real estate industry, Jeff Pust, owner of Van Dorm Realty expects the seasonal business shifts that come with the calendar.
December and January are historically slower months in the housing market, explains Pust.  Typically, people are not researching new homes or placing their home on the market during the holiday season.
When the market is slow, Pust encourages his brokers to be out in the community saying thank you to clients and individuals that refer business.
"Each broker shows appreciation differently," notes Pust.  For example, he describes giving away a turkey, making cookies, delivering a bottle of wine or hanging a wreath as different ways that real estate brokers have displayed their appreciation to their customers.
"Personally, my favorite holiday gift was a little shaker of a favorite spice that could be used on vegetables or anything," says Pust when listing off examples.
Pust also states that as a local business owner he prefers to patronize other local organizations such as buying bulk wreaths to support a non-profit cause.  "We want to support organizations in town that may be selling items, during the holidays, to raise vital funds for their own missions," he adds.
Above all, Pust says that this time of year is an opportunity to show gratitude.  "I encourage everyone to reflect on what we have in Thurston County – great neighbors, beautiful scenery, and lots of opportunities," he says.  "But we also have people in need and we should all get out and help by donating time."
Pust describes the two month holiday period as a time when real estate brokers rest and reflect.  "Real estate brokers are out helping and saying thank you, but we are also preparing and setting business and personal goals for the next year."

Van Dorm Realty
1530 Black Lake Blvd SW, Suite F
Olympia, WA 98502
360.943.3800