Submitted by Rebuilding Together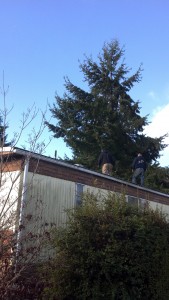 Frantic, Josie Pauley called Jackie Ashley, President of the Board of Rebuilding Together Thurston County (RTTC).  Water was gushing into her living room from a failing roof and Josie, an ailing, but spunky, near-80-year old – who, in her lifetime raised over 50 foster children – needed help.
The previous April, volunteers of RTTC made critical repairs to Josie's home:  replacing non-working appliances and exterior doors, repairing the deteriorated entry and bathroom lights, worked on general clean-up of her yard and applied sealant to her roof.  Josie was overjoyed with the help RTTC provided.
October rains were mild; the leaking was negligible, but November brought sheets of water into her home after the sealant failed. Jackie had tough news to deliver: RTTC could not provide emergency repair service. She asked neighbors to check on Josie then, on her own, attempted to find a solution – but all the while leaks continued to multiply and expand.
Board members did a site visit and their concern for Josie turned to panic: her situation was becoming ever more desperate.  Mold was forming and further destruction of her home was imminent. Josie had had strokes and breathing problems. Many other social service organizations were called for assistance – to no avail.  There had to be some way to help . Then Jackie remembered: United Roofing Solutions!
United Roofing Solutions, a small business that had already given big to RTTC this year, offered to help again. They directed RTTC to their supplier, Washington Cedar & Supply Company. Generosity came through with a reduced price for materials – much to their credit since they had just given RTTC materials in October for a fall project.  RTTC was halfway there.
Unfortunately the (large) problem of more funding remained; a tight budget would not allow for Emergency Services. In addition, the repair needed board approval which led to other additional internal organizational concerns – such as fair and equitable services for other applicants in the same position as Josie.  The Board wrestled with duties, rules and regulations, and in the end Jackie composed a letter re-stating the bottom line: no funding source for Emergency Services. She delivered the letter in person; both of them coming to the distressing conclusion that Josie would be compelled to move from her home in an emergency fashion.
Jackie had her usual Tuesday meeting for the Multiple Listing Sales Association (MLSA) where she frequently touts RTTC successes. This day, she had no good news to share and instead, with a very heavy heart outlined RTTC's inability to take care of Josie due to lack of emergency service funding.
Running errands after the MLSA meeting, Jackie got a call from United Roofing Solutions: they had word an anonymous donor would fund Josie's repair!  Amazed at the generosity of this person, she further hears that United Roofing will do Josie's roof the next day. Now the only thing needed is a break in the rain.
And there it is! We awake to sun – first time in how long? It really is a Christmas Miracle for this lovely woman.
For more information on locally owned United Roofing Solutions, click here.  A full article about Rebuilding Together can be found here.