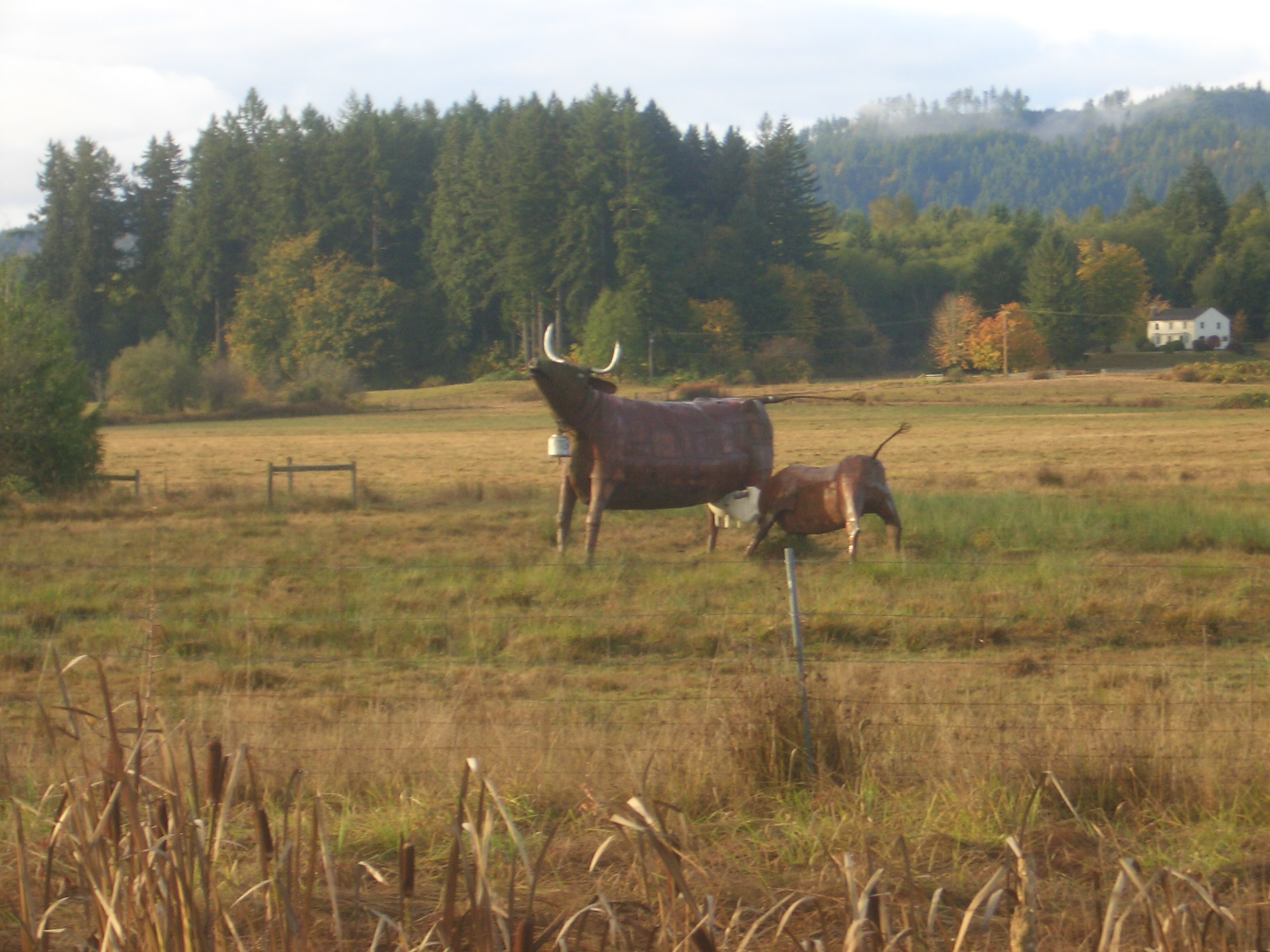 By Doris Faltys
*Editor's Note – The first ThurstonTalk article on this subject was published on October 31, 2012.  After resounding feedback, we decided to do a follow-up story and dig into the mystery a bit further.  You can find the initial article here.
Talking with a friend I had not seen in a number of months, I mentioned that I had recently written an article about the Steel Cows off of Hwy 101 in Mud Bay.  Surprisingly enough, she provided me with some valuable info in regards to the sculptures. 
Here is what my friend shared:  "When I lived in Woodinville, I passed those sculptures every day.  One day as my husband and I drove to work they were gone. They had disappeared overnight!  Where are the cows? Where are the cows? I said aloud.  Imagine my surprise when we moved to Olympia to find the cows here!"
My friend suggested that I contact two Woodinville newspapers, the River Current News, and the Valley View for more information.  She added that there was talk that the City of Woodinville was interested in purchasing the sculptures.
According to Anne Laughlin of River Current News, "the cows used to be in the Sammamish Valley between Woodinville and Redmond."  She did not know the name of the artist or why they were moved, but suggested I might have better luck speaking with Julie of the Valley View.
Julie Boselly, owner of the Woodinville Weekly and the Valley View, remembers that the sculptures disappeared in the dark of night.  She gave me the artist's name (Gary Vig) and information about a Seattle PI article from October 2002.
Lane Youngblood, who worked for the City of Woodinville at the time the sculptures were moved, said that the City wanted to purchase the cows but they were, "out of our price range."
Information online about the artist Gary Vig includes the following:  Larry Workman QIN, on May 23, 2011, "When sculptor Gary Vig sold his home on the Woodinville-Redmond Road in the Sammamish Valley in 2002, he moved to these sculptures to this location at Mud Bay long US Highway 101. The Bull weighs in at 3-tons and is 22 feet long. The cow and nursing calf are just west of the bull. This family is made of welded steel from empty oil tanks."
None of the people I spoke with had ever met Gary Vig.  None knew of any other art work created by him; why the sculptures were moved in the night; or where the artist now lives.
I have one answer and a few more questions.