By Natasha Ashenhurst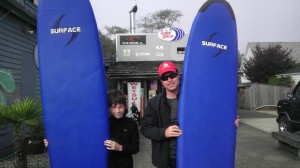 This year my husband turned forty. It was a significant birthday, so we planned a day he would never forget. We arranged for him as well as my pre-teen son to learn how to do something they had always dreamed of: surf.  We hired an instructor and rented a wetsuit and board, all this right in Westport.
There are a lot of birthdays that are a blur for him, but I guarantee that he'll never forget his 40th, and our children will never forget it either. They had an incredible day and he fulfilled a life-long dream.
Now with the holiday season close, we are all starting to think about what gifts to give to our loved ones this year. Why not consider the gift of experience? We've compiled some great options for just about anyone; from the outdoor enthusiast, to the person who just wants a little pampering. There are gifts for individuals and well as gifts that would be perfect for the whole family, adults, and children. There are so many more than what we have here, but this should get you started.
The Gift of Sailing Lessons
Give the gift of sailing lessons to the adult or child in your life. It is never too early or too late to learn! There are a few options in Olympia. Check out Island Sailing and The Olympia Yacht Club.
Learn to Surf
Westport and the Pacific Ocean are only 1 ½ hours away and advances in wetsuit technology make the Washington Coast a great option for surfing.  Check out The Surf and Sand to get connected with a surfing instructor. Most offer individual or group lessons. Surf Boot Camp is also a great option if you like to get started early in the morning. The Westport Surf Shop and Steepwater Surf Shop offer boards and wetsuits for rent.
Rock Climbing Lessons or Gym Membership
Stop by The Warehouse Rock Gym and learn about the variety classes they offer. They teach adults as well as children, or consider buying a gym membership for a loved one who already loves to climb.  For example, read more about CrossFit Luminis here.
Discover Pass, Forest Pass
For the person who loves to camp and hike consider the gift of a Discover Pass. Most state parks now require a Discover Pass for entry and parking. Why not give this as a gift this year? You can buy it online here.  Also consider giving the Northwest Forest Pass and learn more here.
Snowshoeing
At Alpine Experience it is easy to rent snowshoes and poles for all ages. Just stop by with your waterproof footwear and they will get you started. They also have great suggestions for the best trails to visit. Don't forget your Discover or Forest Pass!
Tickets for the White Pass Ski Bus
Know a person who loves to ski but needs transportation to the mountain? Consider giving them tickets to ride the White Pass Ski Bus. The bus leaves from Olympia twice a week. Call Alpine Experience for Details.
The Gift of Education
Washington State's Guaranteed Education Tuition credits can be bought in any dollar amount.  Better yet, set up automatic payments to go into a child's account and they will receive a gift of education for their lifetime.  Read more about the program here.
Tickets to a Performance
The whole family will enjoy watching Chris Perondi and his famous stunt dogs. According to the Washington Center "The Stunt Dog Guy has a cast of performers and dogs that will delight audiences of all ages." Stunt Dogs will be in Olympia on January 19th, 2013 at 2pm and 7pm. Tickets start at $7.00 Visit The Washington Center for the Performing Arts for more information.  Read more about the event here.
Take your family to The Nutcracker at the Washington Center for the Performing Arts. Ballet Northwest's production runs from December 12th through the 23rd and Studio West Dance Theatre's runs December 14th, 15th and 16th. Be sure to specify which performance you want to attend.  Tickets can be purchased at www.olytix.org.
Also check out the schedule of holiday performances at Capital Playhouse, Olympia Family Theatre, or Harlequin Productions by reading this article.
Maybe your loved one would prefer a little luxury and pampering. Check out these great options:
Style and Wardrobe Consultation
We all know someone who is going through a major change in their life and would love a little help dressing for their new role. Claudia, owner of EnLIVen Style is ready to help when you give the gift of a Personal Style Consultation. Claudia will visit your home and identify the pieces of clothing they already own that best fit their silhouette, personal style, color scheme and lifestyle. "My business is about making people feel better using the clothes they have. A smile on your face will make others look your way," she says.
Facial or Massage Gift Certificate
Spruce Skin & Wax Shoppe in West Olympia is the "go to" for fun, functional, and fantastic facials.  Lacey residents may enjoy the quiet, relaxing spa of Jill Ewers Skin Care.  She offers facials starting at $50 or massage starting at $40. Jill is a long time Olympia resident and has over 10 years of experience. Give her a call at 259.2454.  The newly opened 7 Inlets Spa is a mecca of relaxation as well.  Learn more here.
Romantic Weekend Getaway
Take your significant other away for the weekend or give this as a gift to a couple with young children, babysitting included. For a quiet getaway try a bed and breakfast: The Eld House, located on Sunrise Beach Road. Rates start at $125 a night. If you prefer to stay downtown try Swantown Inn a 1887 Queen Anne/Eastlake Victorian mansion listed on both the city and state historical registers.
Don't forget to make dinner reservations at Pellegino's or La Petite Maison.
The gift of a clean car!
Kids may want to offer mom or dad a handmade gift certificate good for a car wash. Or, if you want to hire a professional buy a gift certificate at Tumwater Auto Spa. Their specialty "Auto Spa" options range from $7 – $39. Give them a call at (360) 943-9096.
Housecleaning Services
Everyone needs a little help now and then and Scottiejo McNulty, owner of Elite Cleaning is ready to clean for the person in your life who needs a break. Give her a call at 529-2277 or visit her Facebook page.
Hands On Children's Museum Membership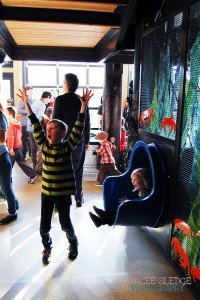 When Grandma and Grandpa ask for gift ideas for the kids this year, suggest that they buy a year-long membership to the Hands On Children's Museum in their beautiful new building.  Membership starts at $75. Ask about their Grandparent's Membership option.  Or, opt to buy a fish to commemorate your family, a special anniversary, or remarkable event.
Spend the day at Wolf-Haven
Arrange to have a guided tour of Wolf Haven International, a non-profit that provides sanctuary for displaced wolves, or give the gift of a membership.
Encourage a New Hobby
Here are several ideas:
Make a donation to your favorite non-profit
Make a donation, in honor of your loved one, to your favorite non-profit organization.  Not sure who to support?  Visit South Sound Partners for Philanthropy for a list of local non-profit groups.
Support local farms by giving a gift card to the Olympia Farmers Market, a subscription to a Community Supported Agriculture program, or a gift certificate to Olympia Local Foods.
If you still want to buy a little something, consider looking for something handmade by a local crafter?  Visit ThurstonTalk's Event Calendar to find craft fairs and bazaars, or search for local artists on Etsy.com  You can also find a complete article about shopping downtown Olympia by clicking here.
For even more waste free gift ideas, check out this list by Thurston County Solid Waste.