By Kate Scriven
Although Thanksgiving comes early this year, that won't stop many Thurston County residents from seeking the perfect Christmas tree, all while there is still leftover turkey in the fridge.   In the coming week we will see the chain link fences being erected in parking lots around the area as the Christmas Tree Lots prepare for shoppers who begin in force once Thanksgiving is behind us.  For ease of purchase, a tree lot can't be beat, but you'll pay a premium for that perfect tree, all wrapped in netting and ready for transport.
For an experience a bit more rustic and much more memorable, try one of the many U-Cut options that abound in Thurston County.  From the truly rustic (and truly Thrifty!!) trek into the National Forest to select from the thousands of untrimmed native trees to the more "full service" u-cut farms with hot drinks and employees to trim and bundle your tree for you, the choices abound.
Find a variety of Christmas Tree Farm choices below, all of which are sure to provide your family with a lasting memory, a perfect tree and possibly a new tradition that will go well served with a delicious turkey sandwich.
141 Nisqually Cutoff Rd SE
360-459-4023
Open the Day after Thanksgiving through December 20 from 10 am – 6 pm
Schilter Family Farms is clearly a Halloween favorite with many, however they have a well-stocked tree farm as well.  Varieties include Noble, Fraser, Grand and Douglas Fir and trees are u-cut or they do have pre-cut trees available.  Douglas Firs are $25.  Other varieties average $45 – $55.  On the weekends, visitors can enjoy espresso, cocoa, cider and freshly baked cookies along with a lighted Nativity in the 140 year old barn.  A variety of other holiday products also offered for sale.
4115 Baker Ames Rd NE in Olympia
360-357-3155 or 360-943-3216
Open Daily 8am – Dusk
Ames Christmas Tree Farm was founded in 1976 and has been run by the family ever since.  A traditional, u-cut family farm, Ames prides itself on the quality of its Douglas, Noble and Grand Firs as well as the low prices.  All trees are the same price regardless of size – Douglas Firs start at $15 with the Nobles and Grands at $25.  Beautiful wreaths, handmade by the family, are also offered.  Bring your boots and your camera as this is a true farm (and our family's favorite spot out here in Boston Harbor!).
Permits $5.00
The most thrifty option for a Christmas Tree is simply to visit our extensive and beautiful National Forests and select from tens of thousands of options.  While they may not be shaped to perfection, sometimes that "Charlie Brown" tree can be the most beautiful of all.  Take a thermos, some friends, and your camera and experience a day in the woods in the quest for your tree.  More details can be found here.
7401 Yelm Hwy in Olympia
360-456-0466
Open November 23rd – December 23rd Daily
Open Weekdays 10am – 6pm, Weekends 9am – 6pm
Hunter's is an Olympia favorite for many families for their wide range of services and activities.  You can enjoy refreshments, a visit with Santa, a wagon ride and holiday shopping while at the farm.  Trees are priced by the foot ($4.25 – $7.25 per foot) and include Douglas, Grand, Nordmann and Noble Firs.  Blue Spruce and Norway Spruce are also available.  A selection of precut trees are also available.  Click here for a printable coupon.  You know we love a good deal!
Black Lake Trees U-Cut
62nd Ave & Delphi Rd SW in Olympia
360-866-4125
Opens November 23 from 11 am – dusk from Friday – Monday
If you are located south of Olympia, Black Lake Trees is a great u-cut option.  Armed with your trusty bow saw (provided) you can browse their acres of Noble, Douglas, Grand and Fraser Firs for the perfect tree.  Prices start at $20 for Douglas Firs and go up to $100 for larger Nobles.   Boughs for décor are available to purchase by the bundle or gather your own from their "free" pile!
14020 Finian Rd SE in Rainier
Open daily from the day after Thanksgiving until Christmas Eve from 9 am – 4 pm
For more than 45 years, the Sprouffskee family has been growing beautiful trees.  Across 75 acres, the farm has plentiful Douglas firs and also Grand Firs and Noble Firs.  At the farm, you'll find hot cocoa, hot tea and coffee, candy canes, saws and free baling.  You can drive (weather permitting) or walk to the fields.  Bring your family, outdoor shoes or boots (the tree fields can be muddy after a big rain) and come find the perfect Christmas tree.
Clyde 'n Dale's Holiday Trees and Gifts
10712 Tracie Ct SW in Olympia off Delphi Rd.
360-480-0515 or 360-352-8733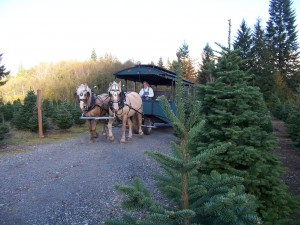 A truly special holiday experience can be had at this unique tree farm, home to Bob and Dutch, two Palomino Percherons who lead the farm's trolley through the acres of trees.   Gather here for a day of Christmas cheer complete with Santa pictures, live music, horseback rides and hot cider.  See the website for the full schedule of entertainment and hours.  Fraser, Noble ($49), Grand ($39) and Douglas Firs ($29) can be selected and cut from the fields or purchased pre-cut.
Christmas Valley Tree Farm
1 mile west of Rochester, off Hwy 101
Open Thanksgiving Day until Christmas Day from 9 am – 5 pm
ThurstonTalk wrote a complete article about Don Tapio's Christmas Valley Tree Farm last year.  You can find the article here which celebrated 25 years of selling Christmas trees in south Thurston County.
Decorating the Christmas tree, for many families, marks the start to their holiday season and everyone has their own rituals.  When I was young, Dad was in charge of stringing the lights while we waited, anticipating our turn to place beloved ornaments, sharing the stories associated with each one.   Mom was in charge of hot cocoa with extra marshmallows.  Why not start the tradition before the boxes are pulled from the attic?
Visit one of Thurston County's wonderful tree farms with your family.  Watching Dad wield that bow saw could be the thrill of the season!
Thrifty Thurston highlights inexpensive family fun in Thurston County.  The weekly series focuses on family-friendly activities throughout our community.  If you have a suggestion for a post, send us a note at submit@thurstontalk.com.  For more events and to learn what's happening in Olympia and the surrounding area, click here.