By Stacee Sledge
Kids look forward fervently to Halloween, while many parents dread the spooky holiday and its boatloads of scrumptious, teeth-decaying, sugary treats. Not to mention the endless haranguing for candy in the days and weeks that follow All Hallow's Eve.
Drs. Scott Rowley, Ben Ruder and Greg Psaltis, of Olympia's Small To Tall Pediatric Dentistry, are also parents and they all know the drill: Kids who trick-or-treat are going to come home at the end of the night with mountains of sweets.
But protecting kids' teeth at Halloween doesn't have to mean saying no to all treats. In fact, Dr. Rowley doesn't put any stringent limits on what his kids can devour – on the night of Halloween.
"We let them go crazy one night, and then try to get rid of it," he says, laughing.
"My kid will be experiencing his first Halloween, going around getting candy," says Dr. Ruder. "And I will probably take the same stance Scott has taken: We'll let him enjoy his Halloween bounty for one night, but after that, it will probably be tucked away."
When asked, off the record, if they themselves then dug into the loot, the room simply erupts into laughter.
In all seriousness, as parents, we're all concerned about the safest way to let our kids enjoy the holiday while still protecting their dental health.
"Most kids, with any sort of food that has a lot of sugars – what we call cariogenic food – it's really more so the frequency that kids are consuming the foods that can increase the risk for getting cavities," says Dr. Ruder.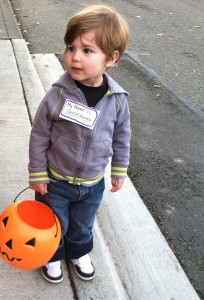 In other words, one night of overload – followed, of course, by a good brushing and flossing of the teeth – will not instantly rot our children's teeth.
Isn't that a relief? (For everyone — did you just hear all those children letting out whoops of joy at the thought of a possible trick-or-treating free-for-all?)
The problems creep in when kids consume the candy they receive on Halloween multiple times over the course of many days (or weeks, depending on the size of their treat sack).
"That can increase the risk factors for causing cavities," says Dr. Ruder.
"It would be much worse if, say, every day you sent one piece of candy with the kids in their lunch sack to school," agrees Dr. Rowley. "It's the frequency that's probably one of the worst things."
And, Dr. Psaltis points out, it's also important to consider the actual physical consistency of the treats we let our kids enjoy. "If you have, say, a piece of taffy with sugar in it, it will be more harmful to the teeth than something that just flies right by like a drink of Coke," he explains. "Because the sugar itself will remain in physical contact with the teeth for a longer time."
As a parent who is definitely guilty of doling out one or two pieces of Halloween loot each day until it's gone, this advice is a much-needed wake-up call.
Parents can also choose to give out treats that aren't full of sugar.
Both Dr. Rowley and Dr. Psaltis have given out toothbrushes at Halloween in the past. You can choose different non-traditional Halloween treats that are less likely to find your pumpkin the target of late-night mischief, such as animal crackers or pretzels.
Alternative candies are also popping up, such as Dr. John's Candies, which offers a large variety of sweets made healthier with birch Xylitol.
"It's is an artificial sweetener that's supposed to help prevent cavities from forming," says Dr. Rowley.
Handing out non-food treats such as temporary tattoos, pencils, and small toys can also be fun alternatives.
And many parents set up trades with their kids, switching out their candy for an agreed-upon prize. For younger children, you can tell them about the Tooth Fairy's cousin, the Candy Fairy, who comes during the night and takes all the extra candy while leaving a gift or money.
Some parents then choose to send the sugary stuff to troops overseas.
"Some dentists employ that as well," says Dr. Ruder. "A lot do candy buy-backs, where the dentist will offer to buy back candy from the kids in exchange for a prize or monetary amount."
Another option this year comes from the American Dental Association, which has teamed up with PopCap Games to offer its Plants Vs. Zombies download game in lieu of sugary snacks. Trading cards can be printed and then passed out with a code for the game.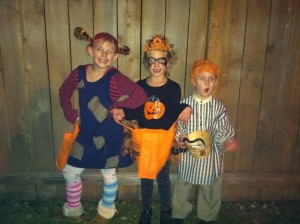 The doctors at Small To Tall Pediatric Dentistry are clear: If you know your kids are going to devour copious amounts of candy, you can't go wrong by stressing the importance of good routine brushing afterward.
"You can certainly negate the harmful effects by following up with adequate oral hygiene," says Dr. Ruder.
It's been proven: Cavities are 100 percent preventable when parents and kids take the appropriate steps.
"Parents need to know that they are in control," says Dr. Ruder. "Handing out the candy, not handing out the candy – and also helping the kids with their brushing."
Small to Tall Pediatric Dentistry
222 Lilly Road NE
Olympia, WA 98506
360.459.5885