By Tom Rohrer

There can be a huge variety of change over a three year period.  Economies can rise and fall, political parties can implement new policies, and weather patterns can fluctuate.
However, not much has changed for the North Thurston High School girls swim team.
The Rams have won 35 consecutive dual meets, an undefeated streak that began in 2009.
Now 7-0 in dual meets, the Rams still are looking dominant, and will likely send a host of athletes along to 3A districts, and eventually, the state championship competition.  They prepare to tackle their final dual meet on October 11th against Timberline to continue toward their 4th consecutive undefeated dual meet season.
Moving up from 2A to 3A this year, the Rams rely on strong leadership from their upperclassman, along with the calming and reliable presence of head coach Jak Ayres, the founding coach for NTHS swimming in 1969.
Following a thirty year period where he traveled around the world via sailboat, Ayres returned to North Thurston five years ago as the head coach, and has been the girls coach for the last two seasons
Having strong swimmers who've qualified for state in the past has been a huge help for Ayres and the development of his younger swimmers.
"That means a lot," Ayres said of his team leaders. "We have five leaders, between three juniors and two seniors. Swimming is such an individual sport. If you're a follower, it's not for you. We train leaders, and the girls who are in this position learned it from those who led them."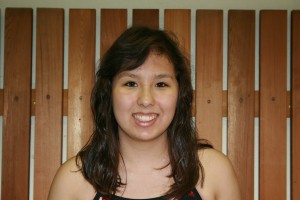 That leadership has helped the Rams put up dominant numbers over the last half-decade, and has led to the development of three likely state-bound swimmers. Seniors Arriya Hagen and Ashley Bierman have felt the pressure of the state meet before, as has junior Sarah Topping.
Going into each dual meet, the team displays confidence, but does not necessarily come into the event with winning as the ultimate goal.
"I wouldn't say we have over the top confidence, but that we go into each meet wanting to do the best that we can do and with the mindset that this will be a great meet – not necessarily a win or that we'll get the best time in every event. But we want to go in and do the best we can that day," Topping said.
With six students athletes posting a 4.0 GPA, and 18 total with a 3.5 GPA, the leadership of the experienced Rams pays dividends both in the water and out.
"A lot of the time I think it's the mentality you really need to work on," Hagen said. "A lot of the girls will break down because they can't handle it.  I tell them they need to be strong in their swimming, strong outside of the pool.  I think swimming is a huge mental sport, and it can really help lead to success in your personal or academic life."
Having a calming presence like Bierman allows the younger swimmers on the Ram's squad to see how to handle high pressure situations.
"Going to state or a dual meet, I've seen what the big crowds look like," Bierman said.  "I try to always stay relaxed and calm and focus on my task at hand.  It's important not to get too excited and expel all your energy right away.  It takes a while for some swimmers to realize this."
Having an experienced coach like Ayers, who swam for Olympia High School, has helped the Rams in more ways than one.
"It's really great having him as coach," Hagen said. "Jak doesn't get in my face and yell like other coaches would. He really talks about technique. Swimmers don't just need the physical muscles. He really works on the technique of the stroke.  It really helps knowing he's seen it all in the sport. He knows exactly what we have to do every practice and what it will take to get us there."
Moving up to 3A has provided some challenges, but Ayres believes a higher level of competition brings out better performances from his swimmers.
"Good competition makes you a fastest swimmer. A fast swimmer makes you faster," Ayres said.  We're confident we can swim with everybody."
Going into dual meets, the Rams know that their diverse skill set allows them to stand up to any opponent.

"Jak always says we have a lot of variety on the team," Hagen said. "So there are a lot of girls that can participate in a lot of events. For me, I can do fly and back. There are girls who can do distance. Jak has a wonderful way of coaching everybody and that's why we can pull through."
Ayres believes the local swimming programs (Hagen, Topping and Bierman all swim for Thurston Olympians Swim Club) lead to a strong collection of talent at all of the county high schools.
"When you have girls that have been swimming competitively all year for almost a decade, that helps," Ayres said. "I always say, athletes who focus on swimming just during the high school season, they'll struggle more than someone who is consistently training.  That's how it is with every sport.  And the athletes we have, they have the opportunity to participate in that training all year."