Submitted by America's Credit Union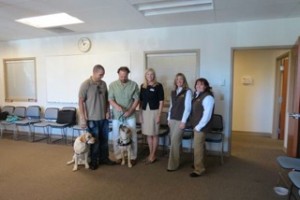 October, 2012
– 
WA State Department of Veterans Affairs (WDVA) has a relatively new program for veterans suffering with PTSD and TBI
. 
They are matching trained assistance dogs with veterans to help manage daily life more effectively. This is where America's Credit Union (ACU) stepped in and sponsored the training for Gracie.
Because we have been at war for over ten years, an ever present need has risen for a new and dynamic way to rehabilitate our wounded. A partnership was made through the North Star Foundation, whose primary mission is to train dogs for use with autistic youth. The service and behavioral needs of PTSD/TBI and autism are so similar that the WDVA and the North Star Foundation have come together with the help of sponsors like ACU.
Ken Leonard CEO from ACU said "since our beginning in 1954 we have supported our JBLM community, first as Fort Lewis, and now as Joint Base Lewis-McChord, and when we were approached about this program it was clearly a good fit for ACU".
WDVA Program Manager, Ray Switzer, talks about how incredible this program has been for veterans, and although this will be his 9th placement, the impact that is made is life changing not only for the veteran but for their family and those who are caring for them.
Gracie arrived in Washington State in mid-August 2012 to live and work with the project's trainer and behavior consultant. She is scheduled to be placed with a veteran here in the Washington area in the next couple weeks.
About America's Credit Union (ACU)

Providing financial services to thousands of military personnel and their families for over 58 years, the headquarters are located on Joint Base Lewis McChord. For more information about ACU visit 
www.youracu.org.