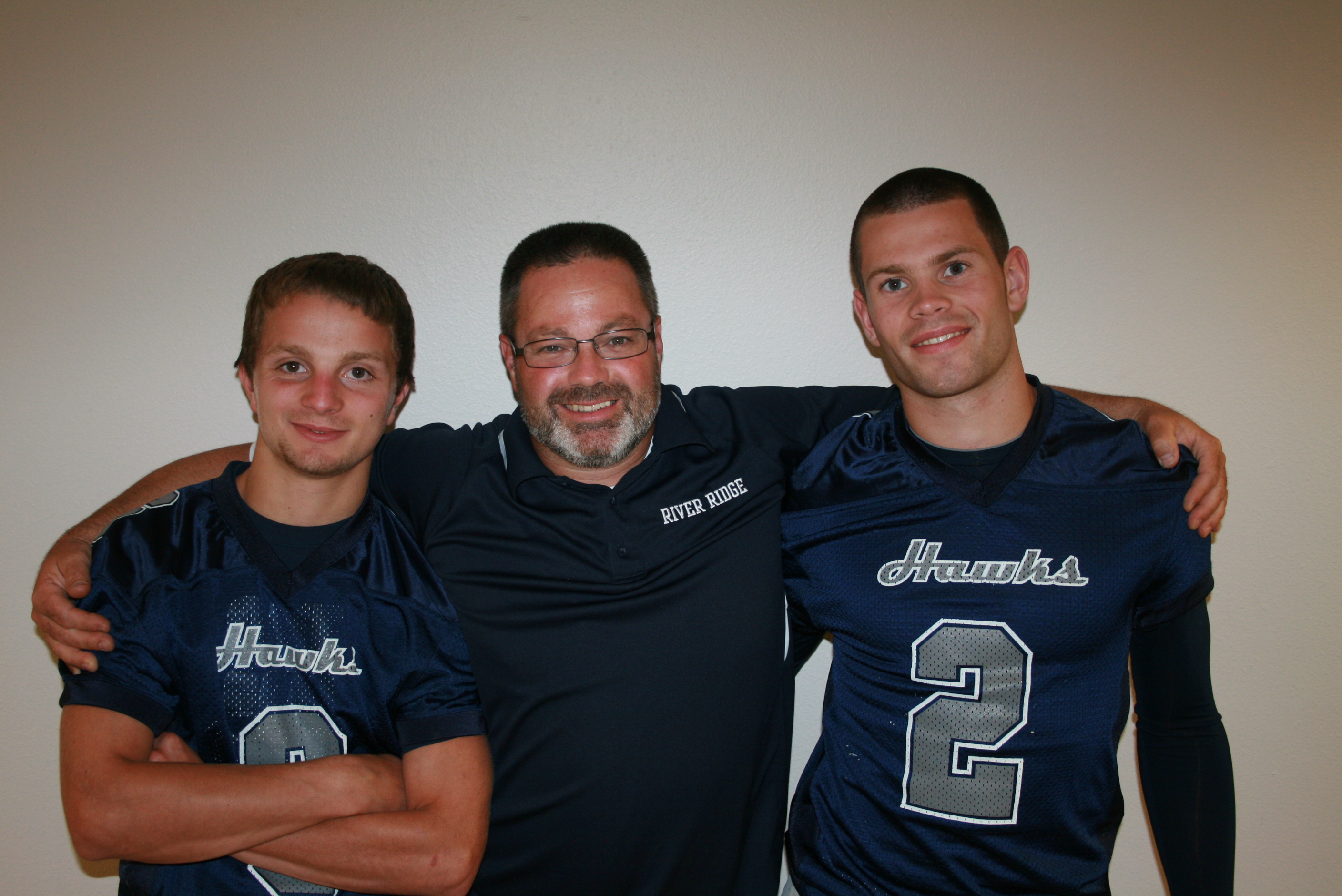 By Tom Rohrer
A common dream for every coach is to one day have the opportunity to lead their son or daughter as a member of the same team.
For River Ridge High School football coach Steve Schultz, that dream is even sweeter, as he has had the opportunity to not only coach his son Colby, but also his nephew Brad Wallace.
Wallace, an all-purpose player who earned All Evergreen Conference as a junior last season, and Schultz, the team's two-year starter at quarterback, have helped lead the Hawks to a 4-1 start this season following a 20-13 victory over Black Hills High School on Thursday, Sept. 27, the league opener for both schools.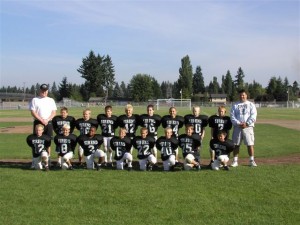 The coach of the two boys dating back to their days in the Thurston County Youth Football League, Steve Schultz could see this success coming, and is enjoying the once in a lifetime experience.
"Ever since they were six years old, we started them in youth football, and I was their coach," Schultz said in an interview with ThurstonTalk.com inside his office within the school's weight room.   "Their moms were wondering if they should start playing football and I said 'look at them', and they were out in the yard killing each other without pads on.  I said let's put some pads on them and slow them down a bit.  It's been a great experience, that was one of the reasons why I applied for this job. I told them that I want to be here and I'm going to do the best I can to make this a great place for my kids."
"Normally, if you're a parent that doesn't teach, you get to spend maybe, if you're lucky, an hour a night with your kids. With these guys, I get to see them all day long so it's been real special," added Schultz.
Many times with the parent/child/coach/player relationship, the youngsters feel excessive pressure to appease their guardian, essentially making the game not enjoyable for both parties.  This is clearly not the case at River Ridge.
"We've never had conflict, where its gone from the field to home. It's always been if I got chewed up, I was 'yes coach, yes dad,'" Colby Schultz said.  "And at home we eat dinner together, we go watch a movie or something.  It's a lot easier, because if I'm not getting something out on the field, and he sees it, he doesn't have to say it to me right there.  I'll be at home watching the game and he'll see something on TV and say, that's exactly what we're running with the backers and stuff and so the communication is really easy when it's not the only thing we talk about.  The understanding part of what he wants me to do is a lot easier because I know exactly what he wants."
"It's way easier having (a coach) you've known forever since I was a little tyke," Wallace said. "You just communicate with him with whatever you need.  My uncle is always there for me, I can go talk to him about anything, doesn't matter what it is.  Not even with just sports, but with school I can go talk to him.  I think it's awesome that my uncle is my coach and I wouldn't want it any other way."
The elder Schultz says his two key players are a coach's dream, and that they know what it takes to be successful both on and off the field.

"These guys, they're on point. The thing about these two guys is that they want to win," Steve Schultz said. "And that's something that now is a gift for a kid.  They have competitive spirits and they want to win. People who want to win – you like as a coach to put those people in position to help you win."
Having played together for so many years, Schultz and Wallace have an unspoken trust and familiarity with one another which in turn, leads to results on the field.
"It's amazing how sometimes plays aren't designed to go to Brad, but if it's broken and Colby is throwing, it seems like he finds Brad," Steve Schultz said. "I was joking around with them last game.  There were a couple of times where we had some broken plays for each of them and you could see on the film that it was like they were seven-years-old again.  The other guy's got his hand up waving throw me the ball. Back in those days they used to do that. Now a days they know it's more of a risk, but they play through it."
After scoring 17 all purpose touchdowns for River Ridge last season, Wallace came into the 2012 campaign as a marked man.  However, thanks to familiarity with his quarterback and coach and a host of other skill players, Wallace has been able to continue his strong play.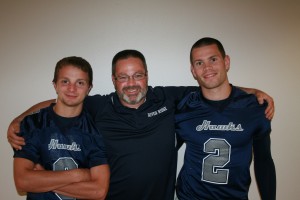 "Its great (having Brad), and if we needed a play, we got the ball to Brad," Colby Schultz said. "This year, we're a bit more of a threat on the outside.  The line is keeping it up, and giving me a lot of time and making it really easy."
"I can just rely on all my other players out on the field, that they're going to do their jobs and I can just go out and do mine," Wallace said. "I just trust everyone out on the field that they're going to get everything done, so I don't really have to do much."
Brad and Colby's mothers, Tami Wallace and Teri Schultz respectively, are twins and were standout athletes at North Thurston High School before careers at Saint Martin's University.  The competitive drive displayed in the two mother's boys is evident following games.
"Both of their moms were college athletes and elite high school athletes," Steve Schultz said. "Now, when they go home, their moms will let them have it. They hear from their moms more than anything.  They have high expectations of them."
Following a strong pre-season, and a win in the league opener, the Hawks have their own high expectations.  However, both coach and players are taking it one game at a time.
"We've been here before, where we've had a really good pre-season and won a lot of games," Steve Schultz said. "Having these seniors, they've had a lot of experiences, as juniors and sophomores, where we've won games, and then we've lost. We're kind of focused looking at our next opponents and taking it on a week to week basis."