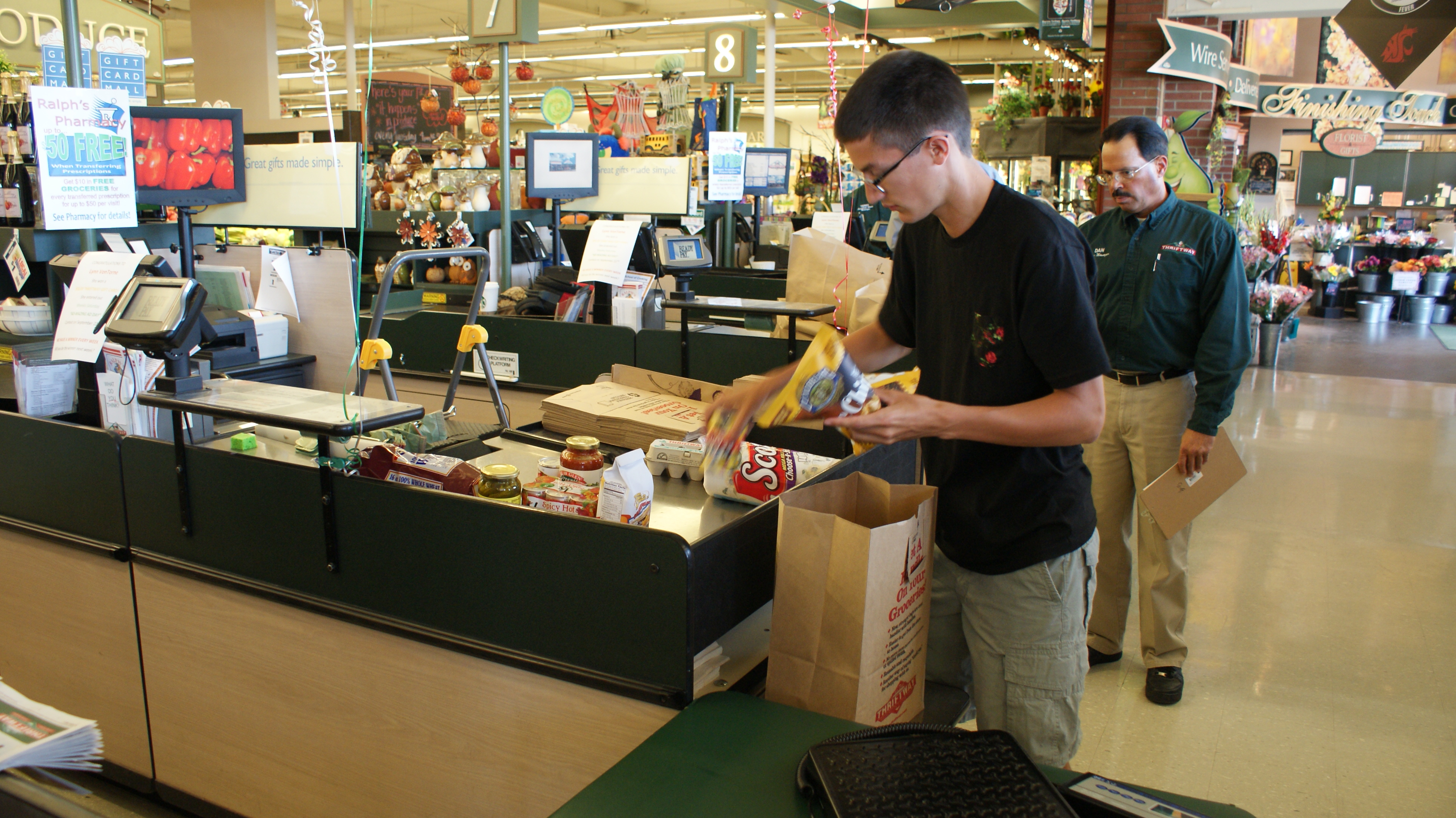 By Laurie O'Brien
It's nice when the people on the front lines get some recognition.  That's the idea behind the "Best Bagger" competition the Storman company holds for courtesy clerks, those employees who are the final point of contact for customers as they exit the company's two Olympia stores, Bayview and Ralph's Thriftway.
This year's competition was held on Friday, September 28th and had competitors from both stores in attendance.   Ralph's Thriftway manager Dan Machado was happy that his store was playing host for the fourth time.  "I sure appreciate our store owners giving us the opportunity to participate in the Washington State Best Bagger competition again this year. The event creates excitement for our Ralph's Thriftway team as well as with our customers who enjoy watching the in-store competition."
Machado knew that his store's employees had a bit of a home field advantage.  In addition to hosting the competition every year, Ralph's employees have won the inter-store competition since it began four years ago, and two of those winners have gone on to place at the state level.  2011 champion, Ben Hanson, has been a Ralph's employee for over eleven years.  Last year, Hanson won a $100.00 Thriftway Gift Card plus round trip airfare for two to Spokane to compete in the State Finals where, said Machado, "…he represented our company well."
The state competition includes baggers from both independent and chain grocery stores.  The grand prize at the state level is $1500 cash, a trophy, and an all-expense paid trip for two to Las Vegas for the national contest in February.  Second and third places at the state level are cash prizes of $1000 and $500 respectively.  Winning at the national level garners the champion a $10,000 grand prize.
In any competition, there are rules and guidelines.  For bagging, contestants are judged on a set list of criteria.  First and foremost is speed.  The less time it takes, the more points are awarded.  But speed in bagging is only one component.  Weight distribution is important, too.  Each competitor has multiple bags to load, and the closer they are in weight, the higher the score will be.
Building technique is also key to the perfectly loaded bag.  Framing boxed items around the wall to create a cushion for other items, placing crushable items on top, and making sure that glass items are not clanking against each other affect scores.  After being loaded, each bag is cut open for inspection.  If it's loaded properly, nothing should fall out.  Because the bagger is representing a business, attitude and appearance can also be contributing factors.
This year's competition came down to Hanson and Ralph's Customer Service Manager, Ernie Trujillo, who has been with Stormans for 20 years.  The pair cancelled each other out on weight distribution when each had two bags weighing 14.2 and 14.6 pounds.  With store owner Kevin Storman and corporate employee Penny Wilson inspecting the packing jobs, it appeared that the co-workers were in a dead heat.
Ultimately, it came down to time with Trujillo edging out Hanson by just a few seconds.  Third place went to Bayview employee Zach Gill, a Tumwater High School student who has been working at the store for 15 months.  Like Hanson, Gill competed last year, too.
Hanson was okay with Trujillo taking the win this year, especially since he's the one who encouraged his boss to compete.  "I don't mind, especially when I'm the one who talked him into it!" he said.   Trujillo even pointed out that he wouldn't have won without Hanson's encouragement. "Ben's been helping me and sort of pushed me over the edge (into competing)," said Trujillo.
Machado believes the competition helps build team spirit and also places a spotlight on what checkers and baggers do.  He knows that his courtesy clerks are the last people customers talk to on their way out of the store, and their highest priority should be customer service.
The competition "…highlights the duties of our courtesy and helper clerks and recognizes the effort and hard work that they do on a daily basis."  It's "…a celebration of their hard work and efforts."