Submitted by Hartley Jewelers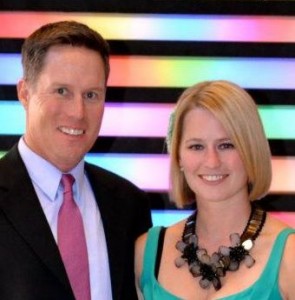 For Linda Hartley, co-owner and manager of West Olympia's Hartley Jewelers, the people and the stories they bring through the doors is one of her favorite things about the shop.
"There's a really poignant story every week," she says.
One such recent account occurred when Amy Evans, proprietress of Olympia's Bon Lemon, turned to Hartley Jewelers after she and her soon-to-be fiancé Tyler Kolstad started talking engagement rings.
"Tyler mentioned to me that he was hoping to propose, but he thought he needed a little assistance on the ring," Amy explains with a warm laugh. "I'm in the jewelry business, on the fashion end of things, and I'm also somewhat particular."
The couple brainstormed together on design ideas. They both wanted a solid, traditional aesthetic – with a twist.
Amy describes Tyler's style as more traditional, while she is more flamboyant. They saw designing a custom ring together as a perfect way to blend their styles.
"It was important to me that the ring reflected him as well, not just what I wanted," says Amy. "I wanted something that demonstrated the two of us coming together."
Amy admired a friend's gorgeous ring and learned that Hartley Jewelers created it. She looked at Hartley Jewelers' website and was impressed with the diversity of styles and stones she found in their designs.
"It was clear that the vision of the customer was shining through in each piece," Amy says. "I set up an appointment to meet with DeAnn and I just loved her."
DeAnn is a member of Hartley Jewelers' talented team of goldsmiths, designers, and jewelers. She's been with them since 1995, having first earned her bachelor of fine arts degree in metal and studied under internationally recognized jeweler Rachell Thiewes.
During her initial meeting with DeAnn, it became quickly obvious to Amy that Hartley Jewelers wasn't like other jewelry stores.
"The feel of Hartley Jewelers is one of such a craftsman-type place," she says. "There are so many jewelry stores that just feel like stores, but Hartley really feels like you have a group of jewelry artisans, which DeAnn clearly is."
Amy lives in Olympia while Tyler lives part of the year in Montana, where he farms, and Arizona. They met three years ago while Amy attended law school in Montana.
"I was considering diamond alternatives for the ring because I wanted to do something more unique," Amy says. She researched stones and, knowing her active lifestyle can be hard on jewelry, landed on the durable sapphire.
"Then I realized that the only place in America where they mine sapphires is Montana," she says. The decision was made. Amy wasn't a fan of the dark blue sapphire, but found the stone available in many different colors and fell for a beautiful aqua hue.
"We were really excited about the idea of wearing a piece of Montana," she says. "I have a really strong connection to the landscape in Montana and the idea that for me personally – and us as a couple – to be literally wearing a piece of the land around was so cool."
Amy brought DeAnn a detailed sketch of the ring design she and Tyler devised.
One of Amy's initial concerns when considering a custom-made ring was that it wouldn't end up looking like the idea in her mind. She was also afraid that a designer would make it his or her own, rather than fashion it to fit Amy and Tyler's design.
She quickly realized DeAnn would help guide Amy and Tyler to the ring of their dreams without imposing her own tastes into the design.
"DeAnn was able to take my clear vision of what we were hoping for, and then walk that line so well of giving her professional suggestions while still allowing it to be exactly what we wanted," says Amy. "It was awesome."
The finished ring is made of white gold from jewelry that belonged to Amy's mother, with the sapphire set in a low profile. The 3.3-carat stone is surrounded by 12 diamonds channel-set in two rows down each side. Details such as the claw-like prongs that hold the stone in place are exactly as Amy and Tyler described them in their original sketch.
"I was concerned it would be too big and maybe feel gaudy, but it doesn't feel that large," Amy says of the finished piece. "It's a substantially sized stone but it doesn't look like a cocktail ring."
The price for a custom ring at Hartley was, in Amy's opinion, incredibly reasonable.
"I'm in the business of shopping for price and I think we got a great value. We could have gone and bought something boring and it would have been the same price – and here we have this amazing, unique piece."
The couple both wanted an element of surprise to remain for Tyler's actual proposal, so Amy didn't see the completed ring before Hartley Jewelers shipped it directly to Tyler in Montana.
The couple got engaged in late August in Glacier National Park in Montana.
"We were at our very favorite place, Many Glacier, drinking a special bottle of champagne from our favorite shop, just sitting on the patio, taking it all in," she says, describing the special day.
One of Amy's favorite details is that Tyler didn't ask, 'Will you marry me?' – instead he asked, 'Will you be my wife?'
The couple talked about how spending their life together was what was important to them, not just getting married.
The ring was as perfect as Amy and Tyler had hoped it would be.
"The stone is literally the same color as those glacial lakes. We went on a hike and I kept holding up my hand and saying, 'Oh my gosh! It's the exact same color!'"
The couple plans to marry next year, likely in October, after harvest time. Amy is now working with Hartley Jewelers to incorporate her grandmother's engagement ring into her wedding band.
See more beautiful examples of Hartley Jewelers' custom creations and read more personal stories behind many of their pieces by visiting their website.
Hartley Jewelers
400 Cooper Point Road SW in Olympia
360.754.6161
Tuesday – Friday: 10am to 6pm
Saturday: 10am to 5:30pm