By Kate Scriven
It's happened.  You can feel it in the air in the morning, that crispness you've missed.  You know it's here when you grab a scarf on the way out the door.  You smile just a little when you turn the car heater on.  And even if the official start date, September 22nd, wasn't on your calendar, you would still know.  Fall is here.
One of the glories of fall is just around the corner – the turning of the leaves.  Our region isn't renowned for its fall season like, New England or Colorado, yet our little corner of the Puget Sound puts on a pretty good show.   With our temperate climate and ample rainfall (yes, it's coming…) the South Sound provides the perfect environment for vigorous tree growth.   Both our native species and many non-native trees proliferate throughout the region.
Why do the Leaves Change?
Tom Otto, Park Arborist for the City of Olympia, explains that the shorter days in fall, combined with local weather patterns and moisture levels from the summer are all factors that trigger the color change in leaves.
It's an unpredictable science, with many factors contributing.  Some trees will begin to turn early in the season.  You can see some colors emerging now.  Others will hold on to their leaves into late November before they turn and drop.  "The body of science doesn't actually know a lot about what goes on inside a tree," explains Otto.  "Despite what people think, the internal workings of a tree are very complex and science is just learning about all the factors that affect trees and tree health."  Otto goes on to explain that the chlorophyll that makes the leaves green throughout the spring and summer begins to dry up as fall approaches.
Photosynthesis in the leaves shuts down and the trees begin to put their energy into creating a network of fine roots, which Otto explains are "like the trees leaves underground".  The building of these roots in fall is what helps the tree make it through the winter and bud again in the spring.   Whatever the factors may be, nature puts on a pretty good show each and every season.
Capture the Color of Fall with your Child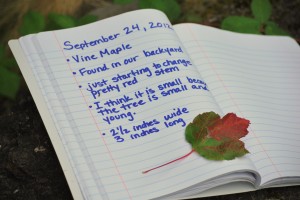 Children are naturally drawn to the vibrancy of fall.   The bright colors, the crunchy sounds, and the myriad of shapes present in leaves provide a host of creative opportunities from simply jumping in a huge pile to more close examination.
Creating a travelling Leaf Journal with your child is terrific way to purposefully enjoy the season, requiring only small detours in your daily routine to share a moment of exploration and discovery.  All you need to begin the project is a notebook, pencil, field guide to trees, and a few fall leaves.   Date a new page and have your child write or draw observations in their notebook about the location where you found your leaf, colors, size and shape.  Try and fill your notebook with as many different species as you can throughout the season.  Simply keeping the notebook in the car ensures that you can take advantage of unplanned moments of discovery.
Encourage your child to describe their leaf in detail.  Have them compare similarities to other leaves they have found.  What makes this leaf unique and different?  Why were they drawn to the leaf instead of another one?  These simple questions will practice the critical thinking skills of observation, classification, comparing and contrasting, and analyzing.
Use a field guide (or a handy smartphone…The Audubon Trees App is terrific at only $4.99) to identify the leaves you find and store them pressed between the pages.  A terrific guide book for kids is Trees, Leaves and Bark by Diane L. Burns, part of the Take-Along Guides series.  This user friendly book includes pages detailing the bark, leaves, seeds, and lifespan facts of common trees.  A ruler is printed on the back cover and the illustrations are clear and easy to follow.  The Timberland Regional Library also has many excellent field guides available for children and adults.
Where to go….
"Our biggest and showiest trees in the Northwest are the Big Leaf Maple and Vine Maple," says Tom Otto, "although the bright red of the Pacific Dogwood is also notable."  Many of our local parks provide excellent leaf hunting, but you may find some of your best specimen in your own neighborhood.  Otto's picks for Olympia's best leaf hunting parks are Watershed Park, Priest Point Park, and Friendly Grove Park for its variety of orchard and specimen trees.   One favorite leaf is the shockingly yellow fall leaves of the Ginkgo Tree, a great find for any journal.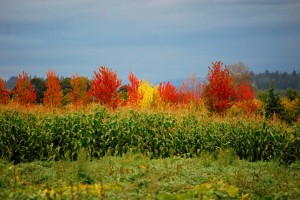 Wherever your path takes you this season, you are guaranteed to come across the vibrant colors of fall.  Take a few moments and revel in the season with your child.  You will both learn something about trees and probably each other.
Thrifty Thurston highlights inexpensive family fun in Thurston County.  The weekly series focuses on family-friendly activities throughout our community.  If you have a suggestion for a post, send us a note at submit@thurstontalk.com.  For more events and to learn what's happening in Olympia and the surrounding area, click here.