By Stacee Sledge
Olympia's Fall Arts Walk is on the horizon. The popular downtown arts event winds down the summer and ramps up the autumn season of cozying in.
The 45th Arts Walk takes place on Friday, October 5, from 5:00 p.m. to 10:00 p.m. and Saturday, October 6, from noon to 5:00 p.m.
An array of downtown businesses invite artists – from visual to performance and anything in between – to present their work while mingling with community members who come to take in the rich, diverse outpouring of art from the South Sound region.
Arts Walk takes place both in the spring and the fall, with each celebration enjoying its own feel.
The spring Arts Walk occurs during the Procession of the Species, offering up a slightly larger number of participants (though this fall's 96 businesses still makes it a fun challenge to hit all of your favorites), and larger crowds celebrating the arrival of spring.
"Fall Arts Walk is a little more mellow," says Connie Lorenz, Executive Director of the Olympia Downtown Association. "I call it more strolling and relaxing. There's so much more going on with the Procession (in the spring), so it just gives it a whole different feel."
After experimenting successfully last year with adding a second day to Arts Walk, visitors can come back on Saturday to take in artists and shops they might miss on Friday night.
"It makes sense to have another day," says Lorenz, noting that business owners and artists have already gone to the work of putting the art in and moving the store around to accommodate it. "And it's during a normal (retail) workday. It's not like Friday night, where sometimes retailers aren't open except for Arts Walk. On Saturday, you're already open."
One of the popular stops on the Arts Walk tour, according to Lorenz, is Childhood's End Gallery at 222 Fourth Avenue West.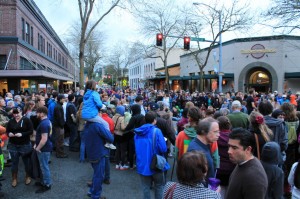 "Owner Richenda Richardson has been doing Arts Walk since it started," Lorenz says. "She always has a variety of artists and a good mix."
"We've had a gallery downtown for the past 40 years," says Richardson, "We've been involved with Arts Walk since before the city got involved. It's great for the arts."
Richardson loves the sense of community surrounding Arts Walk and the fact that it draws people in from outside the area.
"People that normally wouldn't necessarily come into a gallery come down for the festivities, because it is such a broad celebration," she says. "It also brings in all age ranges, so they have things for the kids to get involved."
Richardson's gallery has dealt with a great number of artists over the years, and she says they all vie to participate in Arts Walk. "You get such great coverage during Arts Walk – thousands of people come through the door," says Richardson. "So we rotate through (artists)."
This year, Childhood's End Gallery will have four artists on display during Arts Walk: mixed media fiber artist Marie Hassett; acrylic landscape painter, Don Tiller; Dave and Boni Deal, a husband and wife team of ceramic artists, and the hand-blow glass of Dan Bergsma.
These talented artists are just a small sample of the imaginative creators that will swarm downtown at Arts Walk.
Every year, Lorenz hears people lament being unable to get to every place that they love on the map.
"You see people run into people, and they get to visiting and then they just don't get every place they want to get to," she says.
All the more reason to be happy that Arts Walk happens twice a year, every year.
Arts Walk maps are available at participating locations, The Olympia Center at 222 Columbia Street Northwest, and Olympia City Hall at 601 Fourth Avenue East. An online listing is also available at www.olympiawa.gov/artswalkmobile.
The City of Olympia Parks, Arts & Recreation Department and the Olympia Arts Commission sponsor Arts Walk, with support provided by Art House Designs, Capitol City Press, Heritage Bank and Mixx 96 FM, along with participating artists and businesses.
For more information, please contact Olympia Parks, Arts & Recreation, at 360.753.8380 or olympiaparks@ci.olympia.wa.us.