Newlyweds Martin and Vanessa Borcherding have entered married life in a whirlwind, opening their downtown Olympia coffee shop Café Love mere days after returning from their honeymoon.
"We got married on June 16th, got back from our honeymoon in Maui on June 29th, and started this on July 2nd," says Martin, smiling behind the café's counter. "Yeah, we've been kind of busy."
The open two-story space, directly across from the State Theater on Fourth Avenue, is wrapped in warm earth-colored walls lined by colorful paintings, with an abundance of seating options – comfy couches, café-size tables, and a huge dining table surrounded by chairs – for patrons who want to work, read, relax, eat, or chat.
The interior design was completed by Jonathan Hart Design Consulting.  "Jonathan is a multi-talented artist and wonderful to work with.  He brought the space alive," says the couple.
Matthew Scott, a good friend of the couple designed the café logo which is a graphic representation of a nature scene featuring Vanessa and Martin's big orange cat, Saul.  Matthew's brightly colored paintings are on display at the café through Arts Walk.  During the Fall Arts Walk, Matthew will be doing live painting.
And taking center stage among the comfortable, colorful, welcoming surroundings are fantastic coffee drinks made with local Batdorf and Bronson beans, plus a variety of treats – for breakfast, lunch or snacking – provided by local shops known for great eats.
Vanessa has years of coffee experience, having worked throughout Western Washington at various coffee shops and stands.
"I do love coffee. I think it's just in my blood," says Vanessa, who was raised by coffee-loving parents. "My mom spent a year in Italy when she was in college and has always loved the whole Italian espresso/coffee thing. I grew up around it. I love the smell, the taste, the color – everything."
Martin was looking for a career change and came up with the idea of opening a coffee shop together. The couple, which has been together for five years – began working on a business plan almost two years ago.
"I wanted to get out of what I was doing and I wanted us to be able to work together – work takes up so much time in your life," he says. He admits going into business with a spouse can be dicey – hard on the relationship – but everything has been smooth sailing so far.
"It's the first time we've worked together and it's going really well," he says. "It's been fun."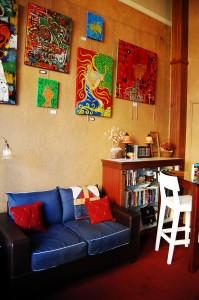 Vanessa agrees. "It's been crazy, but fun – and a lot of work," she says. "I don't think we've ever been so busy or tired in our whole lives, but the whole process has been really rewarding."
Martin and Vanessa chose Left Bank Pastry for French pastries, quiche and some specialty cookies and Bagel Brothers supplies a variety of bagels, sandwiches and a few breakfast items.  Chocolate chip cookies and brownies are made in house at Café Love and Ivar's clam chowder is served every day in addition to a rotating soup of the day.
"We want to support other local businesses, just like us," says Vanessa.
Choosing Batdorf and Bronson coffee beans was an easy choice.
"They were so willing to do anything they could to help us succeed and give us information," Vanessa says. "So besides having an awesome product with great coffees, they are just the nicest vendor I've ever worked with."
The couple nearly set up shop in Seattle. "We were looking for someplace really diverse, not boring," Martin says.
But when an existing coffee shop went on the market, things fell into place and the couple – who had considered moving to Olympia a few years ago – snatched it up.
"You might get a ticket when you park in downtown Olympia, but at least you can find parking," says Martin. "That weighs enormously on the quality of life here. We've both always loved Olympia."
"We bought what was a very different coffee shop that was in this space," Martin explains. "We gutted it, made it our own, repurposed a few things, changed the name, and away we went."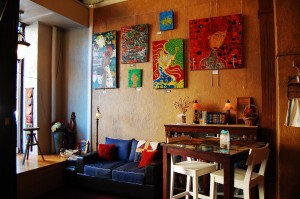 The name Café Love holds a double meaning for the couple.
"We are newlyweds and we wanted something kind of fun that played on us being a couple," says Vanessa. "But we also wanted something that conveyed openness and welcoming everyone in the community. It's a place for everyone to come – everybody's the same here."
Martin describes the café's vibe similarly, as open, warm, cozy. "Come on in, make yourself at home," he says. "No matter who you are, as long as you're a civil, polite person, you're welcome here."
Even after undergoing major changes – both aesthetically and gastronomically – Café Love still gets the older crowd who used to come into the previous shop in the mornings, now with a mix of younger clientele from all walks of life.
"Even having changed it up in here, we still get a lot of older people, especially in the morning. A little bit of Bob Marley and some weird paintings don't scare them," Martin says with a laugh.
Martin says he's "tickled pink" to see the mixture of patrons.
Occasionally, Martin says, folks will engage each other in conversation and realize they have more in common than they might have thought. The next thing you know, they're talking about the weather and their pets.
"Something about the atmosphere here seems to sort of engender civility," he says. "That's what we're after."
Check out Café Love's Facebook page for more information and stop in on Wednesday nights from 7:00 p.m. to 10:00 p.m. for "Naked," the café's acoustic open mic night.
Café Love
205 4th Avenue East
Olympia WA
360.943.1434
Hours:
Monday, Tuesday, Thursday, Friday, Saturday, 8:00 a.m. to 6:00 p.m.
Wednesday 8:00 a.m. to 10:00 p.m.