By Tom Rohrer
Unlike most sports, tennis can be played at a high level regardless of age.
However, for one local men's tennis team, immense skill and a driving competitive edge put away any qualms or thoughts on a lack of youthful participation.
This past June, the Valley Athletic Club's (VAC) Senior Men's' 3.0 tennis team took first place at the Pacific Northwest Sectional Playoffs in Sunriver, Ore., defeating a team from the Columbia Silver-Lake Club of Everett 2-1 in the finals.
The victory punched a ticket for the VAC team to the National League Playoffs in Rancho Mirage, Calif., at the Mission Hills Country Club, from Friday, Oct. 5, through Sunday, Oct. 7.
The nine man VAC team consists of Frank Dreyer, Brett Hardcastle, John Lindberg, Wis Macomson, Jim Philips, Kevin Robinson, Mike Roy, Rex Schade and Greg Stormans.
An opportunity to play against the nation's best teams within their age group is an exciting prospect for the team.
"It's like the Superbowl," said Philips during the teams practice session on Monday, Sept. 17.  "I get goose-bumps thinking about it, and it's why you play sports and compete.  We're pumped up for it."
The competitive drive of the team was on full display during the team's outdoor practice session, as club pro Clayton Harris, captain at Pacific Lutheran University and All-American in 2000, led the team in a series of drills to keep various areas of the game, such as net play and overhands, polished and up-to-date.
Co-Captain Rex Schade began playing two and half years ago after a thirty year break from the game, and it's clear the competitive drive within him never dispersed during the layoff.
"It never went away," Schade said of his competitiveness. "And that's the case with all the other guys.  I think that's what has driven us to where we are.  We don't give up during games and we push each other to play well.  Everyone is accountable, wants to get better and has a desire to win."
During the practice session, the majority of the team provided vocal support for one another, along with advice and suggestions if needed.
"We're all having fun, that's really what it's all about," Schade said. "But everyone wants to win, and we draw the fun from that common goal and drive.  That's what helped us get to nationals and surpass the other teams at regionals.  We have fun winning and working towards improving so we can win."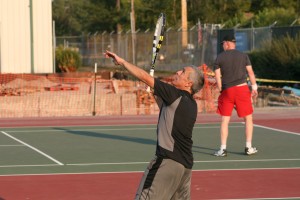 Team tennis combines the scores of doubles matches between two opposing squads.  Such a style creates a camaraderie within a team, as each pair must come through for the greater good of their roster.
"It's nerve-racking to watch other matches," Philips said. "But at the same time, you feel that pressure when you're playing to win, which I think is a good thing."
"Knowing that everyone is trying their best is important for any team in any sport," Schade said. "It builds that unity and trust that you look for in team sports.  A lot of people just look at tennis as an individual sport, but in this format, you really have to come together and learn to play well with your teammates."
While the group is happy to have made it to nationals, they won't be satisfied with anything less than a championship.
"We all have that expectation to win," Schade said. "It will be a cool experience, but again, that desire to win and to compete will come right back."
"It's all about winning the whole thing," Philips said. "There is a world championship to qualify for if we do.  It's awesome to have that confidence and expectations going into something like this, and ultimately, I think that's what will lead us to the victory."