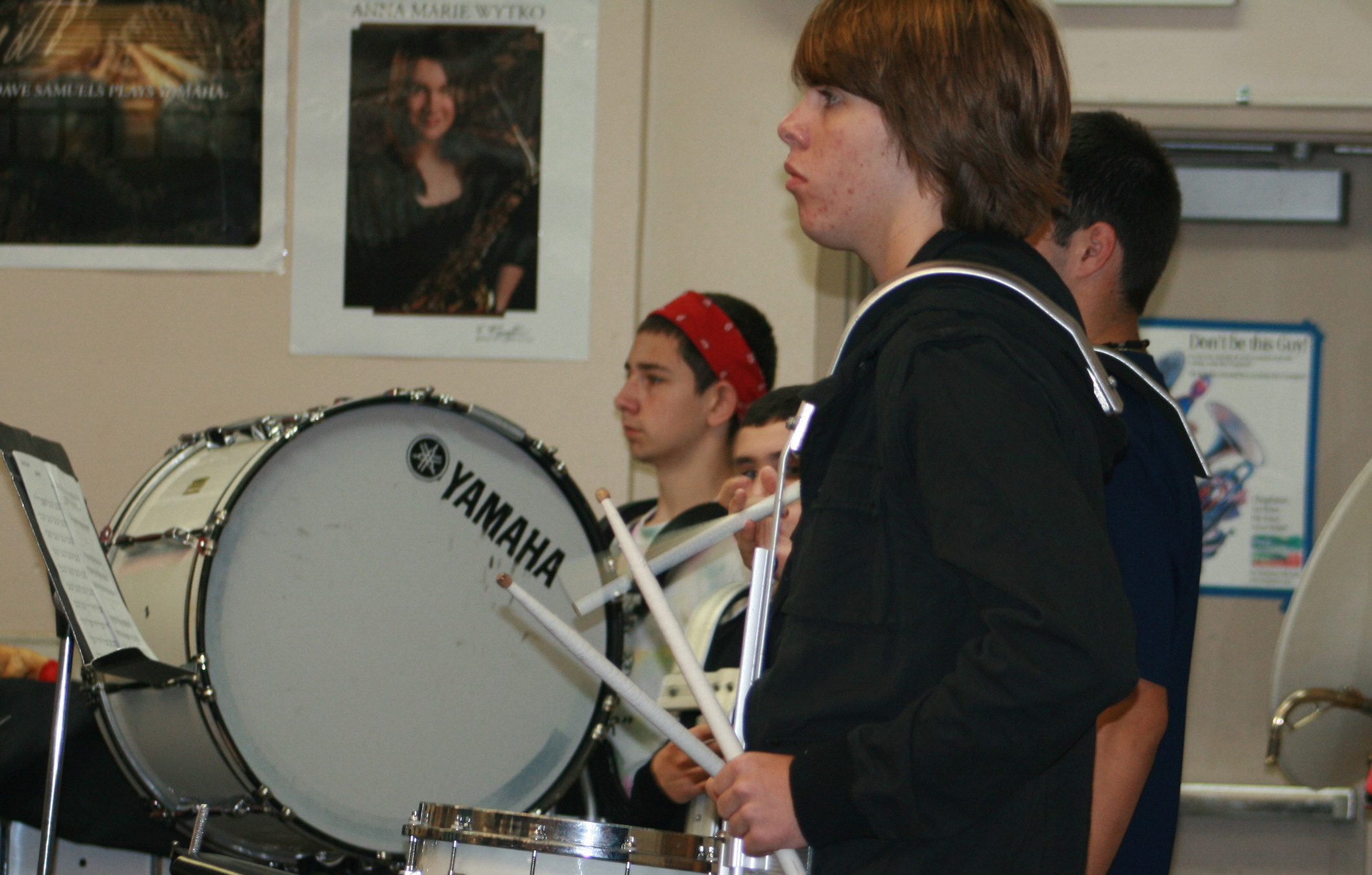 By Tom Rohrer

When immense talent can be harnessed and brought to its full potential, great things are soon to follow.
This certainly applies to Tenino High School senior percussionist Nicholas Holt, a three time regional champion on the snare drum, and his instructor Andrew Bowerly.
Holt, who, along with the snare drum, excels on the quad and full drum sets as well, began his musical journey as a youngster growing up in Tenino, playing in Civil War re-enactments along with his participation in elementary and middle school bands.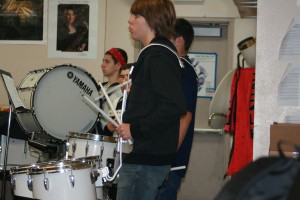 His natural talent and rhythm has translated to the high school level of music, something Holt credits to his relationship with Bowerly.
"Mr. Bowerly is amazing," Holt said in an interview with ThurstonTalk.com at Tenino High School.  "He has taught me a lot, and has been a terrific teacher and help to me."
Bowerly, now in his fifth year at Tenino after graduating from the University of Washington School Of Music in 2007, says Holt's talent has been equaled by his desire to learn techniques required to become a successful musician.
"With Nic, he has always been extremely talented, and it's about controlling his skill and trying to push him to be what he wants to be," Bowerly said. "If he wants to be a professional percussionist when he grows up or go to college for music, I have to be a little harder on him sometimes and expect more from him and channel his raw talent into something that will actually help him more."
A three time participant in the state competition for snare drum, Holt has continued to grow as a musician throughout his time at Tenino, and now serves as a role model for a very young group of percussionists.
"I like being around the guys," Holt said. "They're amazing, and it's fun to help them.  I'll say, do this, try this, and they listen.  That's a cool thing to be a part of."
In certain instances, Bowerly has given Holt the freedom to create his own drum beats within the band's performance songs, a privilege earned by Holt by learning to read music at a higher level.  As an instructor in charge of a large high school band, Bowerly appreciates Holt's ability to show the younger students the ropes.
"Nic does a lot of (practicing) on his own, which as in instructor, is terrific to see. When I first started teaching him, a lot of rudiments were already there," Bowerly said. "He's great at reading now.  He's making stuff up a lot of times with music I arrange.  I say 'Nic, come up with a drum part,' and he listens to the song and takes care of it."
"He's a great leader for our section too. More than half of the section is freshmen who have never played and he's taken it upon himself to teach them and help them learn.  He knows his impact will be on the school for a while.  It makes my life a whole lot easier."
Bowerly has brought his UW marching band experience to Tenino, where students now participate in competitive marching, coupled with renditions of current songs and elaborate routines that differ from many high school band programs.
"I'm still a pretty young guy, so it's not really awkward for me to show off dance moves and teach the kids new routines," Bowerly said. "Fifteen years from now, it may be.  It's important to teach the kids the proper techniques, but you have to have fun, and I think everyone enjoys it."
Holt enjoys putting on a performance during school assemblies and events such as a Beaver football game.
"Those are the best," Holt said about the marching band's performances. "It's a lot more fun than an individual competition.  You just let it go and have fun and there is no nervousness."
Holt remains undecided on his plans following graduation from Tenino High, and is enjoying his senior year in the band.
"This has been a fun year so far and I think it's only going to get better," Holt said.
Bowerly appreciates the effort Holt has put in, and sites the current University of Washington drum line instructor as an example of how far Holt can go.
"Every year he has gotten better, and he has gone to state and competed against kids from bigger schools who take private lessons," Bowerly said. "He hasn't had the option for that, so to see him excel is inspirational for everyone in the band and the school really."
"He has that kind of talent, it's just the matter of getting him there," Bowerly said of Holt's ability to play in college. "The drum line instructor at (the University of Washington) Nick Molenda is a good friend of mine and (Molenda) went to Rainier High School.  It's really encouraging to see someone from our area (Rainier is about seven miles north of Tenino) who is in charge of a section at a Division I school.  If (Molenda) could do this, you think (Holt) could as well, and he has sort of blueprint of what it takes in front of him."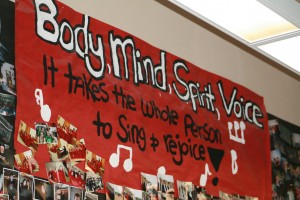 Tenino High School will have their homecoming football game on Friday, Sept. 21, with Holt and the rest of the marching band performing.  On Saturday, Oct. 20, Tenino High School will host the 3rd annual Tenino Marching Band Festival, featuring around five other marching bands with various performances throughout the day.  The event begins at 12:30 p.m.