By Tom Rohrer

Can one's surroundings will them to run longer distances?
While there is no scientific evidence for the question, Olympia area runner Jen Edwards may be the closest thing to proof.  After running throughout her whole life and participating in around 20 marathons while growing up in Ohio, Edwards and her husband made the move west, relocating to Thurston County two years ago.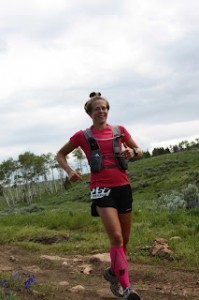 Always drawn by longer distances, Edwards has now run in several fifty mile races, along with completing three 100 mile events.
Most recently, Edwards competed in the Cascade Crest 100 mile run from Saturday, Aug. 25, to Sunday, Aug. 26, which starts east of the Cascade Mountain Range in Easton, and then circles back through the range to the starting location.
Edwards, whose first 100 mile race was the Cascade Crest last summer, improved her time greatly, and placed third amongst all female competitors.   Her finishing time was 24 hours and 16 minutes, more than a full day of running.  Running 100 miles seems like an impossibly daunting task for most, but Edwards relishes the challenge.
"I think I've always been drawn towards (running) longer distances," Edwards said via phone interview with ThurstonTalk.com. "Trail running has an appeal to me, and I love climbing mountains getting to the top and seeing that great view.  You get a really big sense of accomplishment."
Running on the peaceful and tranquil trails of Thurston County and the Pacific Northwest also helps Edwards achieve a longer distance.
"The scenery helps.  I get around pine trees, smell them and it makes me feel calm," Edwards said.  "Air is fresh; there is no traffic or stoplights. (You) don't have to pay attention to other things, other than yourself."
Running long distances is as much a mental exercise as physical, and Edwards can attest to that fact.
"I think it's more of a soul searching event," Edwards said.  "I find when I get out there, I'm peaceful. I'm with my thoughts.  I'm in my Zen, living in moment and paying attention to body."
While Edwards has accumulated an impressive track record (literally) since undertaking 50+ mile runs, she has her sights set on even greater distances.
"I want to try a 200 mile run, or a multi-day run," Edwards said.  "Days on end would be awesome.   I like pushing myself, and showing my kids there is no limit to what you do.  No barriers. That's why trail and ultra have been so great to me.  Every barrier is all mental, and the body can do what the mind tells it."
Edwards has been accepted to participate in the Hurt 100 in Oahu, HI, this upcoming January, a race she believes will be her most challenging yet.
"I'll be on the Hawaii Ultra Running Team, a select group," Edwards said. "I'm excited, it will be very difficult, and I will have to train harder.  There are roots, rocks, stream crossings and I'll have to pay attention to every step."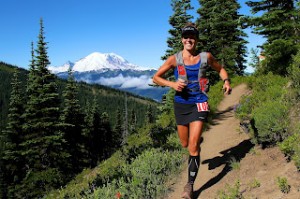 When she's not running in out-of town areas such as Mt. St. Helens, or various Cascade Range trails, Edwards trains daily around Olympia, commuting to work by foot every day from Cooper Point.
"I do a lot of commute running on roads," Edwards said.  "Marathon Park is great, I like the softer surface. Priest Point Park has nice trails. On weekends, I'll go to Capitol Forest occasionally. A normal daily is 12-15 miles.  On weekends, I do longer, maybe 30 miles."
Edwards is pleased to live in an area where fitness is encouraged, and a wide variety of citizens participate in running, both for exercise and competition.
"I see a lot of people out running and it's enjoyable to feel a part of a community like that," Edwards said. "Running has so many benefits and it's great to be reaping them and seeing others do the same."
To follow Edwards's progress as she trains for future events, check out her blog at www.ultrarunnerjen.blogspot.com/