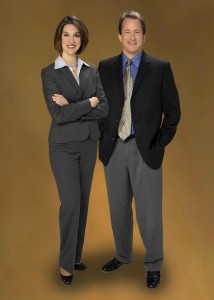 Van Dorm Realty, located in West Olympia, has been selling homes for over 30 years.  Now in its second generation of family-ownership, Jeff and Diane Pust are providing practical advice to Thurston County residents.
Should I sell now is a question that Jeff Pust is frequently asked.
"You can't wait for the 'right time'; it's all relative," answers Pust.  "Yes, property values have gone down, but so have everyone else's so there is the potential to buy a new home at a reduced price."
Pust adds that many Van Dorm clients are choosing to sell now because they see opportunities in the market.
"For example, a client may choose to sell their current home because they notice a beautiful home in a price range that they could not have afforded a few years ago," comments Pust.
Alternatively, some folks are at a stage in life where their large home is too large.  They are using this time as an opportunity to sell their large home, purchase a smaller more manageable home and using the difference to take advantage of another reduced price real estate purchase like a second home or investment property.  "This would not have made financial sense a few years ago" notes Pust.
Regardless, home owners are seeing the potential in the market that didn't exist five years ago.
Add in very low interest rates and suddenly it becomes a lucrative decision to sell your home.  "Take advantage of phenomenal interest rates and good prices," says Pust.
Pust notes that there are signs that the housing market is turning.
"It may be bold to say, but I believe that housing prices are on their way up.  I anticipate that, at the end of the year, we will look back and say that housing prices turned this year," remarks Pust.
"If you are of the mindset that you are going to hold out until prices come back, then you need to remember that everyone else's prices will also start to increase," comments Pust.  "When the market starts to turn, housing will go up, in general."
Pust compares the housing industry to all investment options.  "If you look at your home as one part of your investment portfolio, then you should constantly be evaluating whether you can earn a better return on your investment.  Perhaps now is the time to shift your money from one (home) investment to another," summarizes Pust.

Van Dorm Realty
1530 Black Lake Blvd SW, Suite F
Olympia, WA 98502
360.943.3800