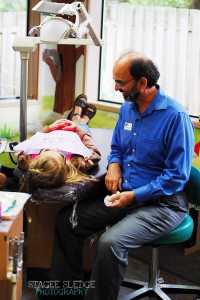 If you're unsure why a pediatric dentist is a better choice for your children – as opposed to bringing them to your general dentist – just spend a few minutes at Olympia's Small to Tall Pediatric Dentistry.
New patients, always welcome at the pediatric dental office, instantly walk into a comfortable setting focused on making all children feel welcome.
The dental team is at the ready with kid-friendly terminology and creative ways to help manage children's behavior and short attention spans.
The soaring walls in Small to Tall's vaulted space where dental cleanings and exams take place are covered in whimsical murals of dragons, wizards, unicorns, birds, and more.
And while the fantastical images delight little ones and distract them from the business at hand, it's the dentists and team of highly trained professionals that provide expertise that makes Small to Tall so fantastic.
The goal is for every child, whether it's a routine dental cleaning to a complicated dental procedure, to have a positive experience in the dental chair.
Each Small to Tall pediatric dentist is devoted to children and working with the under-18 set.  (A complete bio, including educational degrees, of Drs. Rowley, Ruder and Psaltis can be found here.)
Dr. Greg Psaltis opened the practice in 1981 and was joined by Dr. Scott Rowley in 2007.  Dr. Benjamin Ruder, who had met Dr. Rowley at the University of Washington, joined Small to Tall in 2008.
Had it not been for a mobile dental clinic Dr. Psaltis volunteered with during the summer of 1973, between his second and third years of dental school, he may not have continued in the profession at all.
"They had three city buses that had been gutted and turned into dental clinics that went down into California's Central Valley and treated the children of the migrant workers," he explains.
"To be honest, after two years of dental school, I was pretty sure I'd made the biggest mistake of my life," he continues, smiling. "And then I met the kids and it was like, whoa, this is wonderful."
Dr. Psaltis went straight into pediatric training and never treated adults again.
"The only adult I treat is my wife and if she needs a filling I refer her out," he says with a laugh.
Drs. Rowley and Ruder also came to pediatric dentistry because of their affection for working with children.
"My enjoyment working with kids began as a high school student, teaching swim lessons," says Dr. Rowley.  "It is remarkable to see a child overcome a fear and make a choice to do what is in their own best interest."
Two uncles, dentists in Iowa, sparked Dr. Rowley's interest in the profession.
He's quick to admit that the challenges in working with children differ from adults. "But when I keep the focus on doing what's best for the child, then it's easy to do," he says.
Dr. Ruder always had a passion to do something in the healthcare field, to help treat people in some way.  He found a role model in his own dentist.
"I really admired my own dentist growing up," Dr. Ruder says. "He was a very nice guy and his kids were friends of mine. He always seemed to be available for his family, which I found of value in a profession – to be able to spend time with family."
Dr. Ruder has always enjoyed working with kids, growing up as a babysitter and even working part-time with kids while attending college and dental school. Once he decided on a career in dentistry, he says that "it just seemed like a natural transition and fit to bring those two together – the enjoyment of working with kids and the dentistry."
"We really put a lot of focus on treating every child as if they were our own," says Dr. Rowley, underscoring what makes Small to Tall's team so effective.
On a recent visit to the practice, located near Providence St. Peter Hospital,
Michelle Snyder of Olympia had her five children with her; three of them perched on examination tables.
"We've been coming here for six years and just love it," Snyder says.
Margaret, age 10, Deborah, age 8, and Paul, age 4, took turns having their teeth examined by Drs. Psaltis and Ruder before being happily declared sugar bug-free.
The dentists' patience and care in creating a positive experience was evident in the way they talked with the children and discussed the details of what they saw with Snyder.
"A lot of practices just want to get the procedures done," says Dr. Psaltis after the Snyder family had gone. "I always tell the parents that two things are happening here simultaneously: we treat teeth and we care for children."
"We certainly put the experience of the child first and foremost," agrees Dr. Ruder. "We want to make sure that we ensure a positive experience for each child. And at the heart of it definitely is having a dental experience that is pleasant and easy to get through – especially at the early ages and on into as they get older and realize it's not something to be worried about."
To that end, Drs. Rowley and Ruder have incorporated sedation techniques into the standard of care provided by the practice.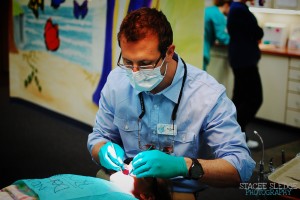 "It's just another option for parents to consider in the interest of trying to make sure the child has a positive experience," says Dr. Ruder.
"We evaluate each child and use the most minimal procedure possible," says Dr. Ruder. "But if we feel the child will have a more successful experience, we might suggest sedation options, as well."
A child's anxiety level is also taken into consideration. "It's meant to put everyone at ease," Dr. Ruder says of the sedation option.
Dr. Ruder stresses that an anxious child can have a very successful experience without sedation.
"You can show them and teach them how easy it can be," Dr. Ruder says. "And if they experience that on their own without the crutch of sedation it generally becomes a much more life-long, lasting, positive experience."
Dr. Psaltis points out the benefit of a child coming to Small to Tall from the very beginning of their dental-care experience.
"If we are the first ones to see the child, then we get to create the bias, we don't have to change it," he says.
"The teeth we treat will eventually fall out," says Dr. Psaltis, "but the care we provide, we hope, will be the legacy."
Small to Tall Pediatric Dentistry
222 Lilly Road NE
Olympia WA 98506
360.459.5885