By Tom Rohrer

Winning is one thing, but a victory to prove you're the best in the nation is one for the record books.
In late July, Karen Bulger, an incoming junior at Northwest Christian High School in Lacey, took home first place in javelin within the 15-16 year old division at the National Junior Olympics in Baltimore after her throw of 135'9″.  Along with taking home the gold in javelin, Bulger put her full spectrum of athletic talents on display by taking 13th overall in the shot put with a distance of 35'3″.
Bulger, who attended Olympia High School her freshmen and sophomore year, went into the meet with a relaxed and confident attitude.
"I really wanted to be as relaxed as possible, and that's a difficult thing to do, since it's such a big competition," Bulger said. "But I had the experience from before and I felt very prepared.  I knew how far to throw and knew what I needed to do to compete well and the rest fell into place."
Bulger is now a three-time All-American after placing in the javelin the last three years at the national meet. As a 14 year old, Bulger placed second at the meet (125') in Sacramento before taking third place in Wichita (133'7")in 2011.
A member of the Barron Park Striders Track and Field Team coached by Drew Stevick, Bulger enjoys meeting fellow competitors at national events.
"While you want to win and treat it like a competition, you're going to make friends," Bulger said. "It's cool to see familiar faces and at the same time, see them improving.  In javelin, there are so many different heats, so you get to meet and talk to people in between them.  I really enjoy that social aspect."
After suffering from an illness her freshmen season at OHS, Bulger came back ready to work harder than ever before.
"My freshmen year, I was very new to the sport, but still progressed quite well," Bulger said. "But then I contracted Mono, and I couldn't compete in the state track meet.  That was very hard, especially with all the work I had put in and how much fun I was having.  But really, it made me want to take my training to the next level and put in a lot of work.  I think it has paid off."
Bulger is no one-trick pony, as she participates in a slew of other sports including volleyball, basketball, swimming and snowboarding.
"Staying active all year long prepares me for competitions and keeps me in shape," Bulger said. "It also helps me balance my time right and stay focused on what's important."
With a new year at a new school right around the corner, Bulger's excitement level has risen in late August.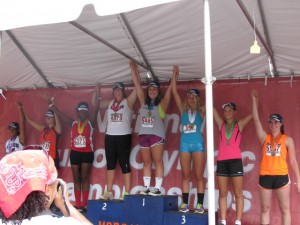 "It's an exciting time for me, it's always cool to prepare for a new experience and a new situation," Bulger said. "I'm starting volleyball soon, so I'll be thrown into the athletic scene immediately.  I think it's going to be a great experience at a great school."
Although the title of national champion is impressive, Bulger is not satisfied with her long list of accomplishments and has high aspirations for her future athletic career.
"I am working really hard to increase distance," Bulger said of her javelin training. "I'm going to do a lot more intensive training that can lead to me getting a scholarship for college and possibly look to the Olympics in the future."
Almost a month later, Bulger's monumental victory in Baltimore still seems surreal.
"I don't think it has quite hit me yet," Bulger said of the national championship.  "I think it will soon, but I'm so proud and thankful to all my friends, family and coaches who helped me to win and represent the area well on a national stage."
For more information on the Barron Park Striders click here.