Submitted by Thurston County Solid Waste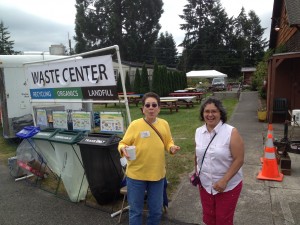 What kind of worms will eat my kitchen scraps? Where does my recycling go after the curb? What do I do when my home compost is too wet? How does waste prevention save my family, businesses, and local government money? What do my coworkers need to be better recyclers at their desks? If you have caught yourself asking any of these questions, chances are you are Master Recycler Composter material.
The Master Recycler Composter (MRC) program is a volunteer program of Thurston County. Volunteers receive skills and job training on the ins and outs of recycling, composting, waste prevention, and community education. In exchange they agree to give back 20 hours to the community and five hours of continuing education each year. This is a great opportunity to get valuable skills and background as a green team member for your resume. Or to give back in your local community now that you are retired.
This is also a social group. It's hard to not make some new friends. There are several chances each year to get together for socials including potlucks and other celebrations. Many also enjoy being out in the public with other Master Recycler Composters and County staff. Master Recycler Composters can participate in activities such as helping at the Thurston County Fair, at outreach booths, giving workshops, or working in their community to improve recycling. Sometimes Master Recycler Composters join efforts with the Thurston County WSU Master Gardeners or other community partners on projects.
People 18 years and older are invited to join the Master Recycler Composters. Brian Stafki of Thurston County Solid Waste assures that no experience is necessary, "Thurston County Solid Waste staff are here to be your resource for waste prevention and recycling. The Master Recycler Composters are great but we don't expect them to know all the answers. We have lots of brochures to hand out and a log book to record questions."
The application process is short and sweet. You fill out the form and submit online. Applications are due by 5 pm, August 17.
Each year County staff offer a chance to join the group with evening and some weekend trainings. The dates for this year are Thursday evenings, 6 pm- 8:30 pm, September 6, 20, October 4, 11, and 18. There are also two Saturday field trips from 9 am- 12 pm, September 22 and October 6. Attendance at all trainings is required to become a certified Master Recycler Composter.
Volunteering is a great way to get to know other people in the community. For Thurston County Solid Waste it is a way to involve the public in our mission to promote waste prevention and sustainable resource use. "We want to be out in the public offering our resources for free. There are only so many staff, so volunteers are key to getting the word out," says educator Stafki. "Waste prevention is a key to sustainability. We are working on Reduce, Reuse, Recycle starting with the first "R".  Volunteers really help make that happen."
Topics for the training include waste management in Thurston County, recycling markets, product stewardship (like the e-cycle legislation), residential collection programs, composting 101, worm composting, outreach activities, and working with the public. There will be presentations on Thurston County Solid Waste program offerings to include school environmental education, school waste prevention technical assistance, commercial waste assistance, event recycling, and booth outreach. There are two field trips on Saturdays to include a trip to a municipal recycling facility, the County Waste and Recovery Center, HazoHouse, and Dirt Works Demonstration Garden. Continuing education opportunities involve field trips to Silver Springs Organics (our municipal composting facility), special film screenings, and other workshops.
You can learn more about the program and apply by visiting www.ThurstonSolidWaste.org and clicking on "volunteers". Or contact Cori Carlton, MRC Program Manager at (360) 867-2162 or carltoc@co.thurston.wa.us.